This post may contain affiliate links. That means if you click and buy from that link, I may receive a small commission (at zero cost to you), which helps me maintain the quality of this blog. Please see my full disclosure policy for details.
Moschino is an Italian luxury label created by Franco Moschino in 1983, specializing in leather accessories, fragrances, shoes, luggage, but also clothes. However, the question you have is: where is Moschino made?
Moschino has a satirical style that mixes fresh new designs with sarcasm and makes fun of things with an ironic attitude. It's very popular among youngsters.
Read: Why Is Moschino So Expensive?
To confirm, I have decided to review hundreds of product descriptions on the Moschino website to verify if the brand lists where the products are made. I also visited the Moschino store in London and their department stores in Selfridges, Harrods, and Harvey Nichols, checking multiple items. So let's find out where Moschino products are made.
You can also check out the best French, British and American luxury fashion brands.
Where Is Moschino Made?
Moschino products are manufactured in Italy, Portugal, China, Greece, and Spain.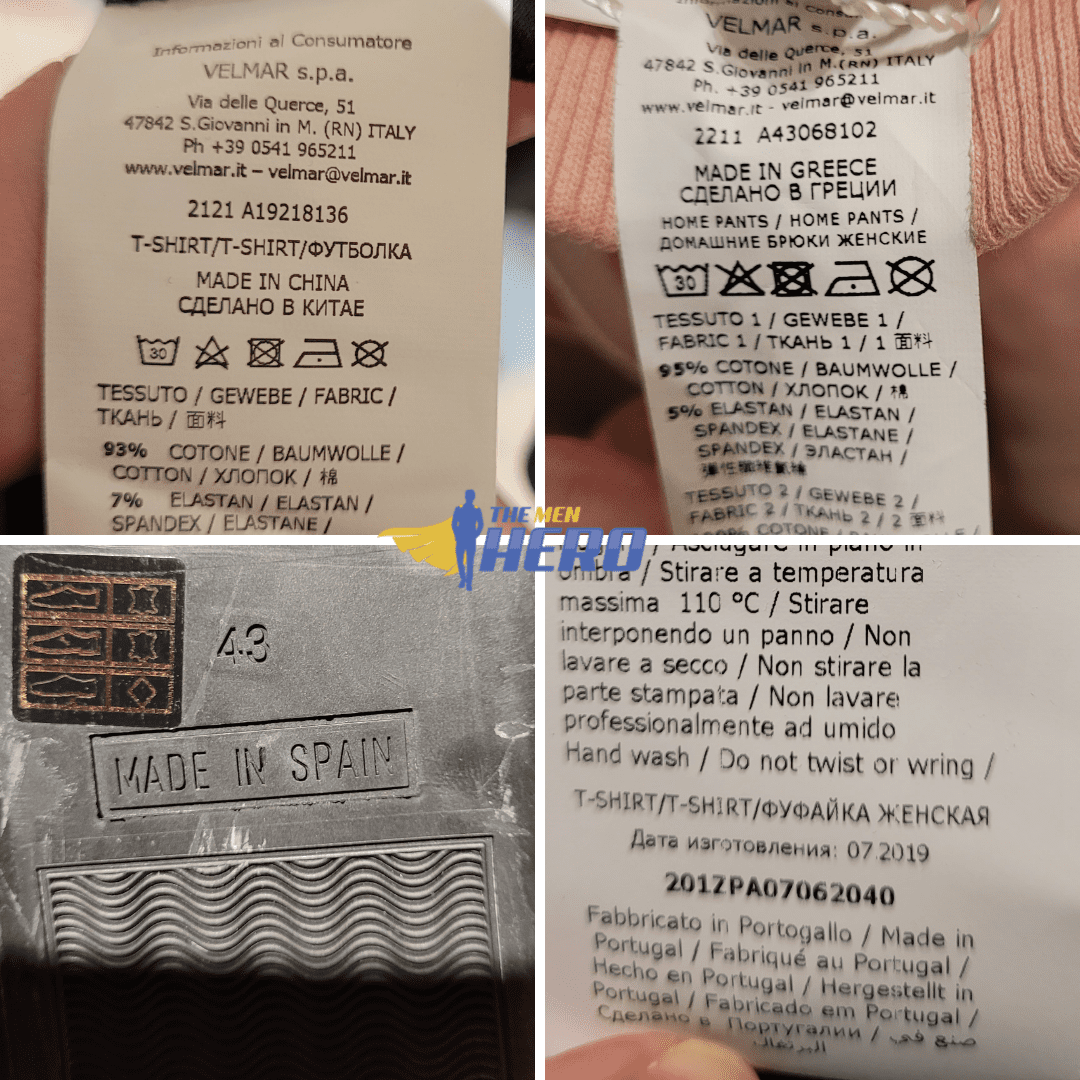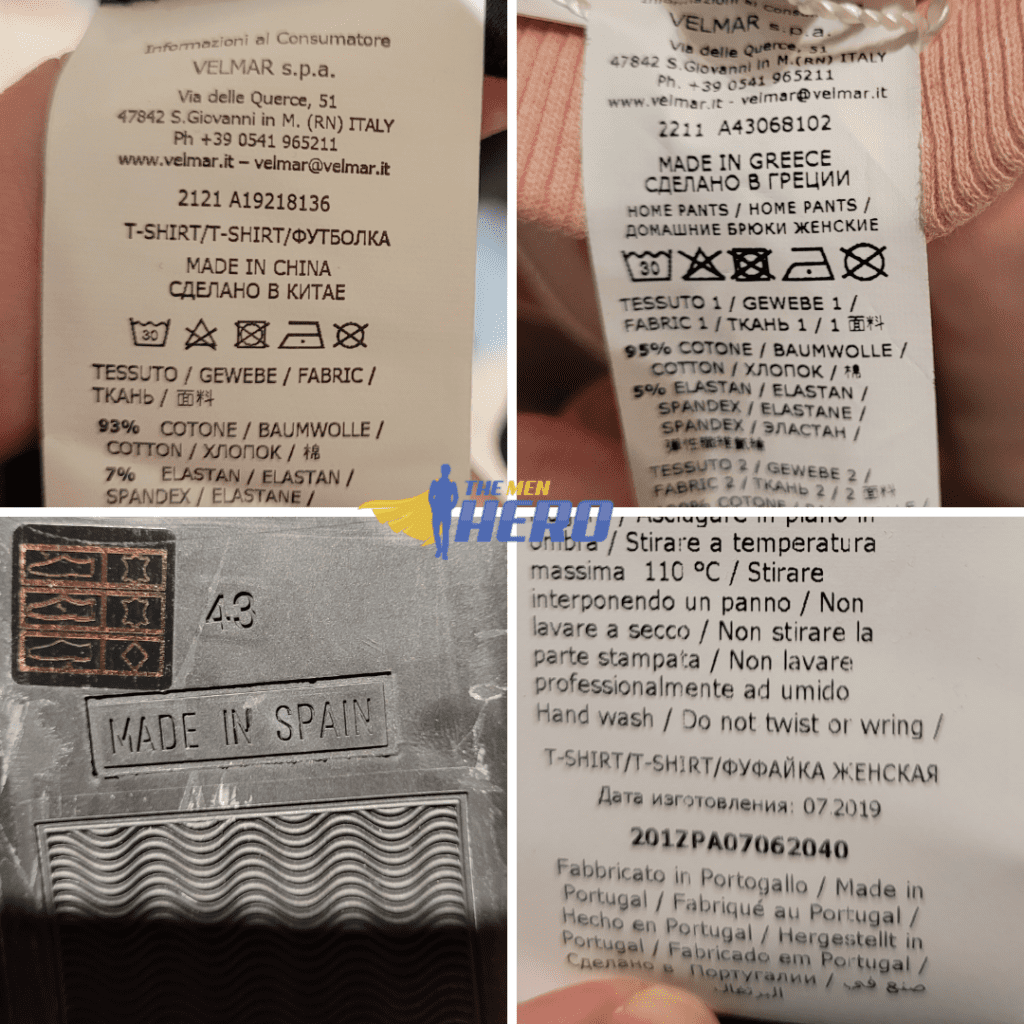 I couldn't find one product description listing in which country the products were manufactured on the Moschino website. Some luxury labels don't have a problem giving you this information in the product description, like Bottega Veneta, Valentino, Hermès, Givenchy, and Moncler, but others like Stone Island, Prada, and Palm Angels don't detail any country.
Read: Where Is Louis Vuitton Made?
Now, I have to say I am not surprised Moschino doesn't state where its products are manufactured since I have found quite a few made-in-China labels. For a brand that charges some items above $1,000, they want to be perceived as made in Italy since they are an Italian label, and most people associate that with excellent quality.
At least Moschino is consistent and doesn't list any country. On the other hand, some luxury labels like Burberry like to remark Italy's manufacturing but list "Imported" in the product description of any goods made in China.
Read: Where Is Chloé Made?
So when you buy a Moschino product online, you will only know where the product was manufactured when you receive it and check the tag. This is because the EU and US legislation require brands to indicate the country of origin of any goods (well, Lacoste and Barbour seem to fail on this one).
When checking the Moschino items in different stores, I always found more manufactured in Italy than in any other country, so most Moschino products are manufactured there, especially the bags. But I also found quite a few made in Portugal and China, so I would say these are the three major manufacturing countries for the Italian luxury label.
Read: Where Is Saint Laurent Made?
The two Moschino shoes I have checked in-store were manufactured in Spain, so don't be surprised if they are not manufactured in Italy.
Is Moschino Made In Italy?
Yes, Moschino manufactures apparel, footwear, and accessories in Italy.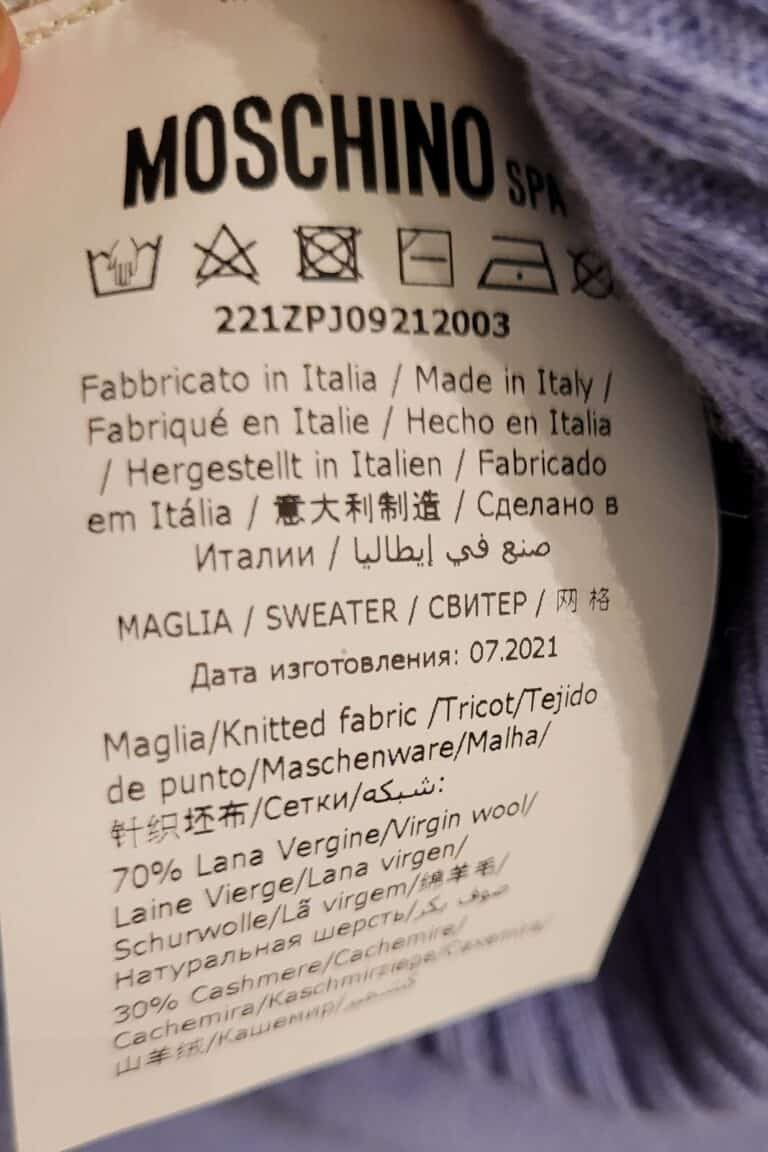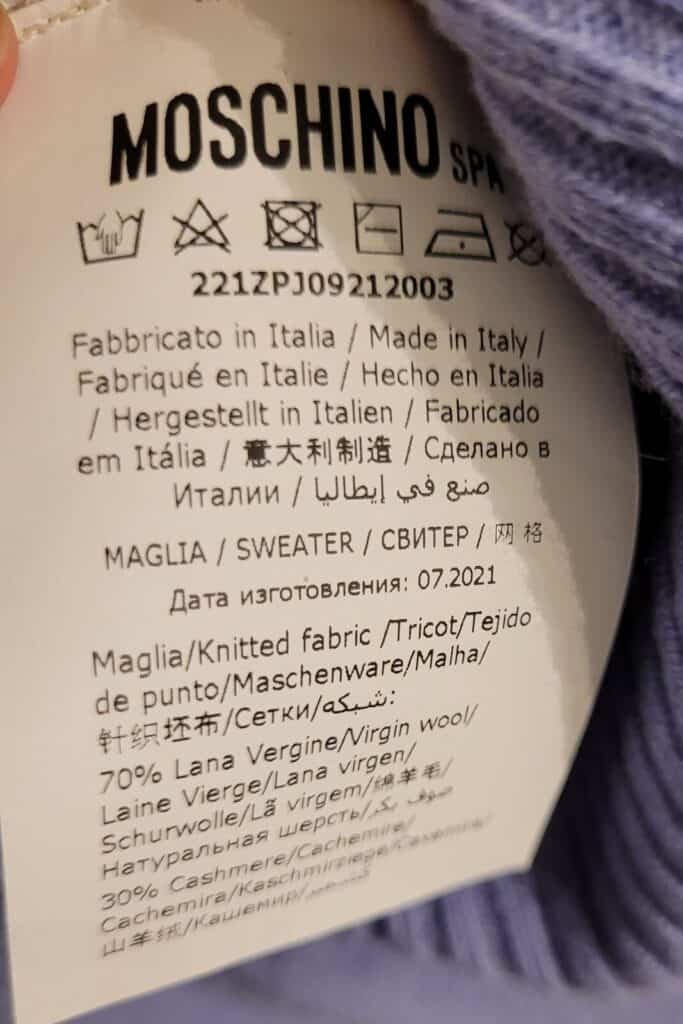 Moschino is manufactured in San Giovanni In Marignano, Italy. I am surprised that Moschino doesn't manufacture in the North of Italy since most luxury labels produce their items there, like Versace and Dolce and Gabbana.
Read: Where Is Loewe Made?
Manufacturing in Italy is why Moschino could charge more for some of the items manufactured there. Most people associate the made-in-Italy label with the finest materials and best craftsmanship, so they don't mind paying more. Usually, products that are manufactured in Italy are flawless because every detail matters.
I couldn't see much difference in price from the products manufactured in Italy, Portugal, China, or Greece. Since the costs are higher in Italy to manufacture, I would expect you to pay more for the Moschino items made there, but it seems you pay the same.
Is Moschino Made In Portugal?
Yes, Moschino manufactures apparel in Portugal.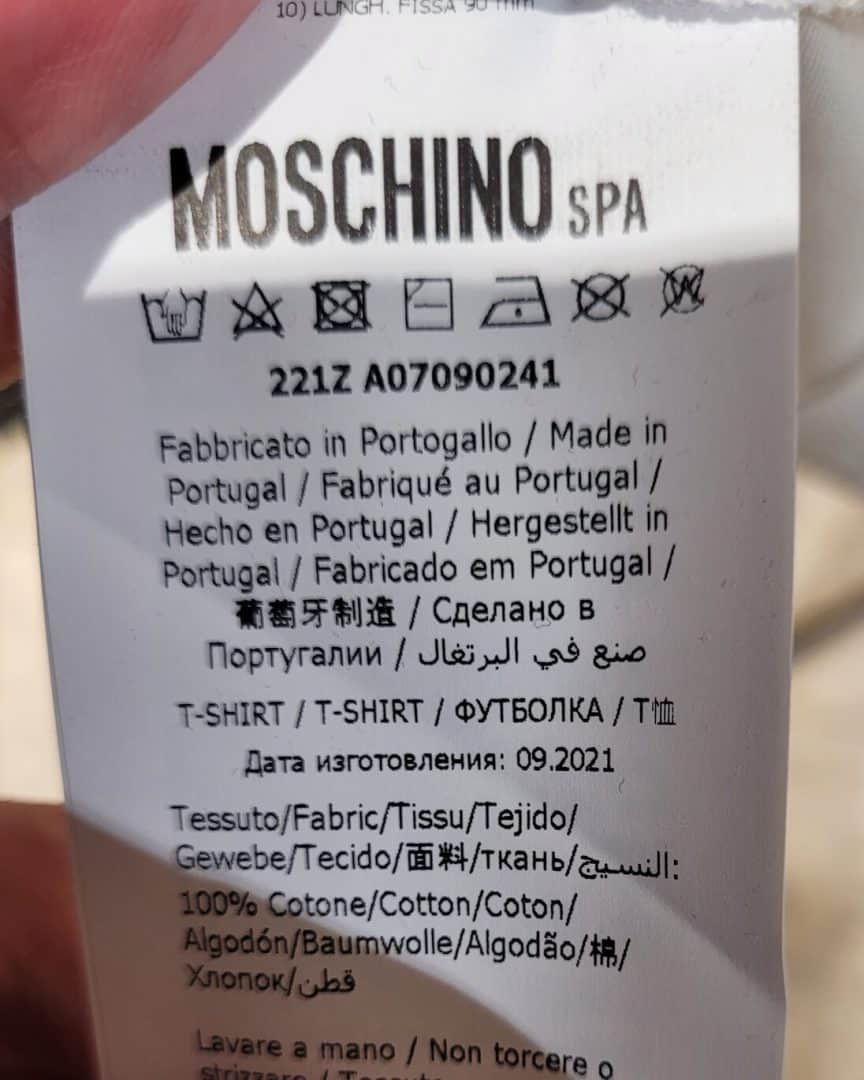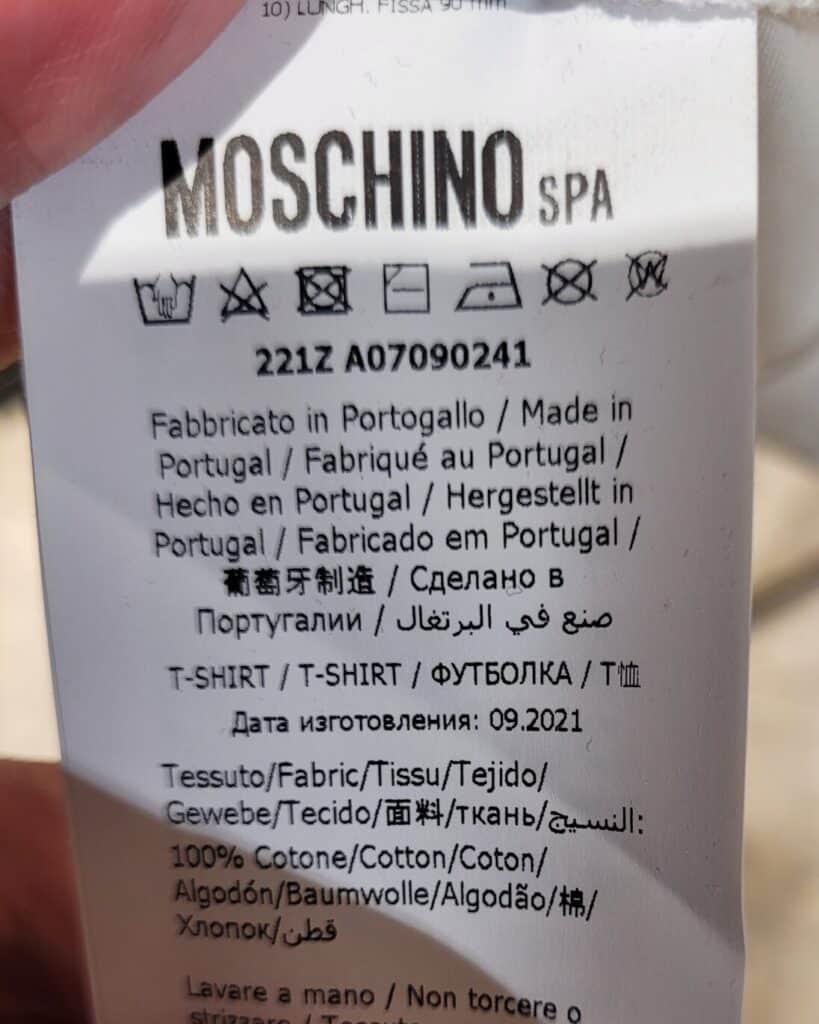 Moschino doesn't own a manufacturing site in Portugal, but it seems to be working with an independent factory in Riba de Ave, in the North of Portugal, that also manufactures for other luxury brands like Versace and Kenzo.
Since I am Portuguese, I am consistently proud to witness my country manufacturing for some of the most fantastic fashion labels globally. Alexander McQueen, Canada Goose, Tom Ford, Balmain, and Dior are other luxury brands manufactured in Portugal.
Portugal's craftsmanship and fabrics are wonderful, and the country can copy any production system easily. Many luxury brands keep investing and increasing their production in Portugal because they know the results are excellent.
Is Moschino Made In China?
Yes, some Moschino goods are manufactured in China.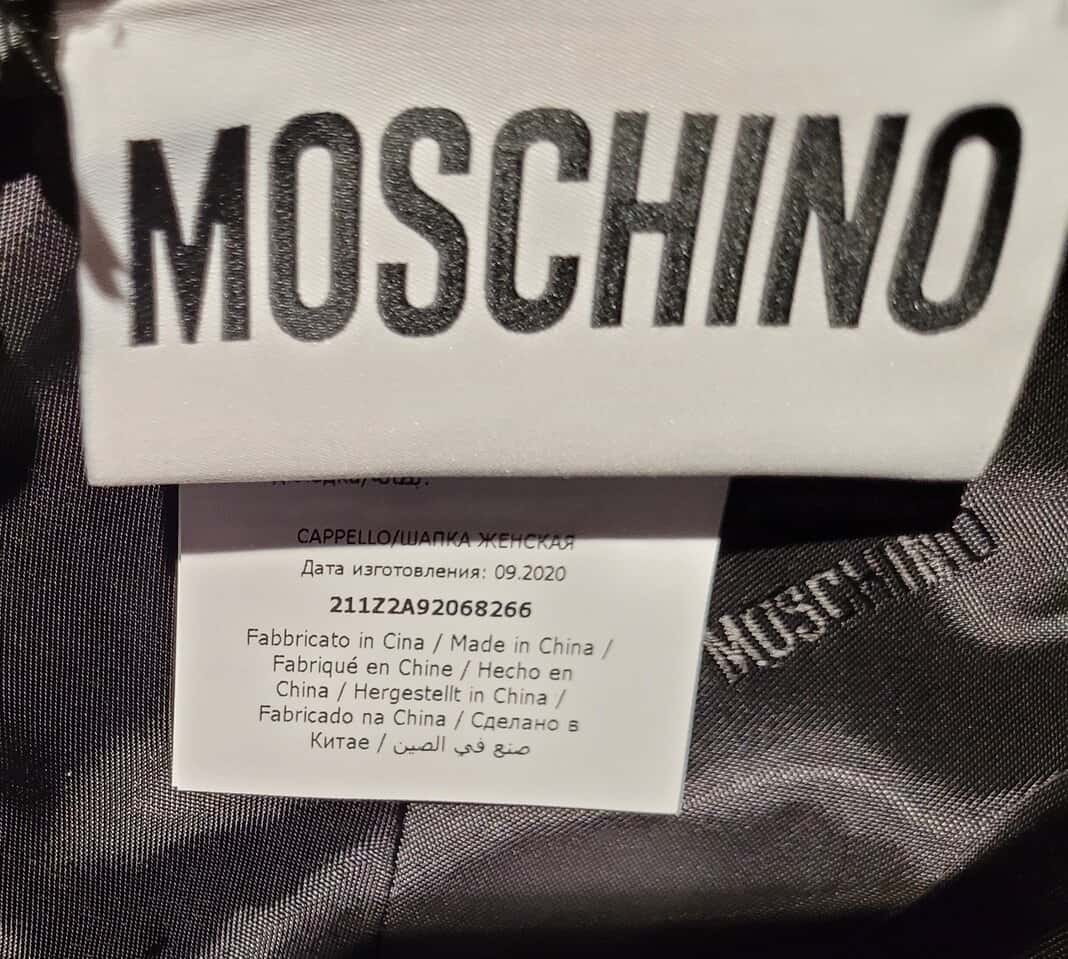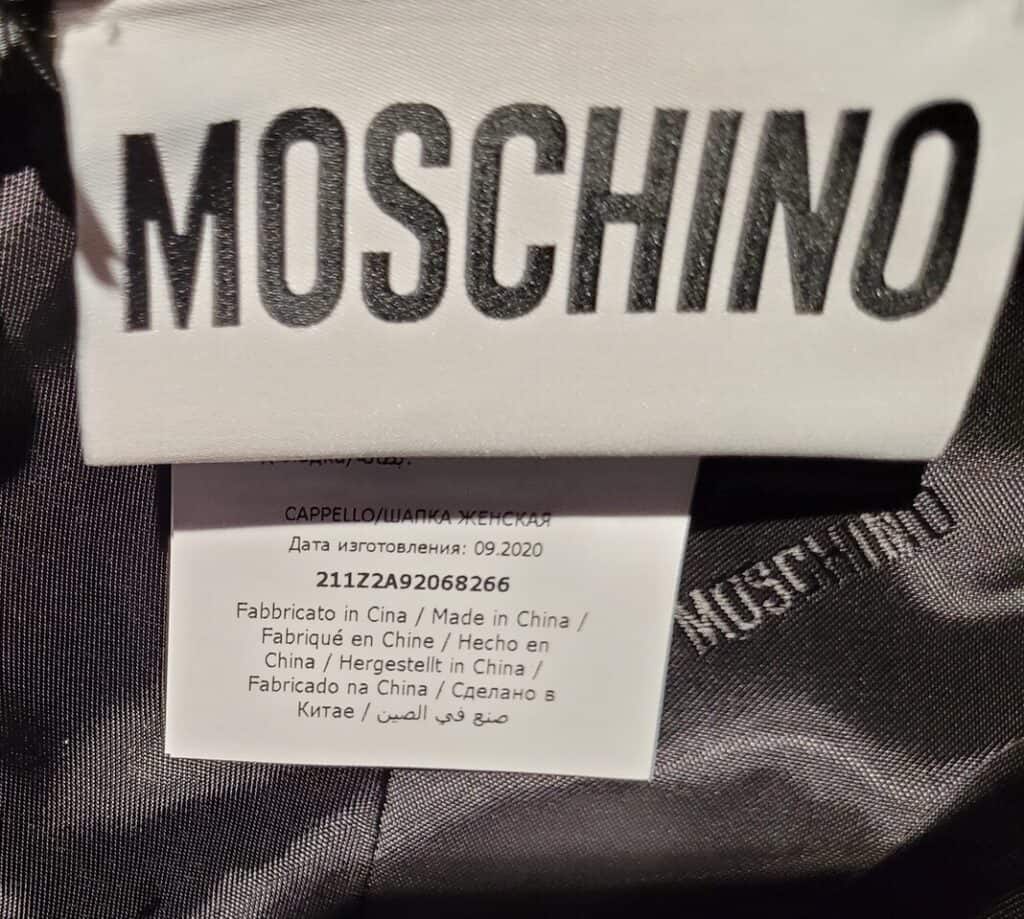 I can't say if I still find it surprising to discover an Italian luxury label manufacturing in China or not anymore because some of them don't, and some, like Moschino, do. However, I don't believe they manufacture heavily in China because they still want to sell the made-in-Italy label to charge more for their products.
Compared with European countries, China's labor, materials, and facilities costs are much cheaper, so the brands have a higher profit. Sometimes that reflects the quality of the product, and sometimes it doesn't.
Moschino has a reputation to defend as a mid-level luxury label, so it has quality systems in place in its manufacturing sites in China to ensure the quality is excellent and can sell those garments without any complaints from its customers.
Common Questions About Where Is Moschino Made
These are the most common questions about where is Moschino made.
Where Are Moschino Clothes Made?
Moschino clothes are manufactured in Italy, Portugal, China, and Greece.
Is Moschino Made In Greece?
Yes, Moschino manufactures some clothes in Greece, and I have found a few in-store.
Is Moschino Good Quality?
Yes, Moschino products are very good quality since most are manufactured in Italy. The Moschino bags are some of the most durable in the industry and use materials like calfskin, goatskin, and sheepskin to ensure that.
Does Moschino Use Real Leather?
Yes, Moschino uses real leather on some of its products, especially in bags where calfskin, goatskin, and sheepskin are some of the materials used. However, the Love Moschino collection has bags manufactured 100% from polyester, which is why they are much cheaper and not so durable.
Is Moschino French?
No, Moschino is not a French brand. Moschino it's an Italian luxury label with headquarters in Milan.
Conclusion On Where Is Moschino Manufactured
Where is Moschino made? Most Moschino products are manufactured in Italy, Portugal, and China, but you can also find some items manufactured in Greece and Spain.