This post may contain affiliate links. That means if you click and buy from that link, I may receive a small commission (at zero cost to you), which helps me maintain the quality of this blog. Please see my full disclosure policy for details.
Moncler has some of the warmest and best winter jackets globally, but they can be pretty costly. Why is Moncler so expensive?
Read: Where Is Moncler Made?
I can understand why someone would buy a Moncler jacket, especially if you live in Canada, Iceland, or North of Europe, where you can face -30°C winter days. I have never owned a Moncler jacket, but I have tried a few at the Moncler store in London, and they are of excellent quality, which can justify the higher price.
With some jackets over $6.000, let's find out why Moncler is so expensive and if it's worth buying one or not. You can also check out the best French, British and American luxury fashion brands.
Why Is Moncler So Expensive?
Moncler is expensive because it's a luxury brand that provides status and exclusivity to those who wear its products. In addition, Moncler delivers the highest quality raw materials, has elite craftsmanship, and is a sustainable label. It also has some of the most famous jackets in the world.
Moncler Is A Luxury Brand
Think about other well-known brands for their winter jackets, like Columbia and The North Face. However, they charge much less money than brands like Moncler and Canada Goose. Do you know why? Because both brands are marketed as luxury labels.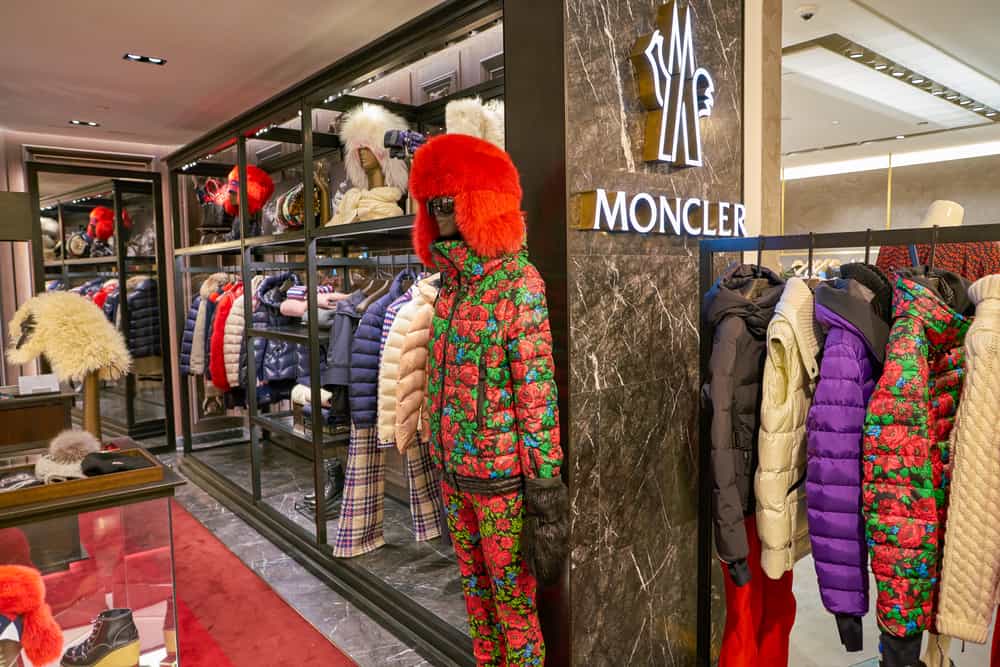 Owning a luxury item that you know is durable and made of the best raw materials can increase your self-esteem and the feeling that you belong to an exclusive group of people. In addition, buying a Moncler jacket brings a sense of accomplishment since they are costly.
Read: Why Is Palm Angels So Expensive?
Labels like Moncler or other luxury brands like Givenchy, Loro Piana, Dior, or Balmain don't want everyone to consume their products. That's why these luxury labels charge a lot of money for each item to avoid everyone having access to them. Of course, this doesn't mean cheaper brands are better or worse than luxury labels, but the materials and manufacturing processes differ.
For some individuals, obtaining a Moncler jacket can be a lifetime dream where they must work for months to save money.
Moncler Provides Status And Exclusivity
Why is Moncler so expensive? Because it provides exclusivity and status to those, who own any products from the French/Italian label. If you see someone wearing a Moncler jacket (or any other item), you will see that person as someone wealthy that can afford a luxury brand that most people can't. So why would they buy a Moncler jacket when they can purchase a cheaper one?
Read: Why Is Louis Vuitton So Expensive?
Anyone who buys Moncler knows they are purchasing something of excellent quality and fashionable. Of course, not everyone can buy a $6,000 jacket, and as you know, Moncler doesn't expect everyone to buy one. The French/Italian label wants to keep its exclusivity and status, and that's why they charge you more.
Think about how you feel when buying a Columbia jacket from how you feel purchasing a Moncler jacket. When you wear a Moncler jacket, you feel expensive and show status to everyone who knows the brand. Most consumers don't mind paying more for a luxury brand because it makes them feel special.
Moncler Jackets Are Famous
Moncler jackets are well-known in the skiwear world, but many people wear them casually on a day out or on their way to work. Consumers associate Moncler jackets with high quality and durability due to being one of the warmest jackets on the market. The Moncler jackets are also fashionable, which helps when customers decide to pay such a high price.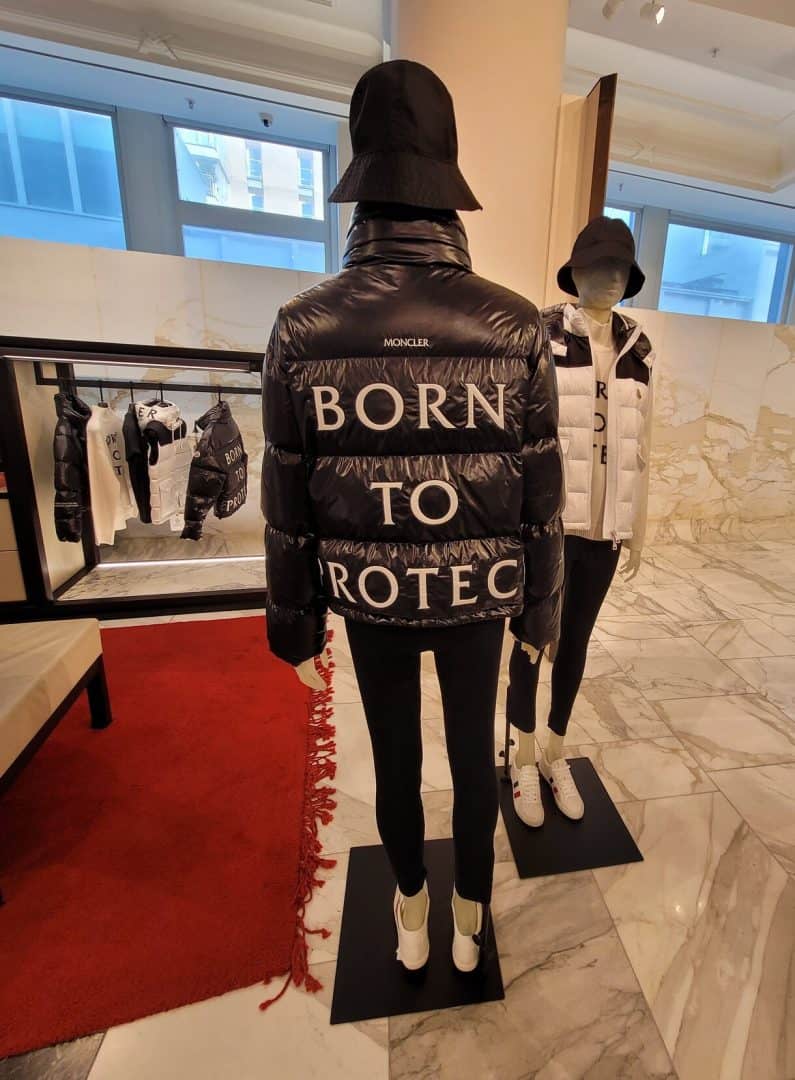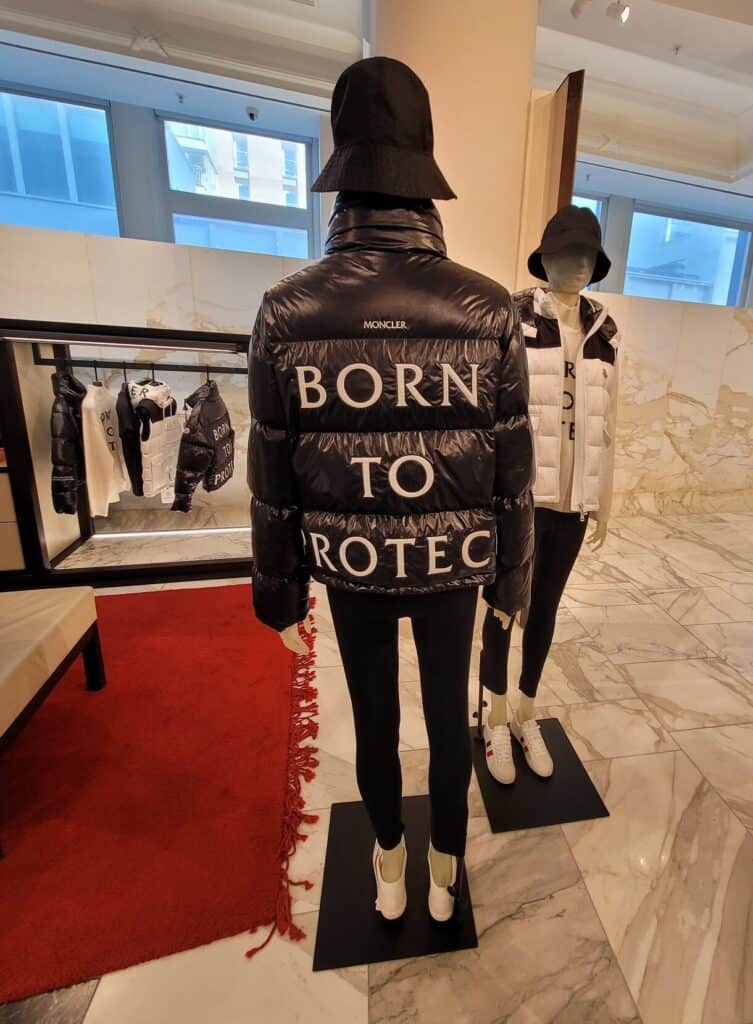 The price range for a Moncler jacket can go from $600 to over $6,000. Moncler jackets are expensive because you have the Moncler logo stamped on them, but the materials the jackets are made of are the main difference in prices.
Unlike Canada Goose, which offers a lifetime warranty on the jackets (in case of manufacturing problems), Moncler doesn't provide the same option. I would definitely consider this information for the amount of money you are paying for a Moncler jacket.
Read: Why Is Amiri So Expensive?
When I tried a few Moncler jackets in their store in London, I could tell they were of exceptional quality, and every component was manufactured in detail. All the zips, pockets, and stitches are carefully accomplished. At the end of the day, you pay more for this type of attention to detail.
To understand how expensive a Moncler jacket is, a British school in Wirral, England, banned pricey coats like Moncler, Canada Goose, and Pyrenex. This was an attempt to stop "poverty shaming" among students that don't have the money to purchase these brands. It tells a lot about how expensive and exclusive Moncler is.
Also, wearing Moncler jackets is a sign of status for many because they show everyone that they are wealthy enough to purchase one, which many people can't.
Moncler Provides Highest Quality Raw Materials
Luxury brands are expensive because they use the rarest and finest materials that are also costly. That's why mass-market labels use cheap materials because they sell the products at a lower price and still have a profit margin.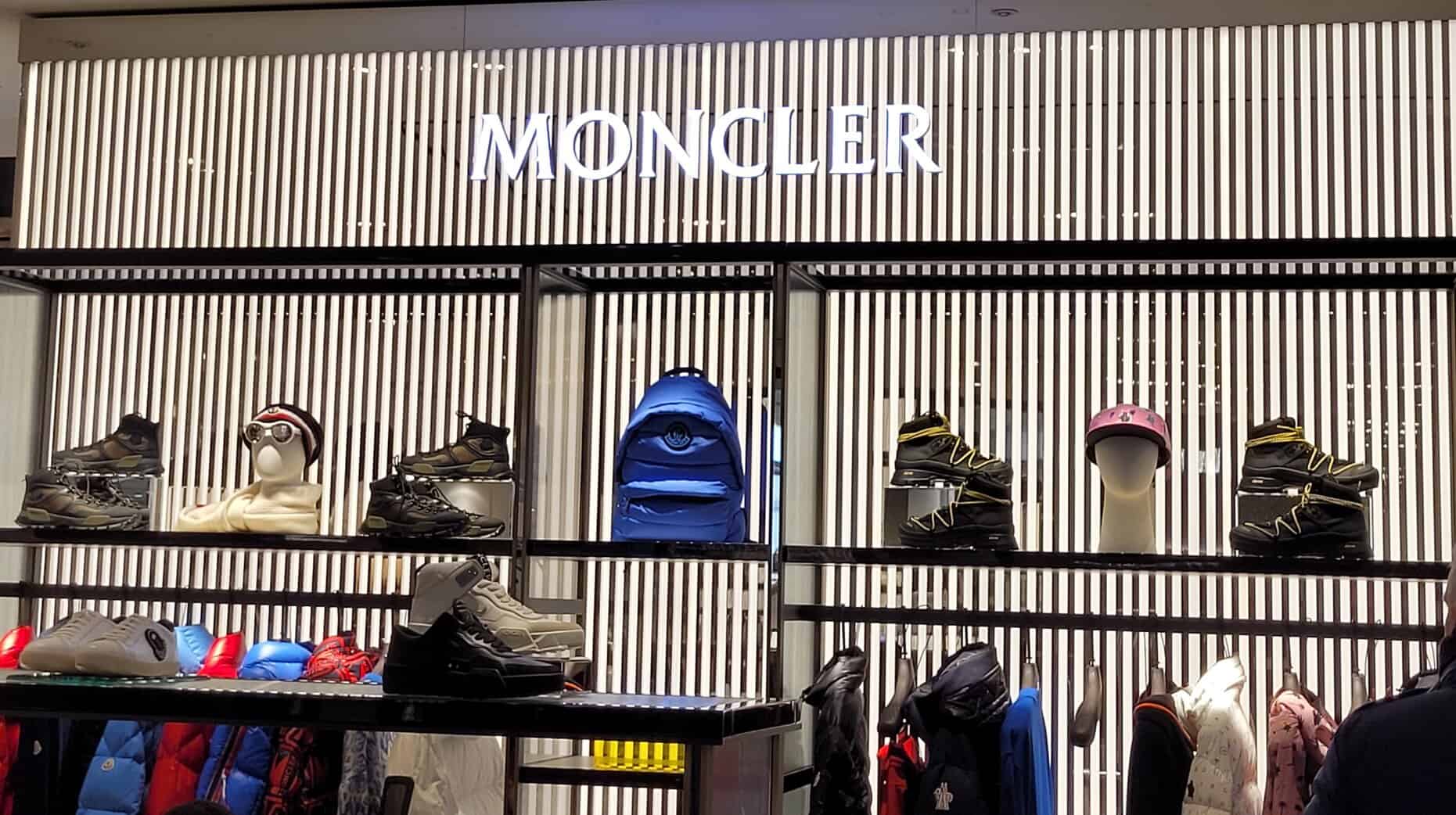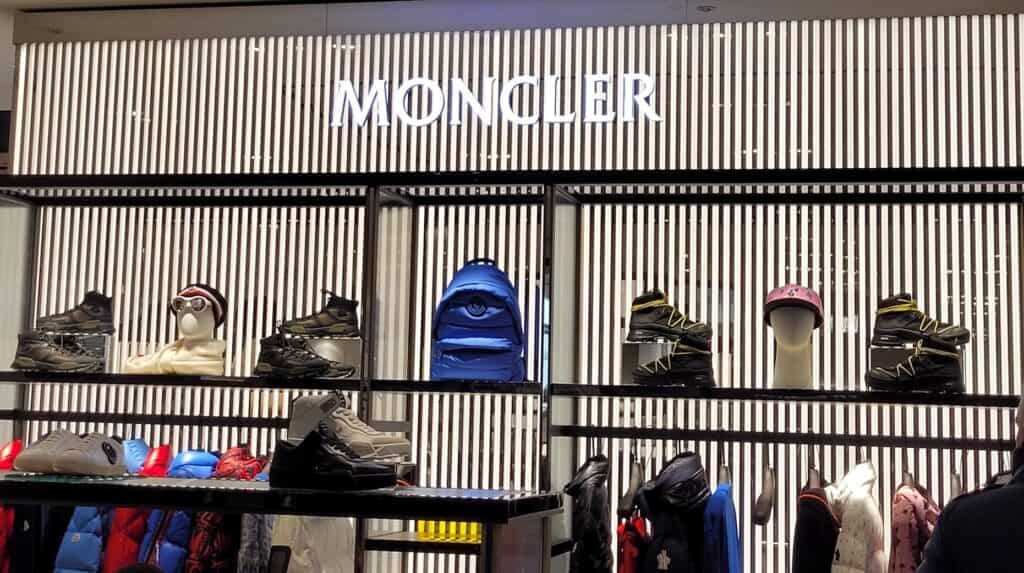 Moncler uses natural down, lamb leather, cow leather, sheep fur, fox fur, coyote fur, bull fur, silk, and feather. All these materials cost a lot more than polyester, cotton, or polyamide, and that's why some Moncler items are more expensive than others.
The jackets made of polyamide are much cheaper than the ones made of down, fur, or animal leather. In fact, the jackets made of down have a starting price tag of $900 (unless you choose the gilets, which cost around $600) and are the most expensive jackets of the brand since the raw materials used on the jacket are a lot more expensive, and that's why the brand charges you more.
Moncler Has An Elite Level Of Craftsmanship
Moncler offers an elite level of craftsmanship since most of its products are manufactured in Italy. However, most Moncler jackets are manufactured in Romania (which seems to be a country specializing in this manufacturing process).
Read: Why Is Prada So Expensive?
Any Moncler product on the market is tested multiple times, especially the zips, buttons, laces, stitches, etc. It's essential to have these quality checks to ensure the products are durable and you get excellent quality products. Of course, this extra work makes the products more pricey since the brand needs to pay its workers more, which is another reason why Moncler products are so expensive.
Moncler Is A Sustainable Label
Moncler is a sustainable label (it's a work in progress). We all know sustainable materials are more expensive because they need more time and effort to produce, grow, process, or manufacture.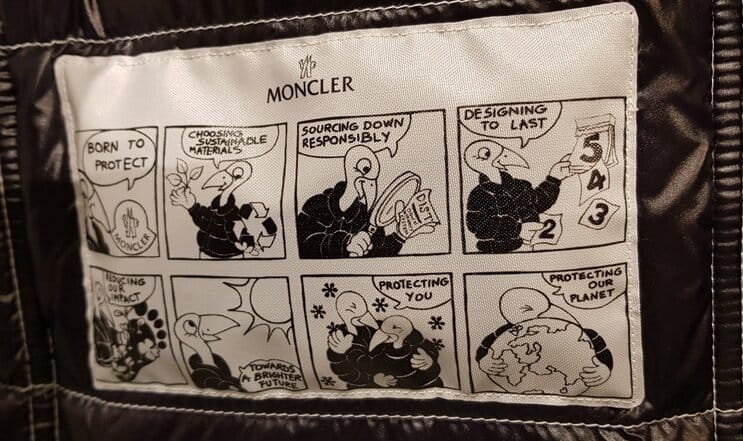 Now, I could write an entire article about how Moncler is a sustainable label, but here are some steps the French/Italian label made to become more sustainable, which also makes the brand more expensive since they need to maintain high-profit margins:
Created the Moncler born to protect plan (to protect the planet and its people).
Chosen to use eco-sustainable materials.
Wear garments designs that facilitate recycling and recovery.
Extend product use and life, including repair services.
Distributing and packing process with low environmental impact.
Adopting renewable energy.
Reducing greenhouse (GHG) emissions.
Improving operational efficiency.
Between 2019 and 2021, Moncler was named the top Industry Leader for Textiles, Apparel & Luxury Goods in the Dow Jones Sustainability (DJSI) World and Europe indices. The brand also received the Gold Award from S&P Global (an asset manager specializing in sustainable investments.) in 2021, together with Burberry, due to both brands' efforts to be sustainable.
Read: Why Is Gucci So Expensive?
Moncler is expensive because you pay for the time, effort, and higher costs the luxury label consumes to become more sustainable.
Common Questions About Why Is Moncler So Expensive
These are the most common questions on why is Moncler so expensive.
Why Are Moncler Jackets So Expensive?
Moncler jackets are expensive because they have the Moncler logo, are mostly made of down, which is not cheap at all, and some other costly materials like fur and natural leather. The craftsmanship, attention to detail, exclusivity, and status make the Moncler jackets even more pricey.
Are Moncler Jackets Worth It?
If you are looking for a very warm jacket to face temperatures as low as -22°F (-30°C), then yes, Moncler jackets are absolutely worth it. They are made from the best materials, including down and natural leathers that keep you warm at any temperature you face.
Read: Why Is Burberry So Expensive?
What Makes Moncler So Special?
Moncler is special because it's a brand born to protect you from the cold and keeps you styled and fashionable. Moncler became much more than a skiwear label. Also, the uniqueness of its creations makes you feel that you have never seen those products before.
Why Are Moncler Hats So Expensive?
Moncler hats are primarily expensive because they have the logo of the brand. In addition, some of them are made of down, fur, wool, and cashmere, costly materials.
Conclusion
Why is Moncler so expensive? Mainly because it's a luxury label that provides the highest quality raw materials, elite craftsmanship, exclusivity, and status. Its jackets are among some of the most famous in the world, and the French/Italian label is making an effort to become more sustainable every year.
Read: Why Is Balenciaga So Expensive?
It isn't easy for some people to justify why you have to pay hundreds, if not thousands of dollars, on one good like a Moncler jacket. But, in my opinion, if you can afford one and it brings value to your life (especially if you live in a place with freezing weather), no one is permitted to tell you the cost of that Moncler coat is not worth it.