This post may contain affiliate links. That means if you click and buy from that link, I may receive a small commission (at zero cost to you), which helps me maintain the quality of this blog. Please see my full disclosure policy for details.
Moncler is a French/Italian fashion brand that is very popular due to its warm and durable jackets. However, the question you have is: where is Moncler made?
Moncler reminds me of Canada Goose, as both brands are two of the most impressive labels when it comes to keeping you warm. We are speaking about jackets made of high quality down. Some consumers judge a brand not only by the quality of the products but also by the country of origin where the products are manufactured.
Read: Why Is Moncler So Expensive?
To confirm, I have decided to review hundreds of product descriptions on the Moncler website to verify if the brand lists where the products are made. I also visited a Moncler store and some stores that sell Moncler products, checking multiple items. So let's find out where Moncler is manufactured. You can also check out the best French, British and American luxury fashion brands.
Where Is Moncler Made?
Moncler apparel, footwear, and accessories are manufactured in Italy, Romania, Turkey, Slovakia, Serbia, Bulgaria, Armenia, Moldova, Thailand, China, Japan, Hungary, England, Germany, Portugal, Spain, Vietnam, and Albania.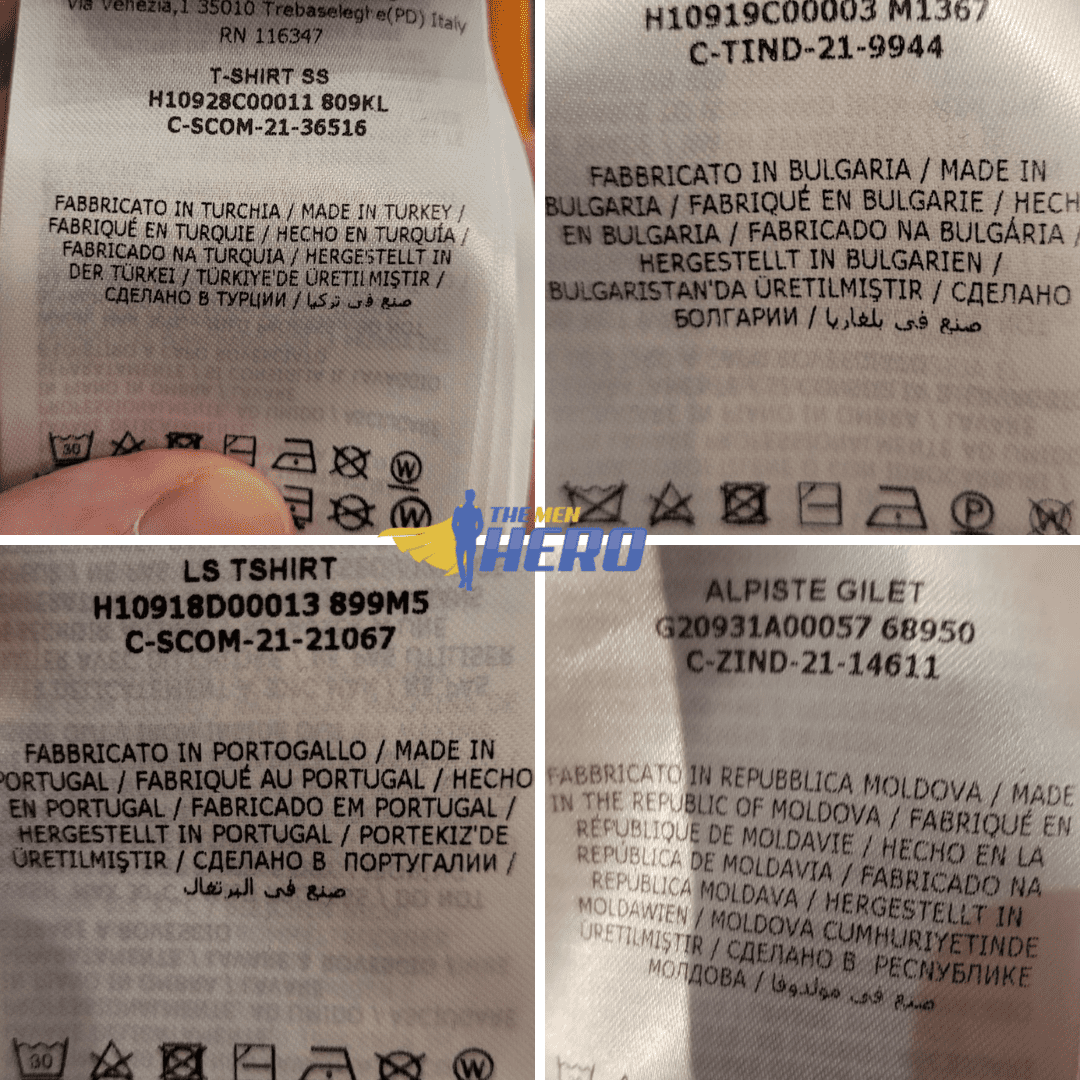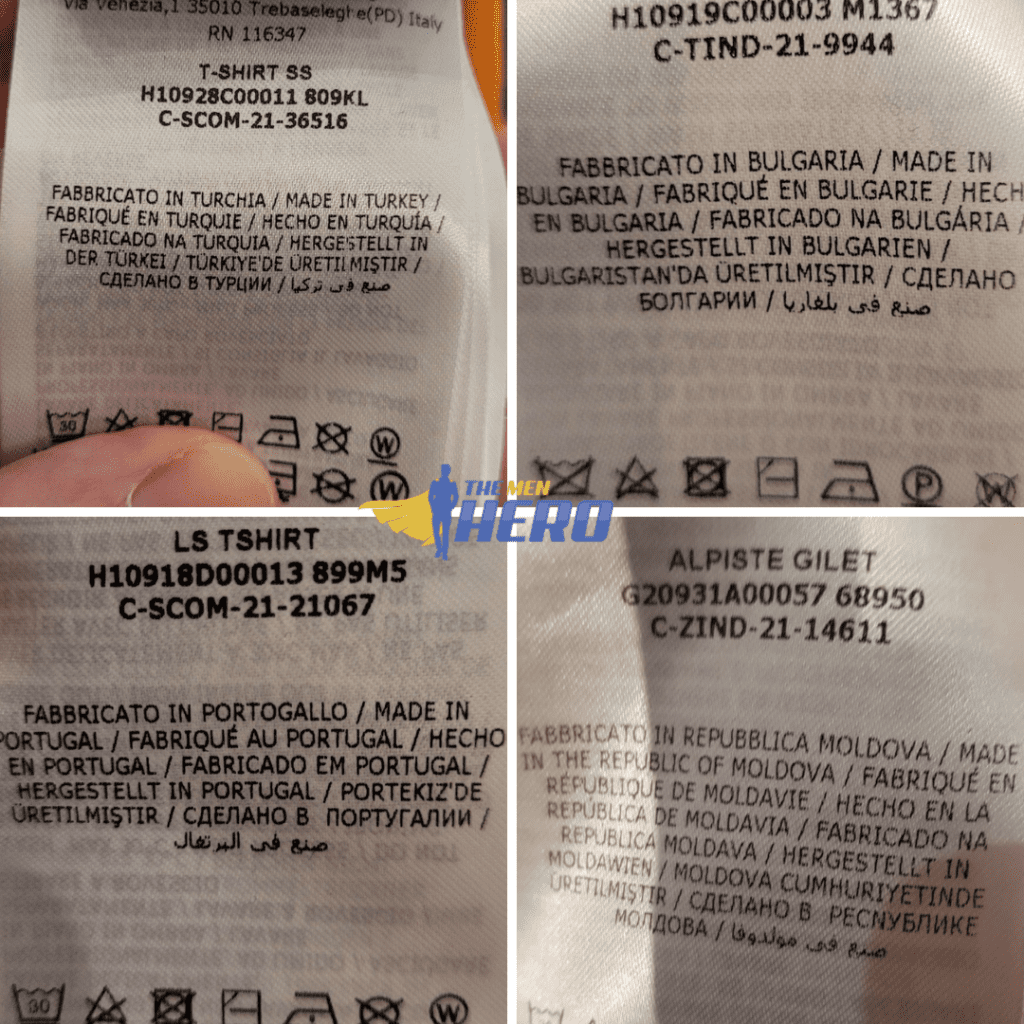 Moncler is one of those luxury brands that list where its products are manufactured on the product descriptions on its website. I didn't find one product without the country of origin, and I love that.
Read: Where Is Palm Angels Made?
Most luxury brands don't like to say where some products are manufactured (especially if they are made in Asia or countries perceived as low-quality materials and craftsmanship), but Moncler is not like that. Other luxury brands that always state the country of origin of their products in the product description are Canada Goose, Givenchy, Burberry, Kenzo, Saint Laurent, and Gucci. It's so refreshing for a brand like Moncler to list made in China on the product description of its website, providing all the information to the customer.
However, Moncler could improve on one aspect. In some product descriptions (a minimal amount of them), you can find this "Made in Armenia or Bulgaria or Italy or Moldova or Romania or Serbia," which doesn't help the consumer.
I even saw one product description stating, "Made in China or Italy." It's a big difference when differentiating between manufacturing in Italy or China. I know some people who wouldn't buy a product because it was manufactured in China but would buy a product made in Italy.
Read: Where Is The North Face Made?
If you found a Moncler item with multiple countries in the product description, you can always check where that item was manufactured when you get the physical product. The US and EU legislation requires brands to indicate the country of origin of any goods.
This is what I have found in my research over hundreds of different Moncler products in-store and on the website:
Italy – Jackets, trousers, sweaters, belts, socks, sunglasses, some bags, gloves, scarves, hats, most shoes, ski helmets, and dog products.
Romania – Jackets, phone cases, sweaters, most bags, shoes, and trousers.
Turkey – Sweaters, trousers, most t-shirts and polos, sweatshirts, and neck warmers.
Moldova – Jackets and sweaters.
Bulgaria – Jackets, hats, and swimwear.
Serbia – Jackets and scarves.
Spain – Shoes.
Vietnam – Shoes.
Albania – Shoes, trousers, and tank tops.
Portugal – Trousers and t-shirts.
Armenia – Jackets.
Slovakia – Sweaters and shoes.
Thailand – Watches.
China – Phone cases and hats.
Japan – Some home accessories.
Hungary – Phone cases, and one bag.
England – Tumblers.
Germany – Pen, and suitcases.
Read: Where Is Stone Island Made?
Is Moncler Made In Italy?
Yes, Moncler manufactures a lot of its apparel, footwear, and accessories in Italy.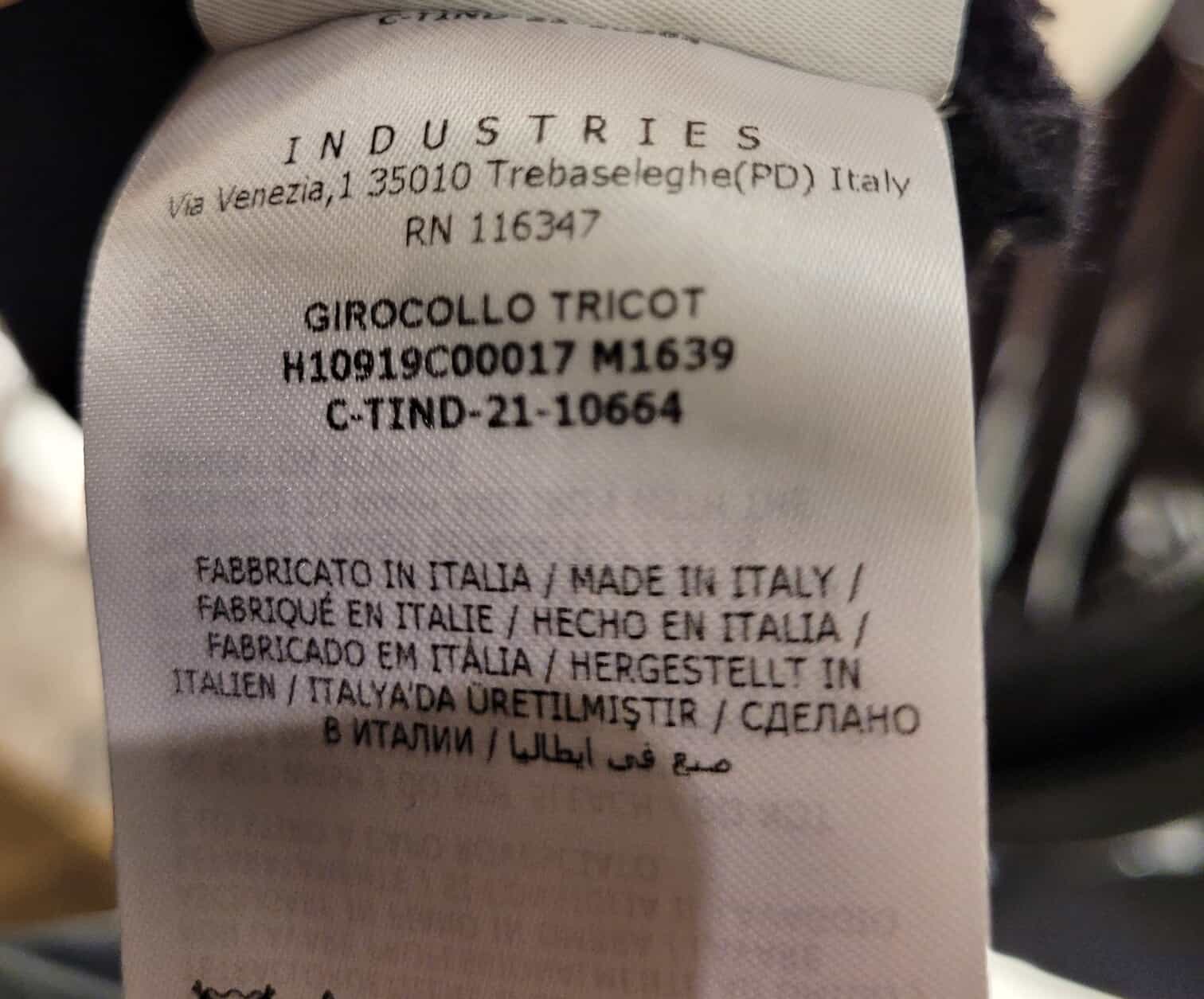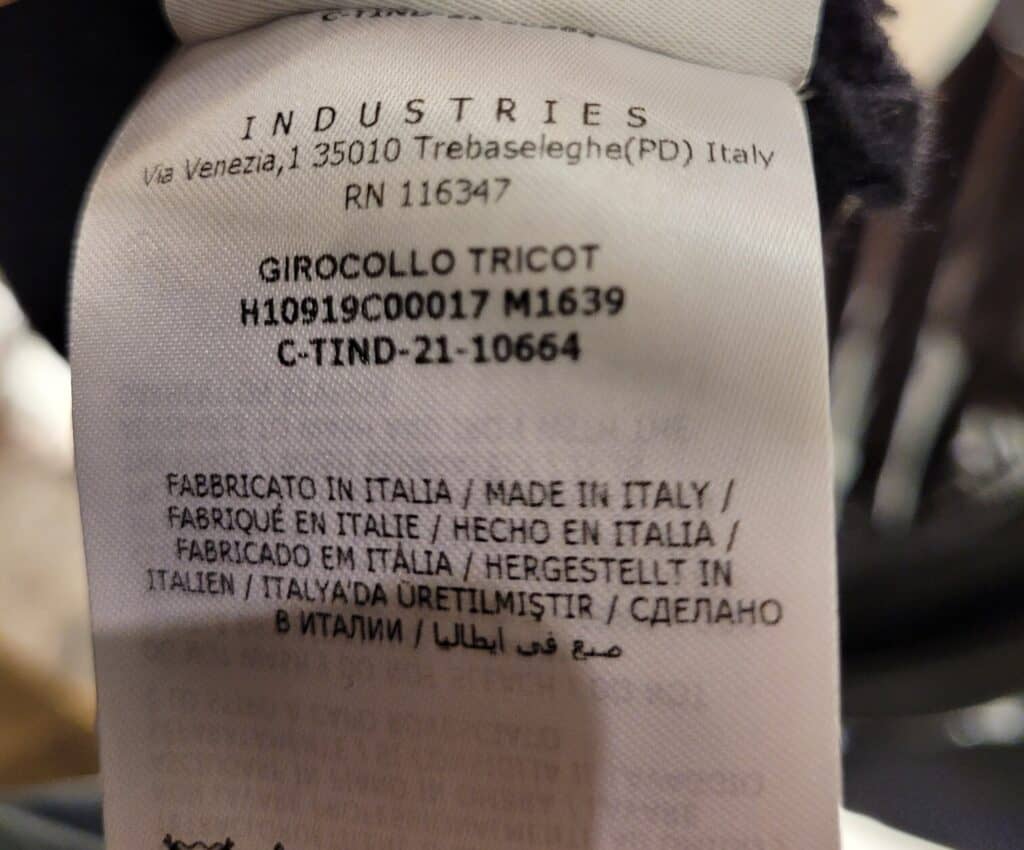 I couldn't find exactly where Moncler is manufactured in Italy. Still, most luxury brands manufacture in the North of Italy, and since the company headquarters is in Milan, it may not be too far from there.
Read: Where Is DSQUARED2 Made?
It's not a surprise that Italian luxury brands (Moncler was founded in France, but an Italian purchased it the headquarters are in Italy, and many consider the brand Italian these days) love to produce in Italy. This is the case of Loro Piana, Versace, Dolce and Gabbana.
The made in Italy label is perceived as excellent quality because brands use the best craftsmanship and materials. Moncler knows that it can purchase more for these items manufactured in Italy.
Read: Where Is Columbia Clothing Made?
I would say that in-store I have found many Moncler products manufactured in Italy, and most products I found on the website were also manufactured there. However, when it comes to menswear and womenswear, I would say that you find products manufactured worldwide (still, I would say Italy produces the most).
Is Moncler Made In Romania?
Yes, Moncler manufactures its apparel, footwear, and accessories in Romania.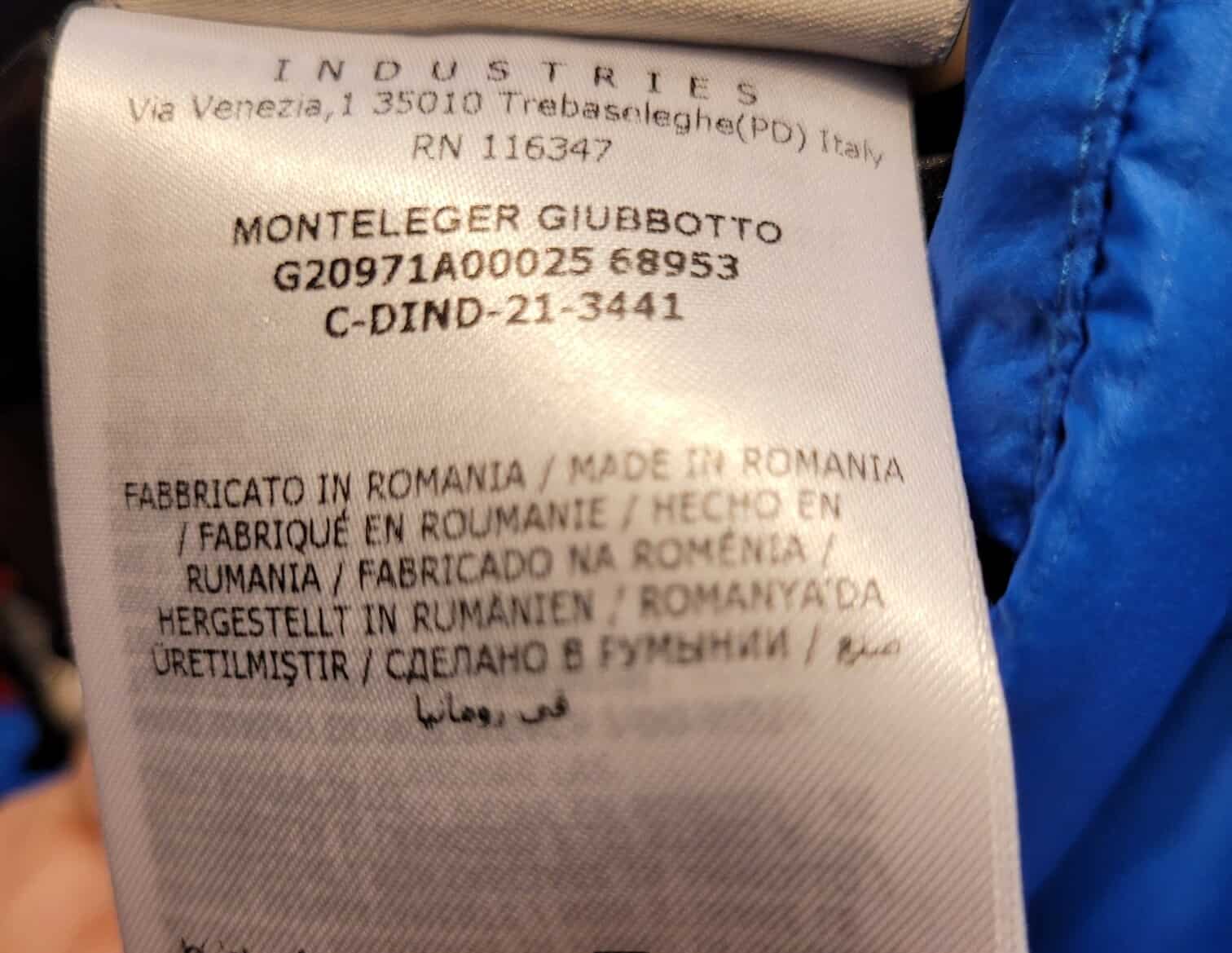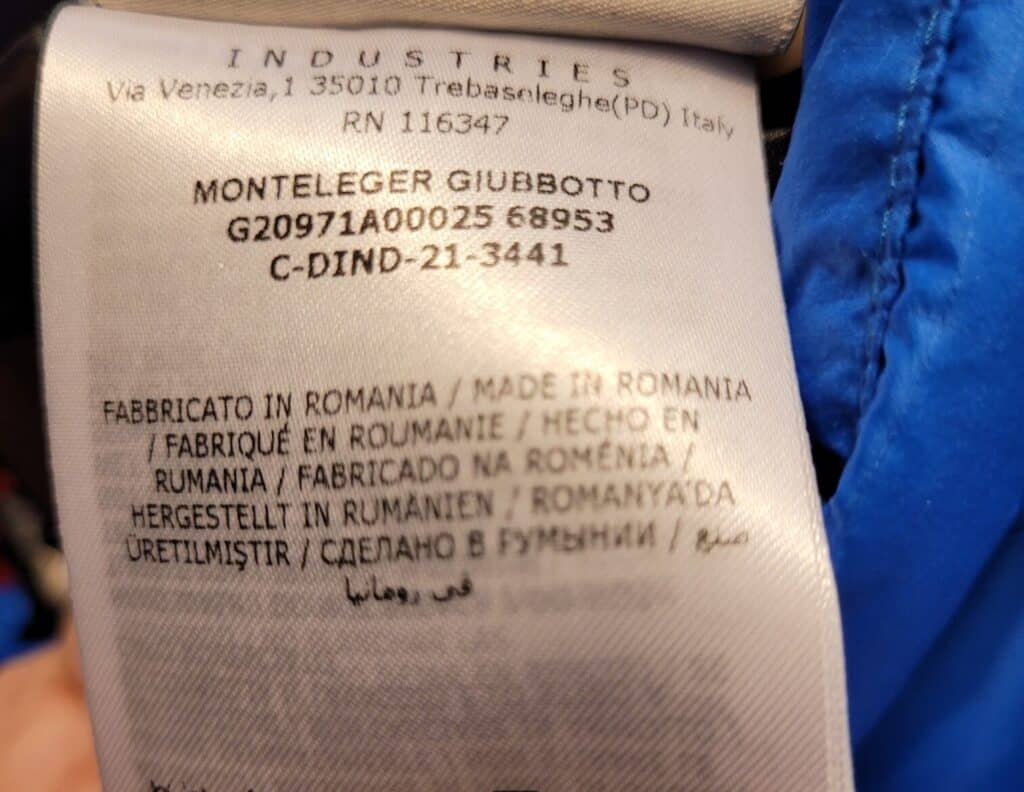 It was surprising that many Moncler products are manufactured in Romania. It's common to see some luxury brands manufacturing a tiny amount of products in Romania, compared with other countries, but in Moncler, Romania seems to be the second biggest manufacturer for the luxury label.
Read: Where Is Superdry Made?
In 2015 Moncler bought a factory in Bacau, Romania, to produce some of its products, employing over 600 people. So don't be surprised if you see some of your Moncler jackets or other products saying made in Romania. It's not a fake (at least if you bought it on an official store, official website, or official partners).
Is Moncler Made In China?
Yes, Moncler manufactures some products in China.


When checking in-store, I didn't find any Moncler products manufactured in China, but I did find a few (nothing special) on the website. Usually, you find out that luxury brands manufacture socks, hats, and gloves in China, saving money on manufacturing. Still, I only found hats and phone cases made in China on the Moncler website.
Where Are Moncler Jackets Made?
Moncler jackets are manufactured in Romania, Italy, Serbia, Moldova, Bulgaria, and Armenia.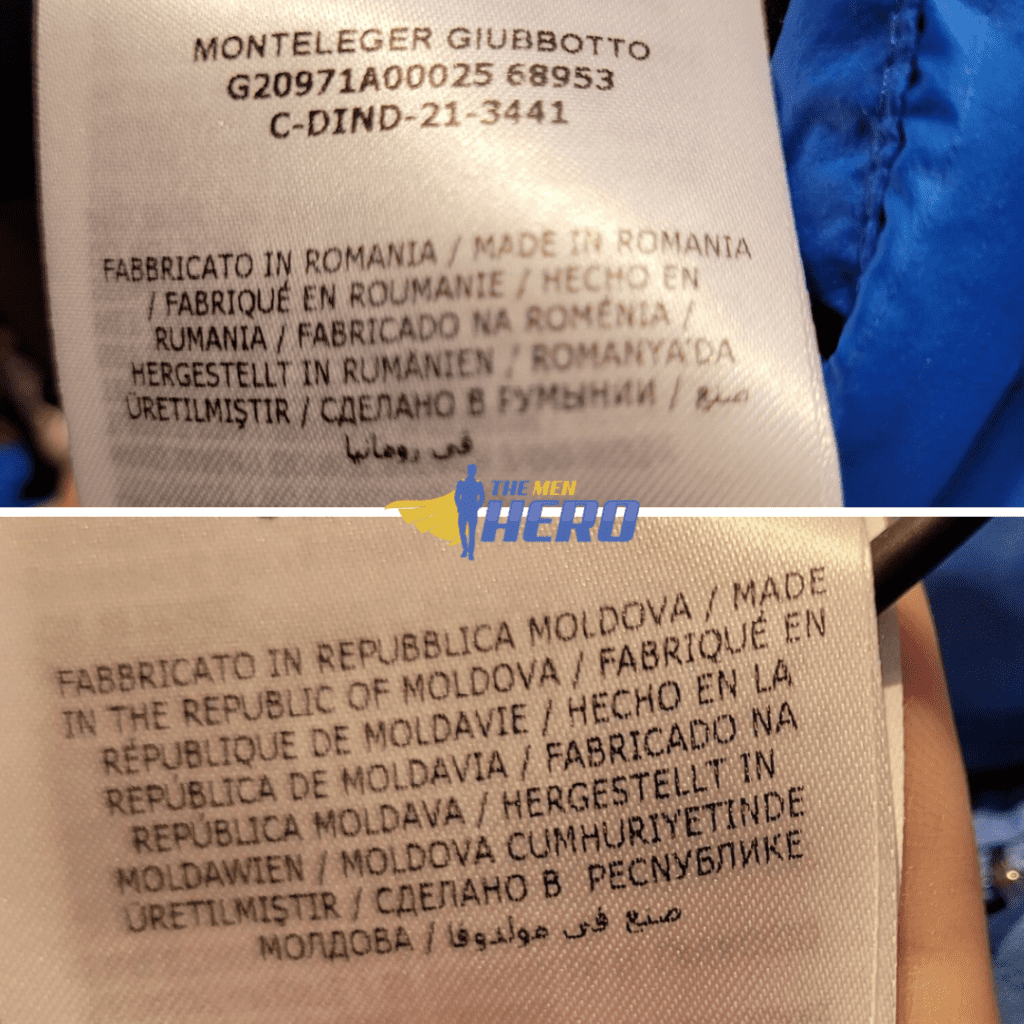 I have to say that I thought most Moncler jackets were manufactured in Italy before I started checking them in-store and on Moncler's website. I was utterly wrong since most jackets are manufactured in Romania.
When checking in-store most Moncler jackets I have found were manufactured in Romania, but I also found a few made in Moldova and others in Serbia.
Read: Where Is Jack Wolfskin Made?
If you are worried about the quality of the jackets, they seemed excellent and very warm when I tried them in the changing room. I don't think Moncler jackets that are made in Romania should be a cause for concern in terms of durability and quality. I didn't find any difference from the jackets made in Italy and Romania.
Common Questions About Where Is Moncler Made
These are the most common questions about where is Moncler made.
Is Moncler Made In France?
Yes, the Moncler perfumes that I found in-store were manufactured in France. However, I didn't find any apparel, footwear, or accessories made in France.
Is Moncler Made In Turkey?
Yes, many Moncler menswear and womenswear tops are manufactured in Turkey, especially t-shirts and polos.
Is Moncler Made With Real Fur?
Yes, Moncler products are made with real fur. The luxury label states that all jackets are made from sustainable materials, and not all of Moncler's products use fur (including jackets)
Where Are Moncler Hats Made?
Moncler hats are manufactured in Italy, China and Bulgaria.
Conclusion On Where Is Moncler Manufactured
Where is Moncler made? Most Moncler products are manufactured between Italy and Romania, but you can find many different countries on the label depending on the item. However, it's not a surprise that Italy is the country that manufactures the most since we are checking a luxury brand.