This post may contain affiliate links. That means if you click and buy from that link, I may receive a small commission (at zero cost to you), which helps me maintain the quality of this blog. Please see my full disclosure policy for details.
Off-White is an Italian luxury label founded by the American designer Virgil Abloh. The LVMH group acquired 60% of the brand, described as the grey area between black and white, being named Off-White. However, what you want to know is: where is off-white made?
To confirm, I have decided to review hundreds of product descriptions on the Off-White website to verify if the brand lists where the products are made. I also visited the Off-White store on Sloane Street in London and their department store in Selfridges, checking multiple items. So let's find out where Off-White products are made.
You can also check out the best French, British and American luxury fashion brands.
Where Is Off-White Made?
Off-White is manufactured in Italy, Portugal, Turkey, China and Indonesia.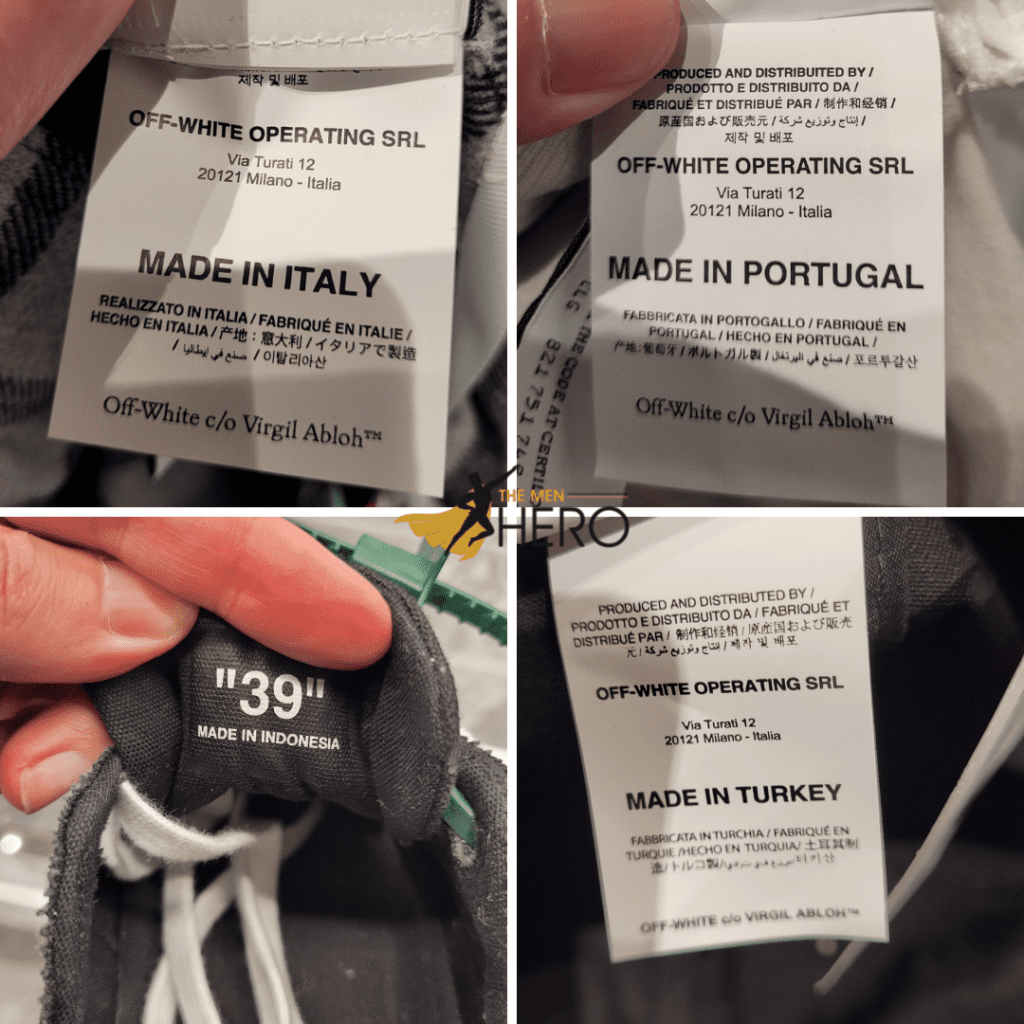 Off-white is another luxury label that doesn't list the country of origin for any item in the product description, which is strange since the brand predominantly manufactures in Italy. Some other luxury brands like Alexander McQueen, Stone Island, Chloé, Christian Louboutin, and Palm Angels also don't state the country of origin in any product description.
Read: Where Is Louis Vuitton Made?
I have checked the entire Off-White website to find the brand's manufacturing site list, but that information doesn't exist there. Sometimes fashion labels put that information on the FAQs or in the sustainability section, but it doesn't seem to be the case here.
When checking Off-White items in-store, most products had the made in Italy tag, which is not surprising since the brand is Italian. At least when it comes to apparel, I have only found items made in Italy, Portugal, and Turkey. All accessories were also made in Italy. However, regarding Off-White footwear, you can expect all of them (at least the ones I found in-store) to be made in China and Indonesia.
Read: Why Is Louis Vuitton So Expensive?
Off-White may manufacture on a very small scale in some other countries. Still, I believe the brand manufactures the most in Italy, followed by Portugal as the second biggest manufacturer. If you find other countries like China, Turkey, or Indonesia, they produce only a tiny part of this Italian luxury label. My findings in-store can confirm this information.
Don't worry if you are ordering an Off-White product online. You can always check the physical label later to see where it was manufactured. The US and EU legislation requires brands to indicate the country of origin of any goods.
Is Off-White Made In Italy?
Yes, most Of-White products are manufactured in Italy.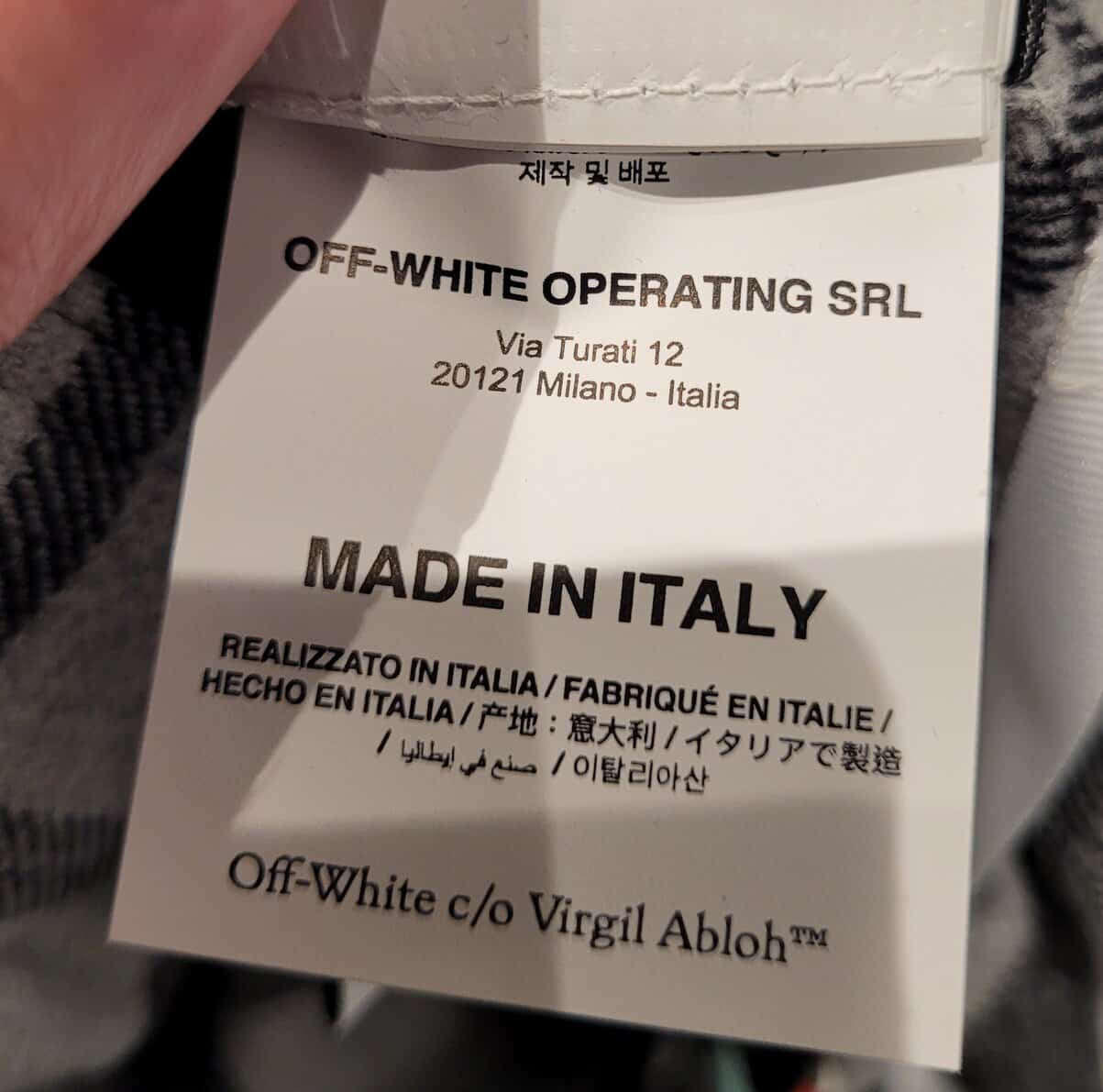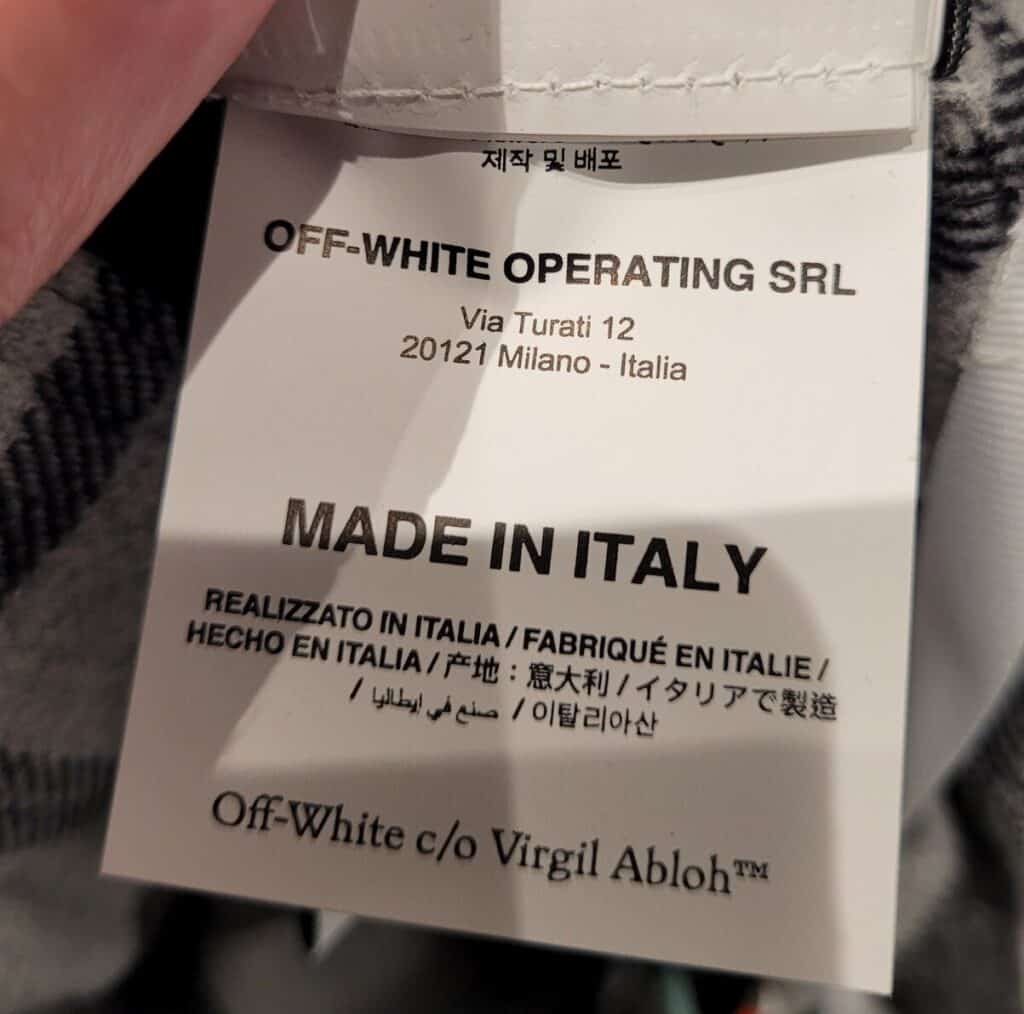 As I said before, most Off-White products are manufactured in Italy, especially when it comes to jackets, shirts, knitwear, pants, denim, scarves, wallets, bags, and belts.
Read: Where Is Gucci Made?
Most luxury labels like to fabricate in Italy because the best materials are utilized, and skilled artisans are very proud of their work. As a result, workers tend to be totally devoted to each item's manufacturing steps. This is why products made in Italy are usually perfect because every detail matters, and shoppers know that.
I have noticed many people stating that Off-White is manufactured in Milan, in the North of Italy, but I couldn't confirm if that's correct. I do believe that Off-White manufactures somewhere in the North of Italy, since most luxury brands usually manufacture in cities like Milan, Padua, Turin, Prato, or Modena.
Is Off-White Made In Portugal?
Yes, some Off-White items are manufactured in Portugal.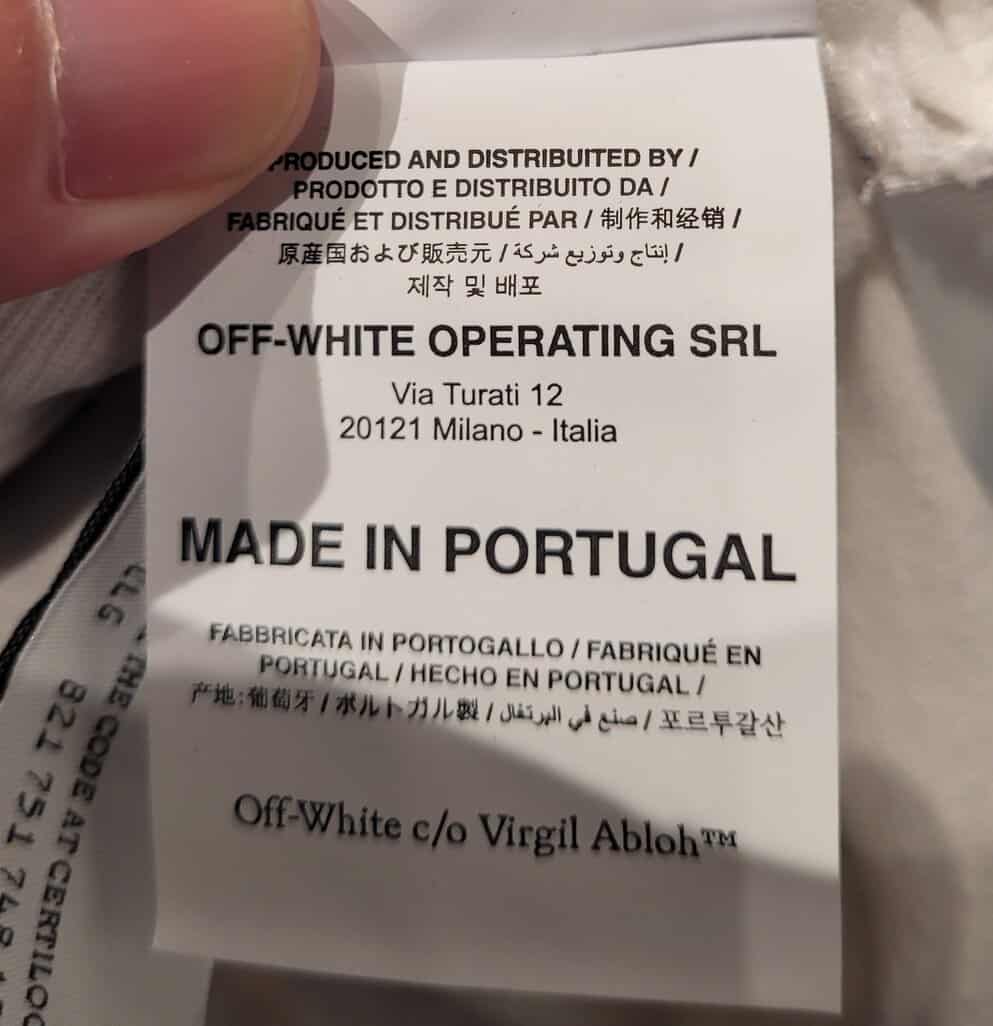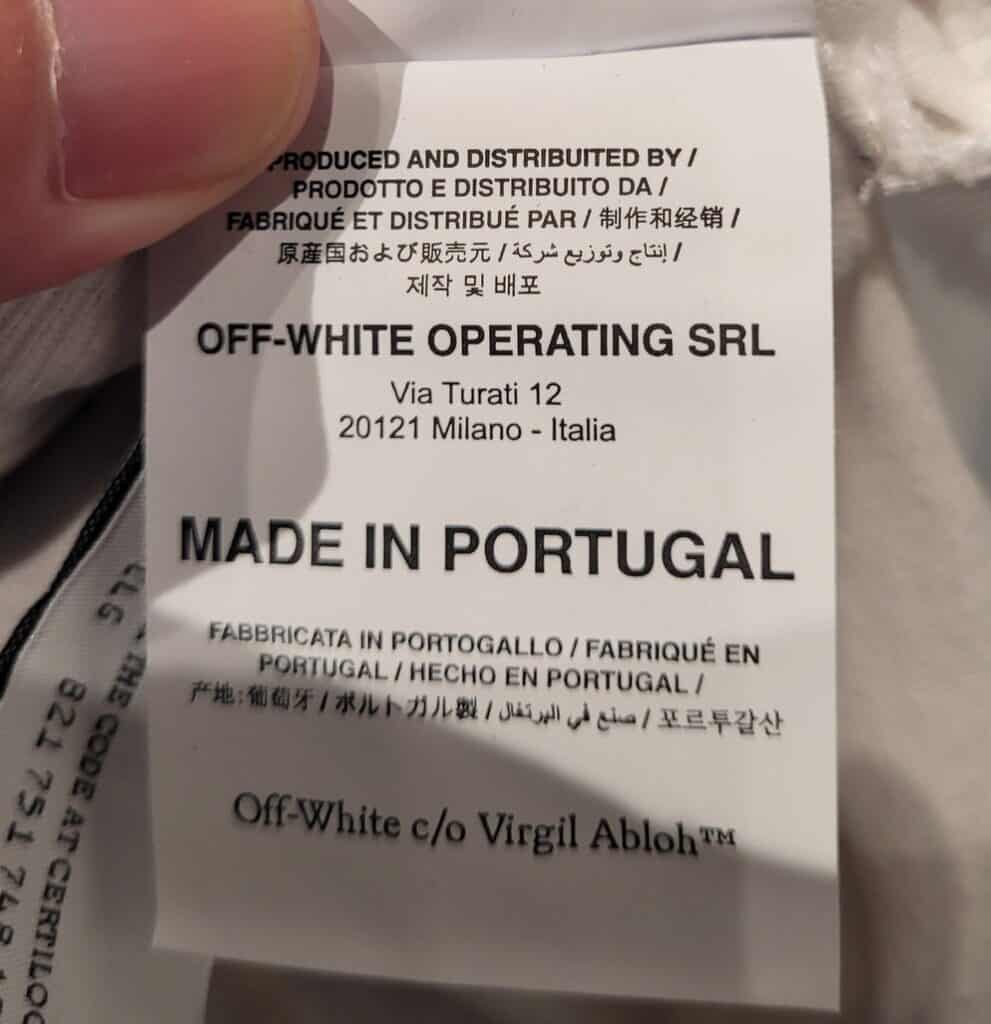 I found in-store some Off-White t-shirts manufactured in Portugal. It seems that the manufacturing of Off-White t-shirts is split between Italy and Portugal. It's not surprising to see this Italian label manufacturing in Portugal since Portuguese craftsmanship and materials are excellent, and the country can easily replicate any production system.
I can't tell you exactly where Off-White manufactures in Portugal, but usually, it's in the North of the country through some independent contractors. Some other luxury labels like Moncler, Canada Goose, Vivienne Westwood, Givenchy, Balmain, Kenzo, DSQUARED2, and Tom Ford also manufacture some of their products in Portugal, which I love because it's where I was born.
Is Off-White Made In China?
Yes, some Off-White products are made in China.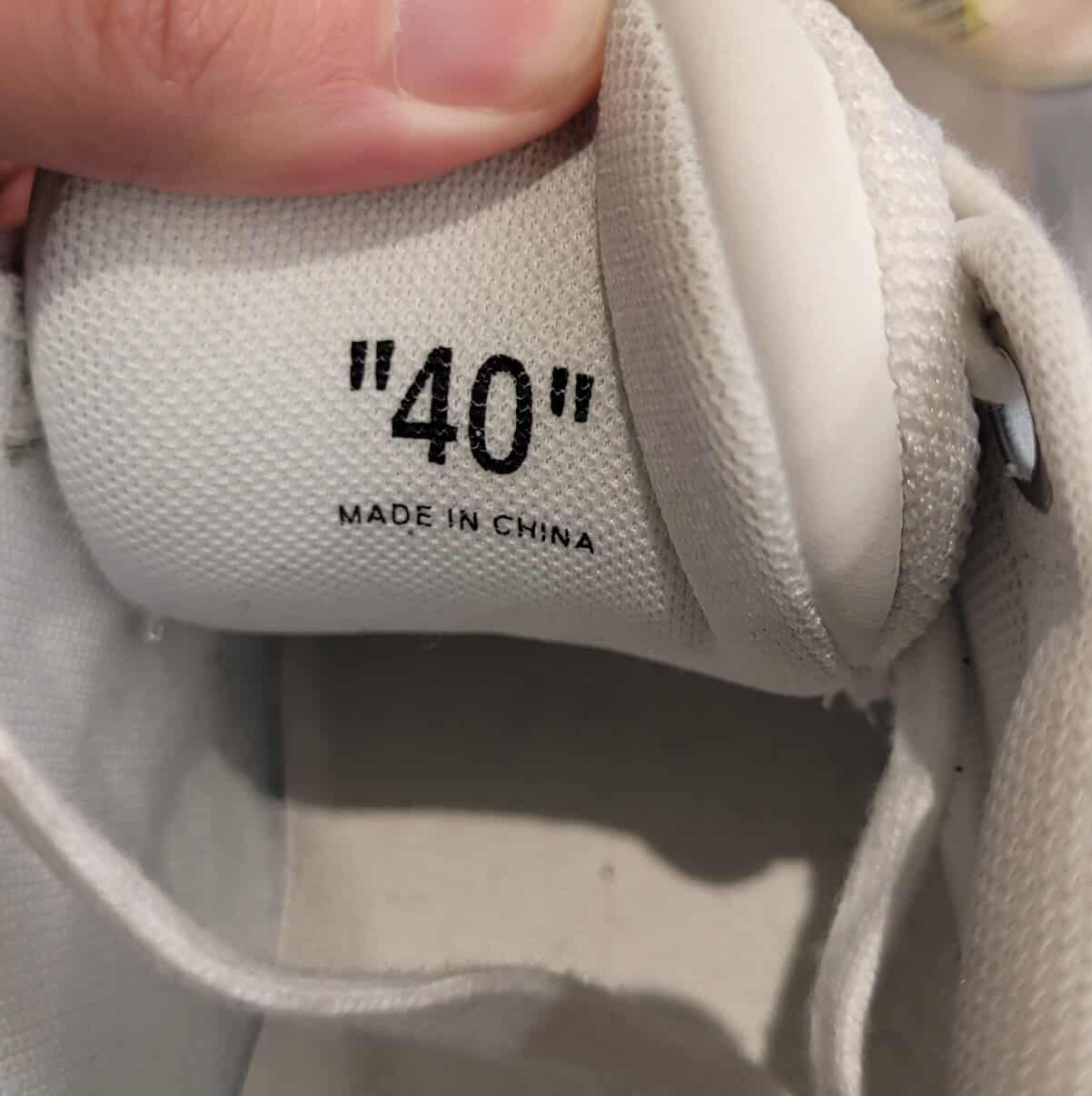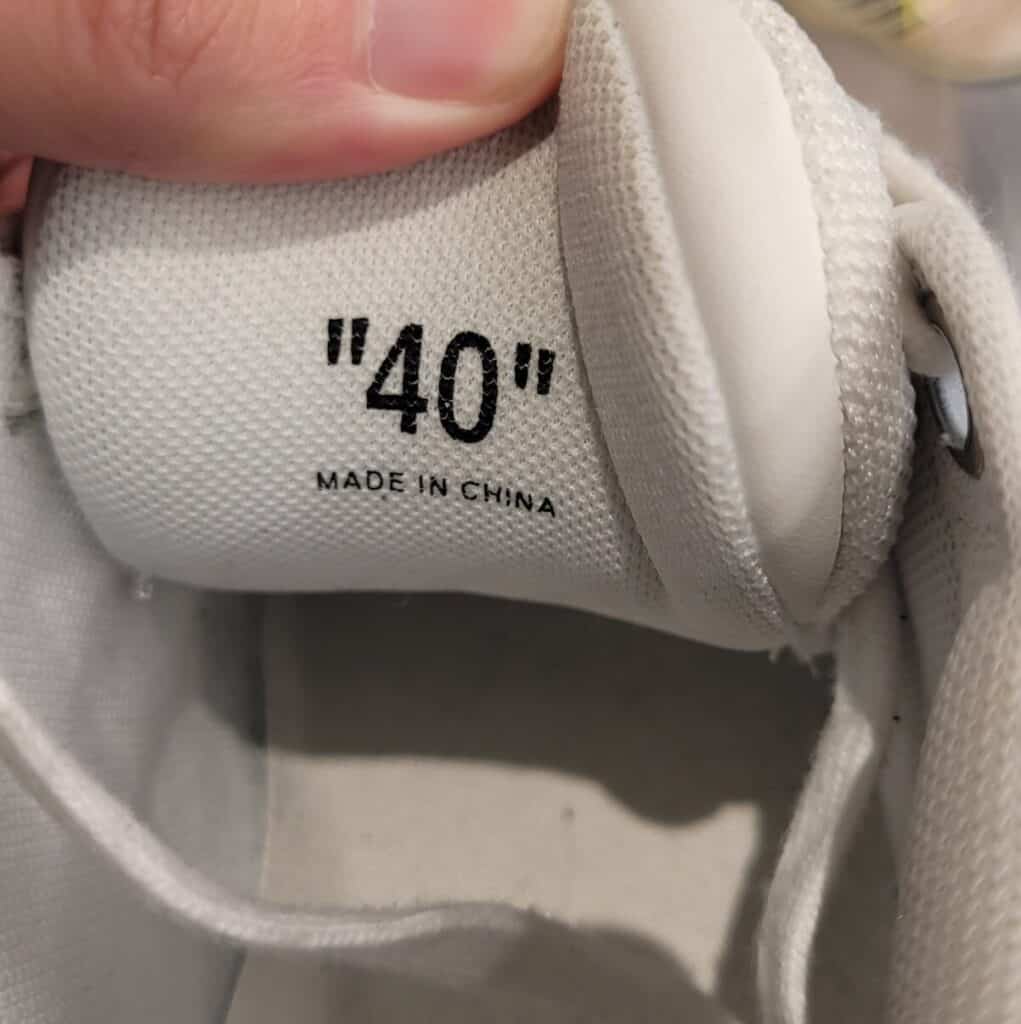 You won't find many Off-White products manufactured in China, apart from footwear. I found two shoes made in Indonesia, and all the rest was made in China, which was a surprise because I was expecting to find most shoes made in Italy since most apparel is manufactured there.
Read: Versace Jeans Couture Vs Versace
Usually, luxury brands avoid manufacturing in China because consumers see it as inferior in craftsmanship and materials. However, some of them, like Balenciaga, Burberry, Jimmy Choo, and Moschino, manufacture in China, even on a small scale, because it's cheap and profit margins are more significant. However, Off-White doesn't manufacture heavily in China.
Common Questions About Where Is Off-White Made
These are the most common questions about where is Off-White made.
Where Are Off-White Shoes Made?
All Off-White shoes I have checked in-store were manufactured in China and Indonesia. I have to say that most Off-White footwear is made in China since that's the country I found the most.
Where Is Off-White Clothing Made?
All Off-White clothing I have checked in-store was manufactured in Italy, Portugal, and Turkey. However, most Off-White apparel is made in Italy.
Is Off-White High Quality?
Yes, Off-White products are high-quality since most products are manufactured in Italy, a country known for its excellent craftsmanship and superior raw materials. Even the Off-White items manufactured outside of Italy have exceptional quality due to the strict guidelines the brand presents to its suppliers.
Where Are Off-White Jordans Made?
Off-White Jordans collaborations shoes were manufactured in China, Indonesia, and Vietnam. This is because Jordans are made in China, Vietnam, and Indonesia, and Off-white shoes are manufactured in China and Indonesia.
How Many Off-White Jordans Were Made?
It seems that only 46,000 units of Off-White Jordans were manufactured when both brands collab.
Conclusion
Where is Off-White made? Mainly in Italy, but you can also find some apparel manufactured in Portugal and Turkey and some footwear made in China and Indonesia. To avoid buying fake Off-White goods, always buy from its official website, store, or authorized retail partners.