This post may contain affiliate links. That means if you click and buy from that link, I may receive a small commission (at zero cost to you), which helps me maintain the quality of this blog. Please see my full disclosure policy for details.
Gymshark is a British sports label that has experienced massive success among the public, growing in revenue year after year despite being only founded in 2012. Today this sports brand is valued at over £1 billion, which is impressive.
I am a big fan of Ben Francis and how he created Gymshark since his story is inspirational for every entrepreneur. I also love the GymShark speed joggers because they fit well, are high quality, and are not overpriced.
I have reviewed hundreds of product descriptions on Gymshark's website to verify if the brand lists where the products are made. I also visited the Gymshark store in Regent St. in London, checking multiple items and the ones my friends and I had at home. So let's find out where Gymshark clothes are made.
You can also check out the best American, Italian, and Australian sports brands.
Where Is Gymshark Made?
Gymshark is manufactured in England, China, Bangladesh, Turkey, Cambodia, Madagascar, the Philippines, and Jordan.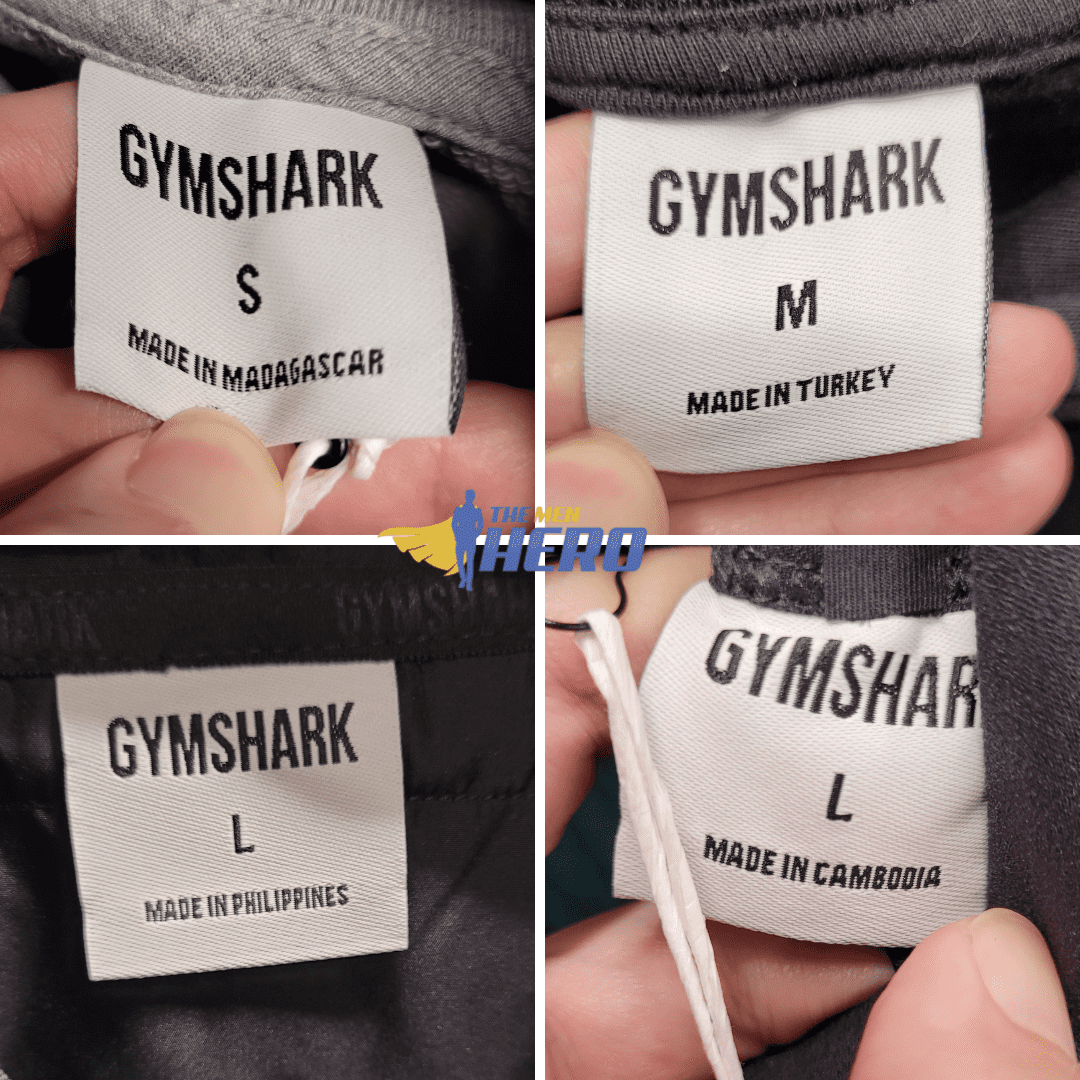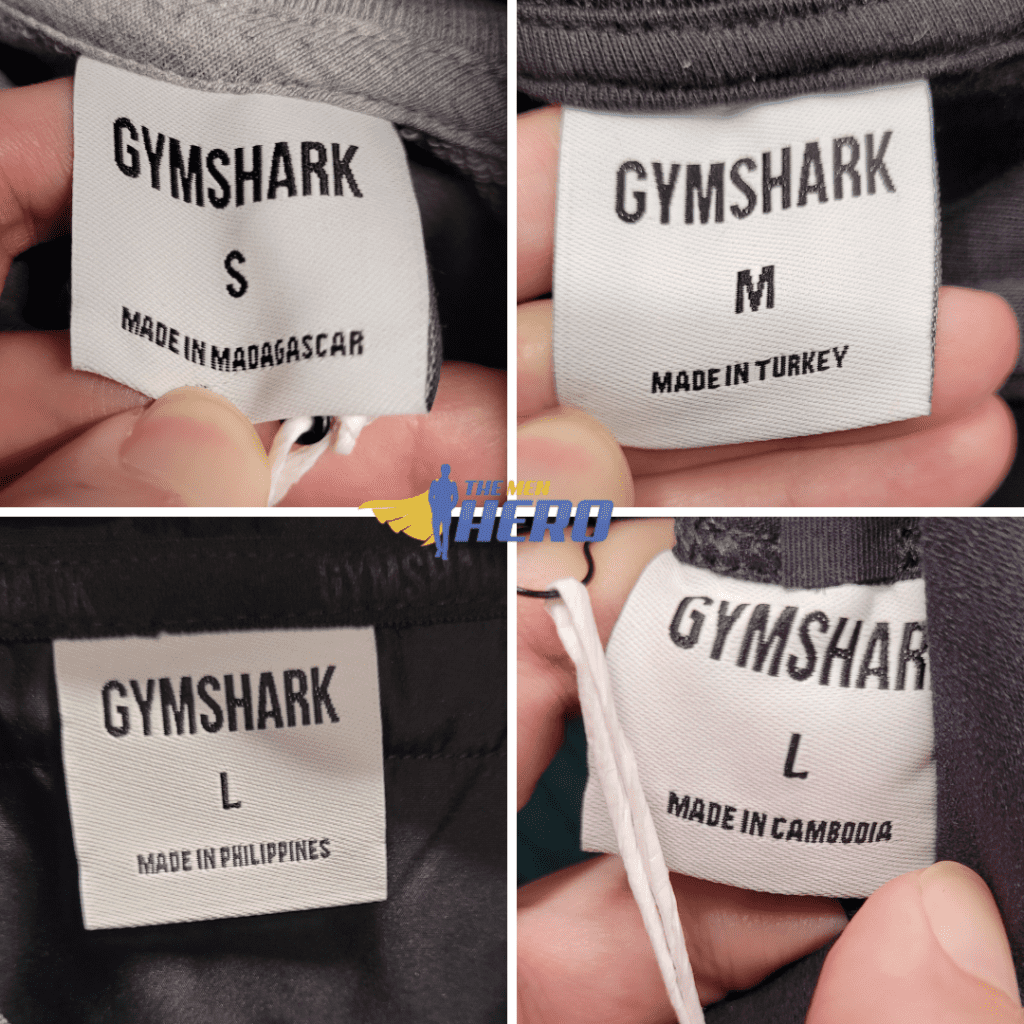 It's not a surprise that Gymshark doesn't list where its products are manufactured on the product descriptions on its website. If you check any other sports brand website, it's the same. It doesn't matter if the brand is British, American, or Italian, etc. Just check Nike, Under Armour, Adidas, New Balance, Skechers, or Puma websites, and you will have no information about the manufacturing on the product descriptions.
Read: Where Is Lululemon Made?
Most shoppers don't check where a product is made, but if someone tells them the item was manufactured in China, Bangladesh, or Vietnam, they will think twice before purchasing it since people tend to consider them a low-quality good. Gymshark and other big sports labels understand this, and that's why they don't put the country of origin in the product description.
Till October 2022, you could only check the country of origin of a Gymshark product if you ordered one online since the brand didn't have any physical store. This is because US legislation and EU rules require the brands to tell the country of origin for any imported products regarding physical goods.
I was surprised not to find many products manufactured in China in-store and noticed a lot more made in Bangladesh (especially womenswear) and Turkey (mainly menswear). Since Gymshark doesn't manufacture footwear, I understand why I didn't find Vietnam as a manufacturer. I couldn't find any products made in the UK either.
Read: Where Is Reebok Made?
Apart from Gymshark's product innovation center in Solihull, I don't believe Gymshark owns any manufacturing sites. Instead, the brand uses independent contractors to make the garments according to their needs.
Is Gymshark Made In The UK?
Yes, some Gymshark goods are manufactured in England, but when I checked several items in-store, I didn't find any with the Made in England label.
When Ben Francis started Gymshark in his parent's garage in Bromsgrove, Worcestershire, all Gymshark items were exclusively made in England. Every Gymshark product was custom-made by Francis with the help of a screen printer and sewing machine. In 2013 the brand moved to a small warehouse in West Midlands, UK.
Read: Where Is Speedo Made?
Since March 2022, Gymshark has had a Product Innovation Centre in Solihull, where product creation teams develop new seamless products and create and test new concepts. According to Drapers Online, one room has 15 knitting machines, which means this sports brand is manufacturing some of its products in England, even if it is on a tiny scale or only testing them without selling to consumers.
Now, if Gymshark uses other external suppliers in the UK for small production is a mystery, but I don't think so, and that reflects the fact that I didn't find any made-in-England labels in-store. After all, we must remember that this hub in Solihull is more of a testing center than a production manufacturing site.
Is Gymshark Made In China?
Yes, some Gymshark products are manufactured in China.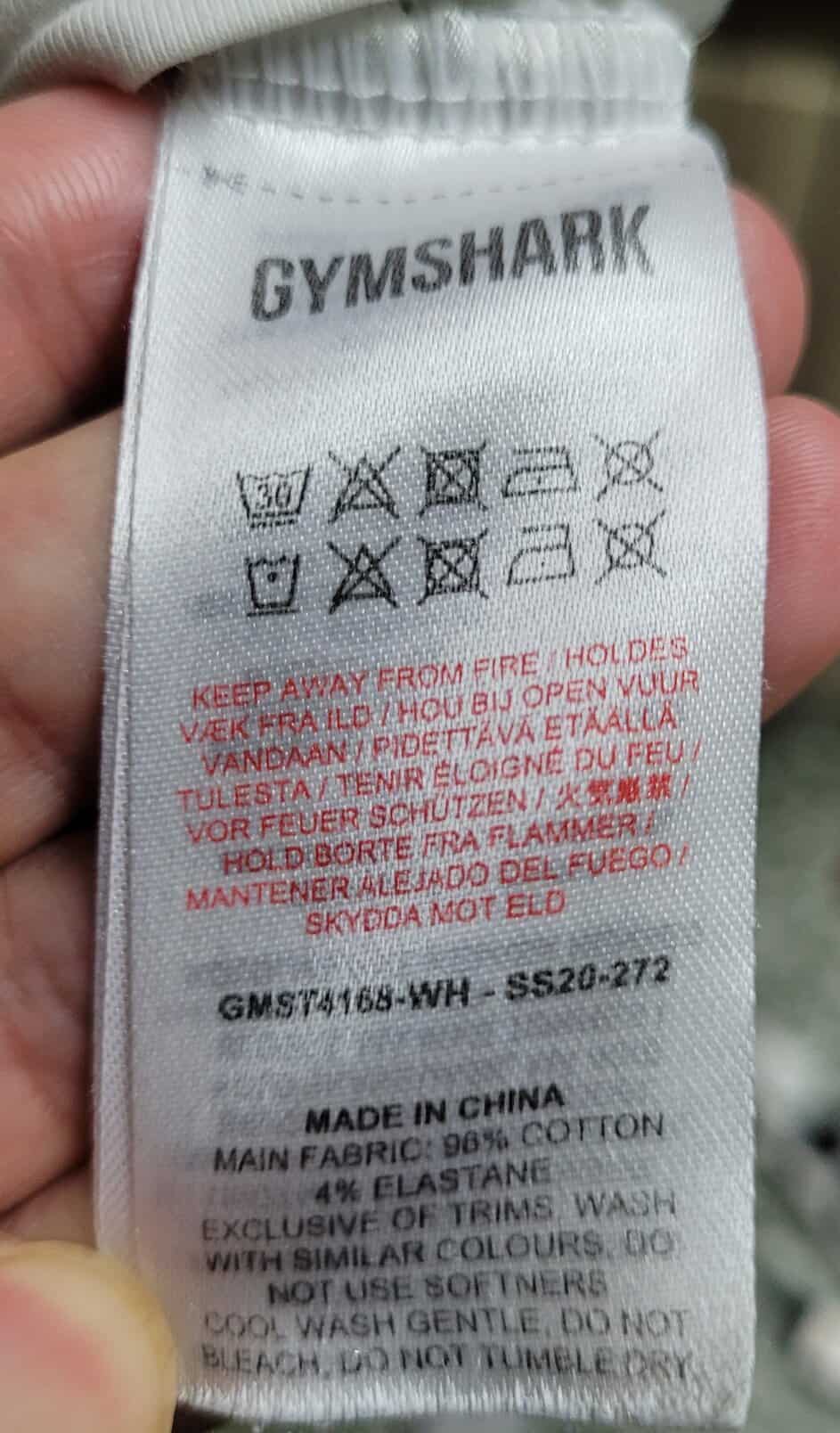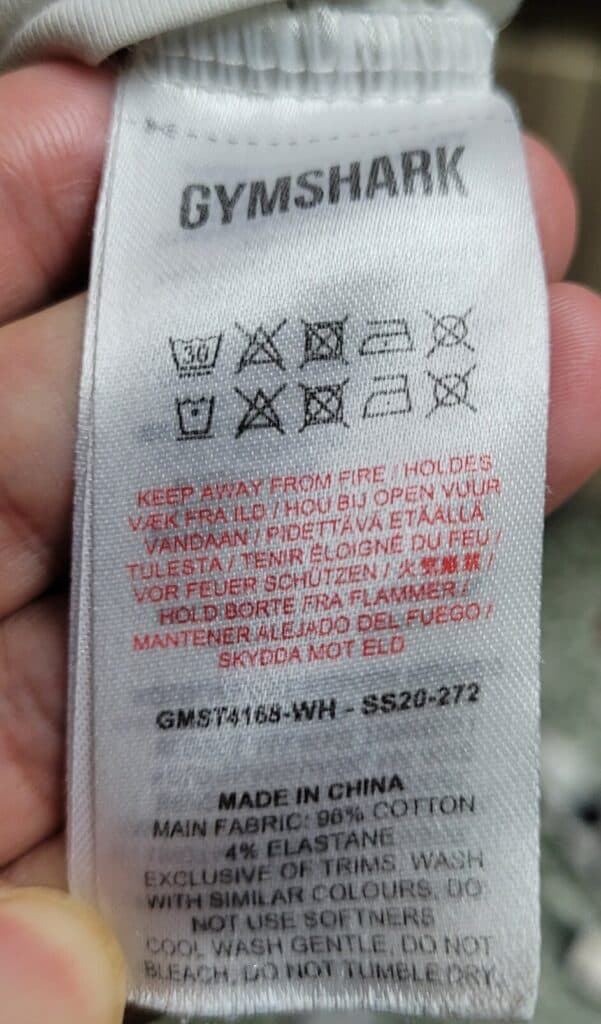 I was expecting to find a lot of Gymshark apparel and accessories manufactured in China in-store, but to my surprise, I barely did it. Instead, I only saw two t-shirts, a few socks, bags, and water bottles with the made-in-China tag.
I couldn't confirm exactly where Gymshark manufactures in China. Still, sports brands usually love to manufacture in this Asian country since the labor and materials are cheaper. In addition, Gymshark can profit more since the costs are less than manufacturing in the UK.
Is Gymshark Made In Bangladesh?
Yes, many Gymshark products are manufactured in China.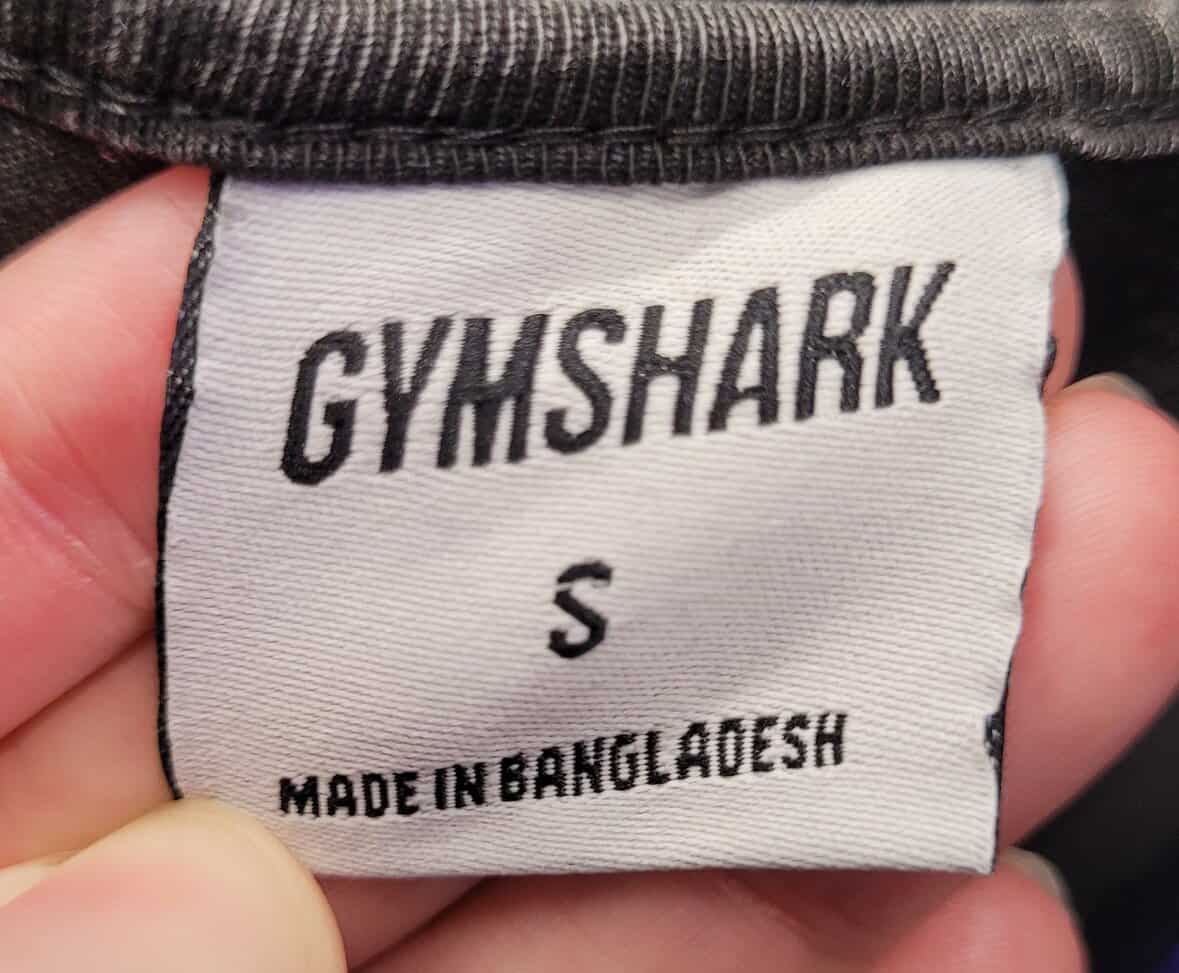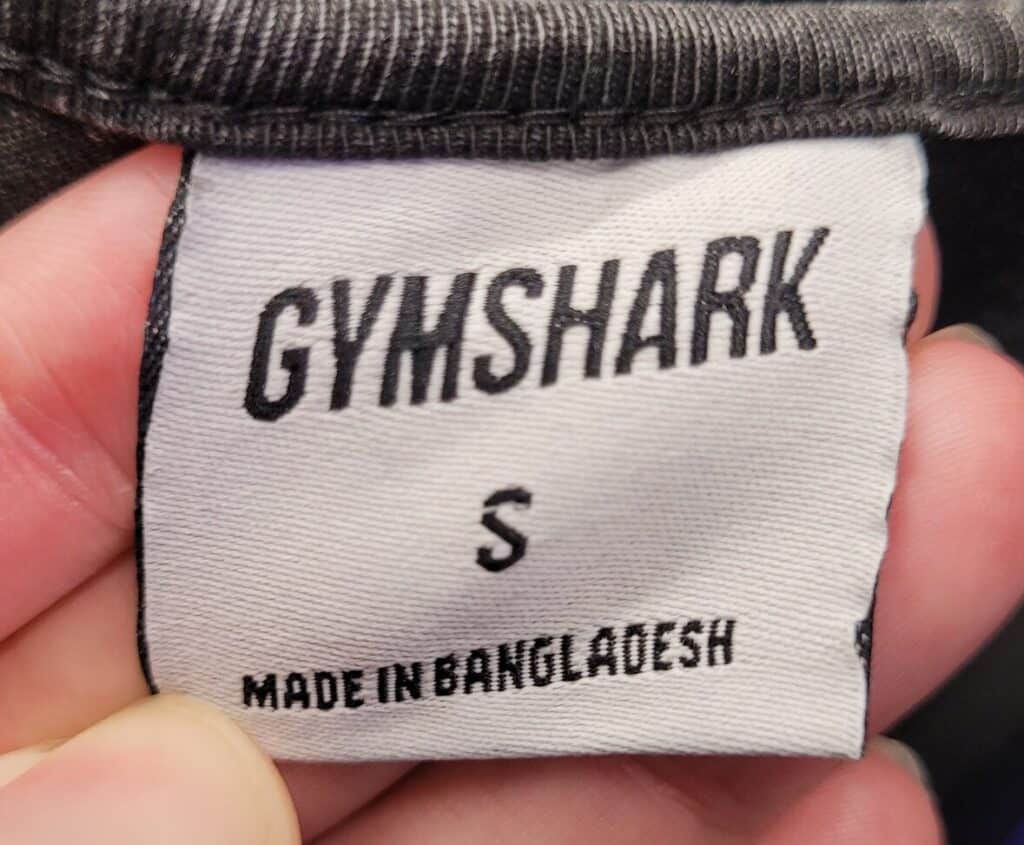 I couldn't find exactly where Gymshark manufactures in Bangladesh, which is not a surprise since the brand is quite secretive about where the manufacturing happens. Bangladesh is investing in mass-recycling, making the brands that manufacture there more sustainable, which is excellent.
Read: Where Are Asics Made?
I was also stunned to see so many labels with the tag made in Bangladesh. I was expecting a few, but not most, of womenswear to be made here. However, I didn't find any accessories made in this Asian country.
Common Questions About Where Are Gymshark Clothes Made
These are the most common questions about where is Gymshark made.
Is Gymshark Made In Turkey?
Yes, many Gymshark items for men I have checked in-store were manufactured in Turkey. It's not a surprise Gymshark manufactures heavily in Turkey since it's cheap and improves the brand's profit.
Where Are Gymshark Leggings Made?
All the Gymshark leggings I have checked in-store were manufactured in Bangladesh and Turkey. However, you can expect some more countries from the list above to manufacture leggings on a small scale.
Is Gymshark An Ethical Company?
I don't think Gymshark is the most ethical company on the market, but that's due to the fact I can't see any information about sustainability on their website, so I can only presume they don't use recycled or eco-friendly materials when manufacturing products.
Conclusion
Where is Gymshark made? Most of the production is between Bangladesh and Turkey. However, you can also expect some Gymshark items manufactured in the UK, China, Jordan, the Philippines, Cambodia, and Madagascar.
Read: Where Are Vans Made?
Gymshark became the number one British sports label, and I believe this inspiring label can become one of the best in the future. If you are addicted to the gym, try some of their products, and you will be surprised by how much freedom they provide when moving.