This post may contain affiliate links. That means if you click and buy from that link, I may receive a small commission (at zero cost to you), which helps me maintain the quality of this blog. Please see my full disclosure policy for details.
DSQUARED2 is one of the most popular luxury brands worldwide with their motto of "Born in Canada, made in Italy." But does the brand only manufactured in Italy? Where is DSQUARED2 made?
This luxury label was launched in 1995 by the twin brothers Dean and Dan Caten, which explains the name of the brand becoming popular among celebrities. I have to say I am not the biggest fan of DSQUARED2, but only because I am a little bit more conservative when it comes to fashion. However, this brand is for you if you like extravagant and glamorous.
Read: Where Is Off-White Made?
To confirm, I have decided to review hundreds of product descriptions on the DSQUARED2 website to verify if the brand lists where the products are made. I also visited the DSQUARED2 department stores in Selfridges and Harvey Nicholls in London, checking multiple items. So let's find out where DSQUARED2 products are made.
You can also check out the best French, British and American luxury fashion brands.
Where Is DSQUARED2 Made?
DSQUARED2 is manufactured in Italy, China, Portugal, and Romania.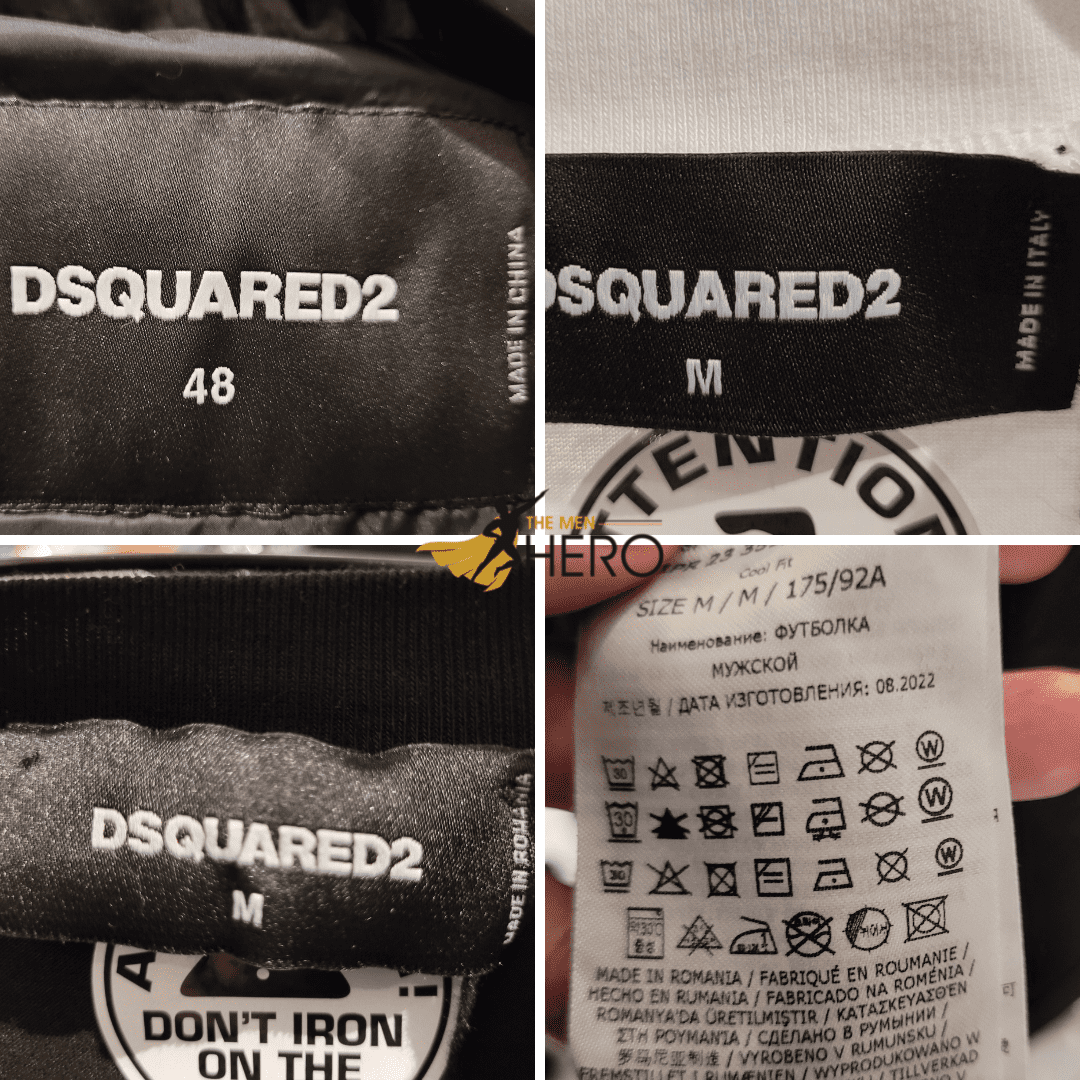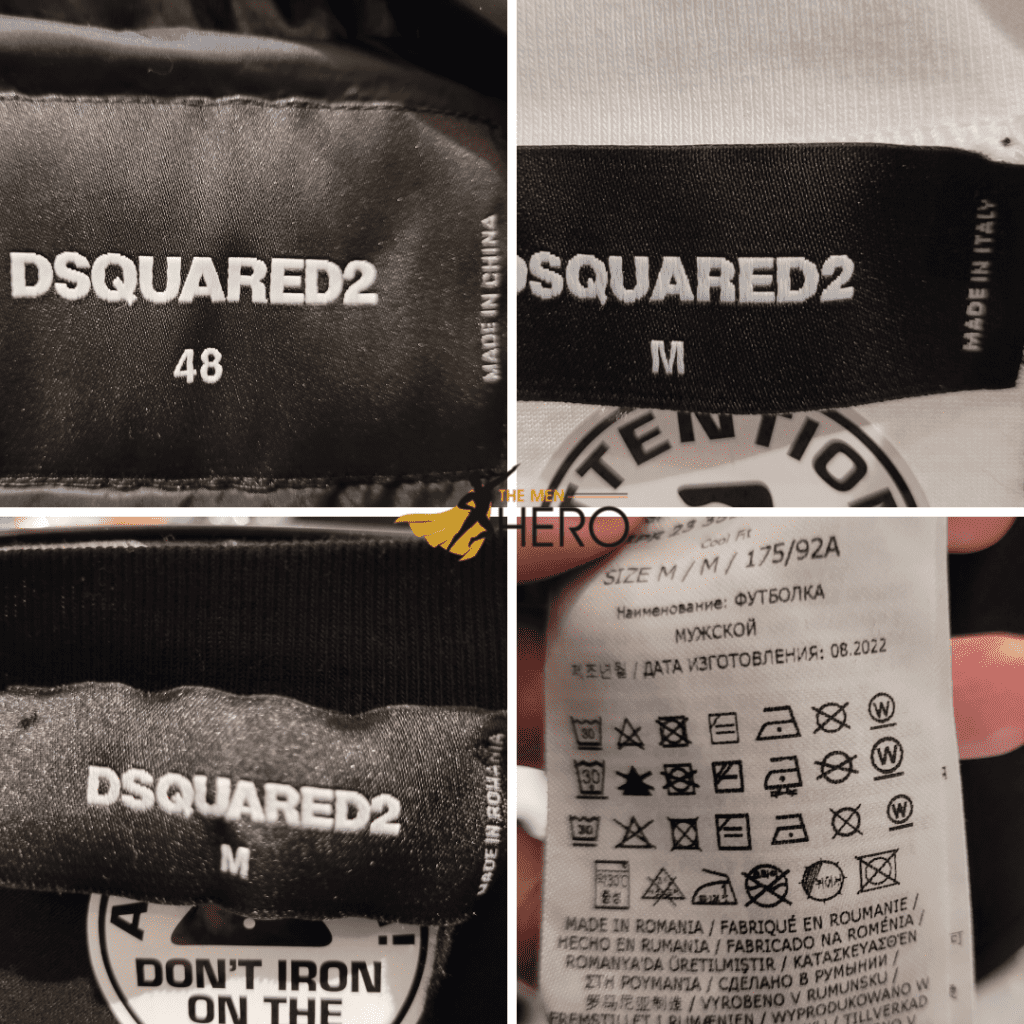 Like Gucci, Louis Vuitton, Saint Laurent, Valentino, Canada Goose, and Bottega Veneta, DSQUARED2 also states the country of origin on the product description of every item on its website. I didn't find one product without the country of origin, which I always appreciate from a fashion label.
Read: Where Is Tom Ford Made?
All the DSQUARED2 countries I have found on the website were all the four I have found in-store. So I am pretty confident this brand only manufactures in these four countries because I have checked most of the products online and many in-store.
DSQUARED2 manufactures most of its products in Italy, with some random ones in China (sunglasses are exclusively manufactured here) and even less in Portugal and Romania, where I only found three or four goods. So even if the brand tries to sell the "Born in Canada, made in Italy", I can tell you that's not 100% the case.
If you are shopping online on a website that sells DSQUARED2 but doesn't specify the product's country of origin, you can always check it when you receive the physical good. This is because the EU and US legislation require brands to indicate the country of origin of any goods. It will probably have the tag made in Italy.
Is DSQUARED2 Made In Italy?
Yes, most of DSQUARED2 apparel, footwear, and accessories are manufactured in Italy.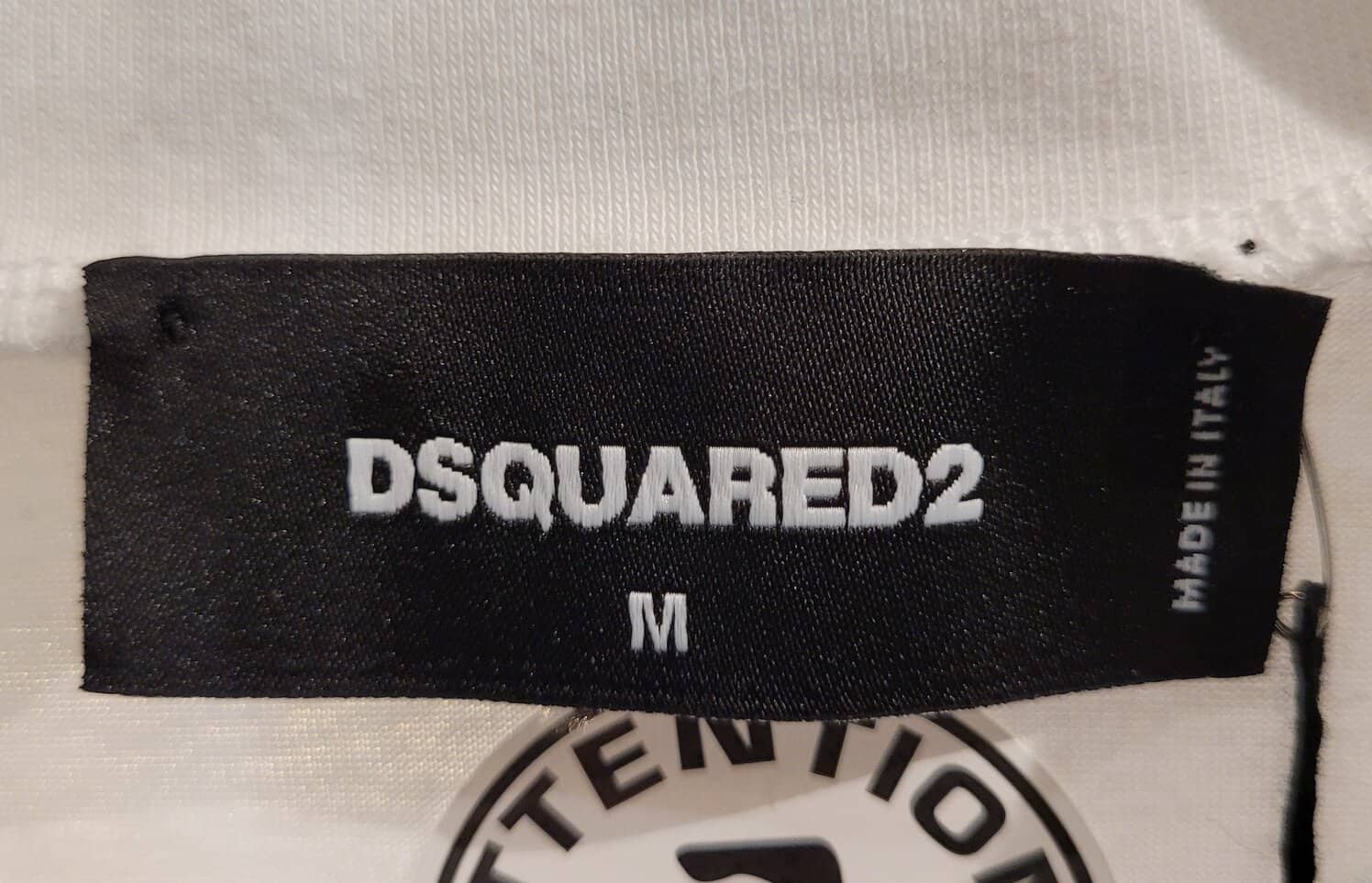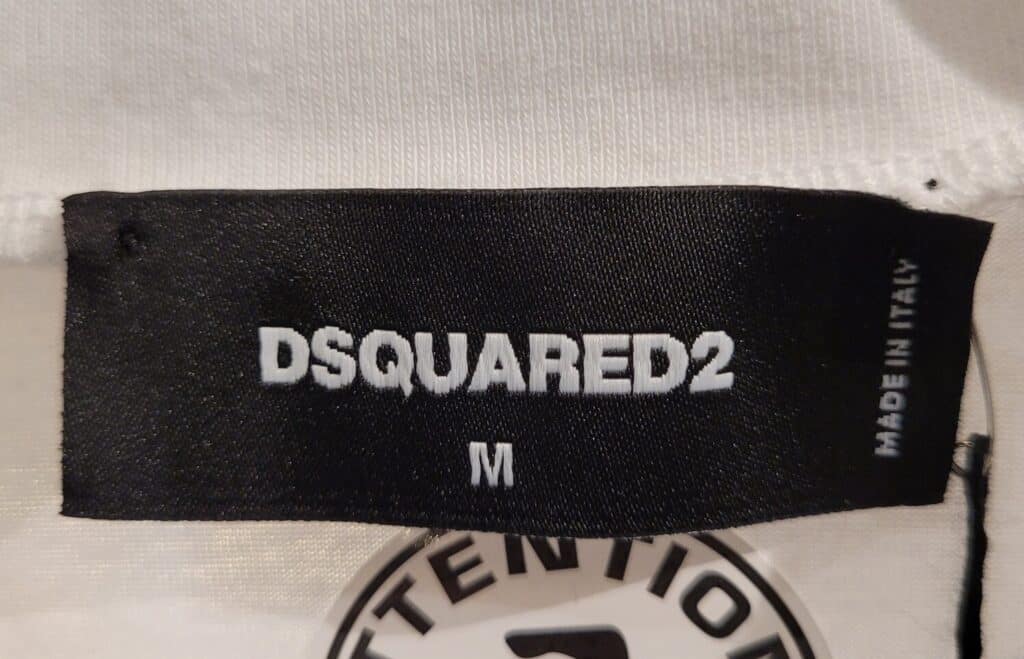 So most DSQUARED2 menswear is manufactured in Italy, with a few exceptions that are made in China, Portugal, and Romania. Staff International is responsible for manufacturing the ready-to-wear collections in North-East Italy after they renewed the agreement to keep producing for the Italian luxury brand till 2027.
Read: Difference Between Versace and Versace Jeans Couture
Till June 2021, Marcolin was the company that produced the DSQUARED2 eyewear, but the Italian label signed a new agreement with the Safilo Group. ITF Cosmetics is the company making the fragrances for DSQUARED2 and ISA, the beachwear, underwear, and socks collections.
DSQUARED2 doesn't own any factory in Italy, and the brand uses these other companies to take care of the manufacturing. I am not surprised since most luxury labels like to manufacture in Italy because the best materials are utilized, and experienced artisans are very proud of their work, producing high-quality garments.
Is DSQUARED2 Made In Portugal?
Yes, some DSQUARED2 apparel garments are manufactured in Portugal.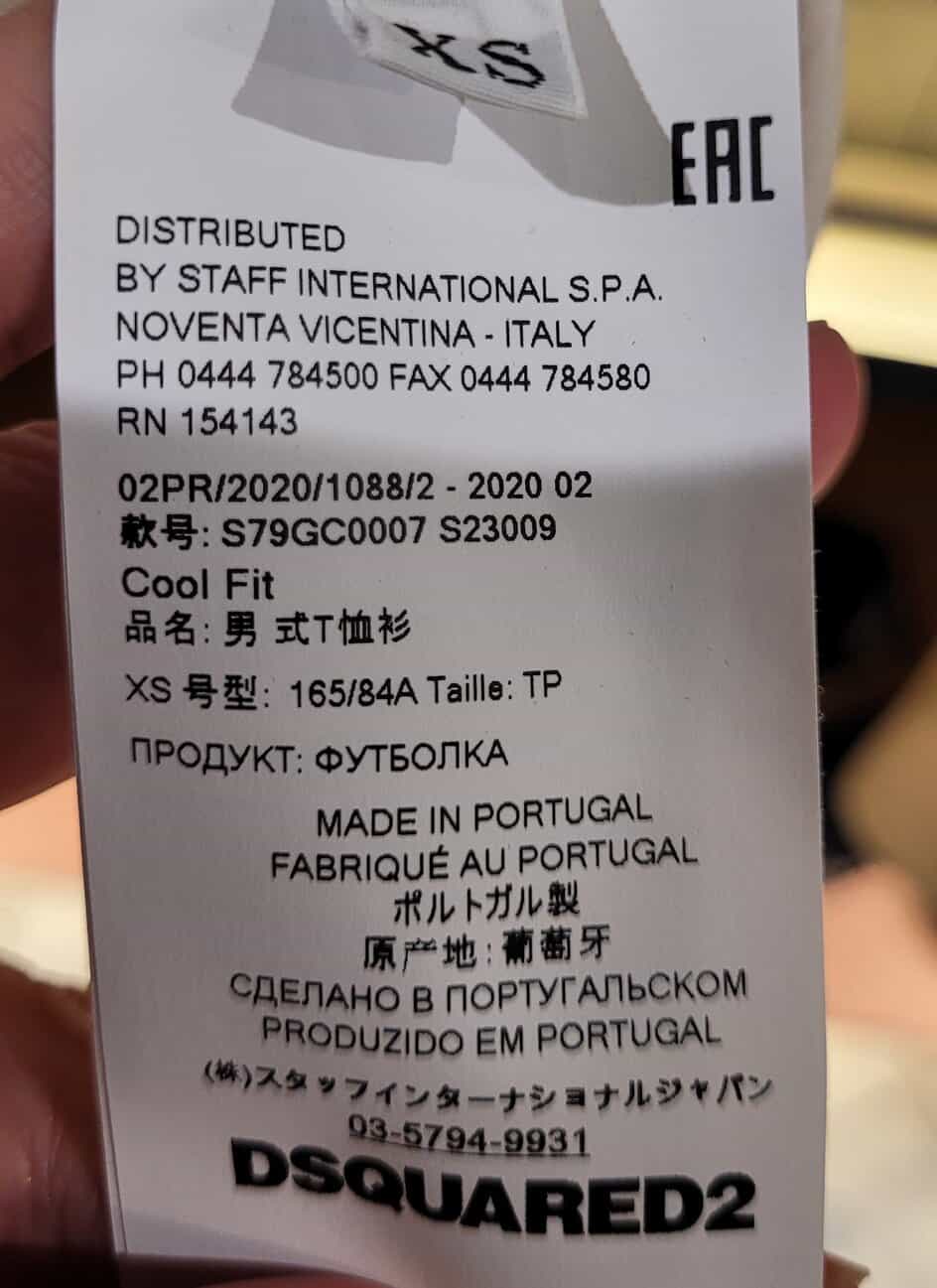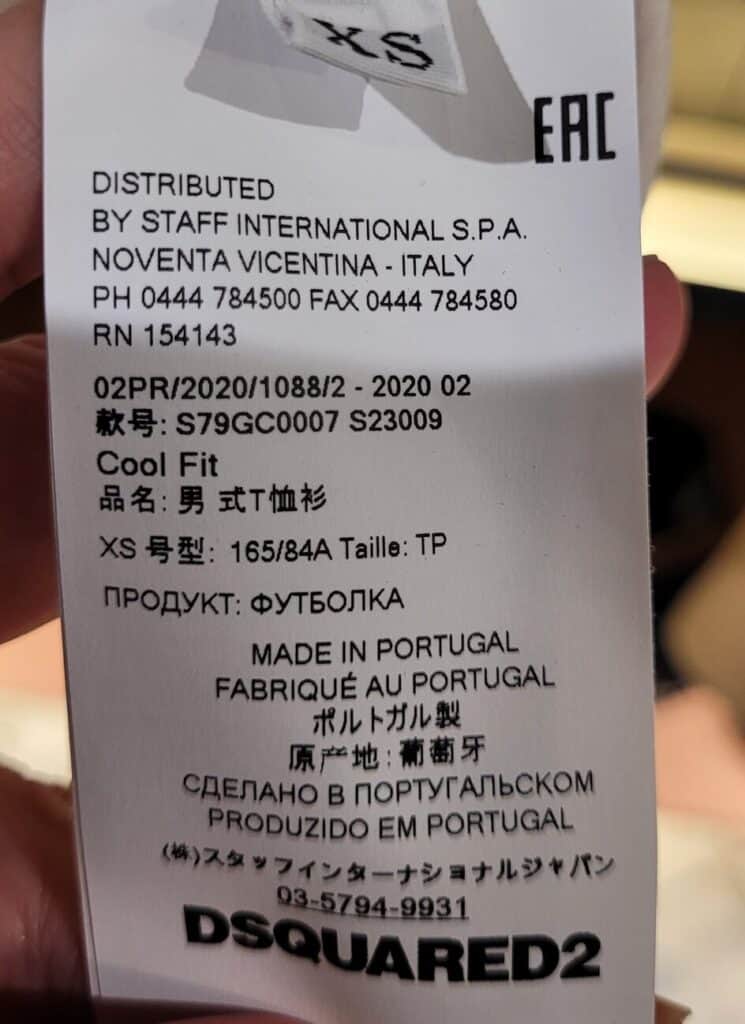 DSQUARED2 manufactures only a few pieces of menswear in Portugal, so I couldn't find exactly where in Portugal the brand produces, but it's definitely utilizing independent contractors. The only product I found with a made-in-Portugal tag was a couple of t-shirts.
Read: Why Is Kiton So Expensive?
If you like to find out where luxury brands are manufactured, you will notice that many of them produce in Portugal due to the craftsmanship and fabrics being of excellent quality. In addition, Portugal can copy any production system easily. That's why luxury labels like Balmain, Stone Island, Moncler, Kenzo, and Palm Angels also manufacture in Portugal.
I wouldn't be surprised to find some DSQUARED2 shoes manufactured in Portugal since some brands usually like to manufacture footwear there.
Is DSQUARED2 Made In China?
Yes, some DSQUARED2 apparel and accessories are manufactured in China.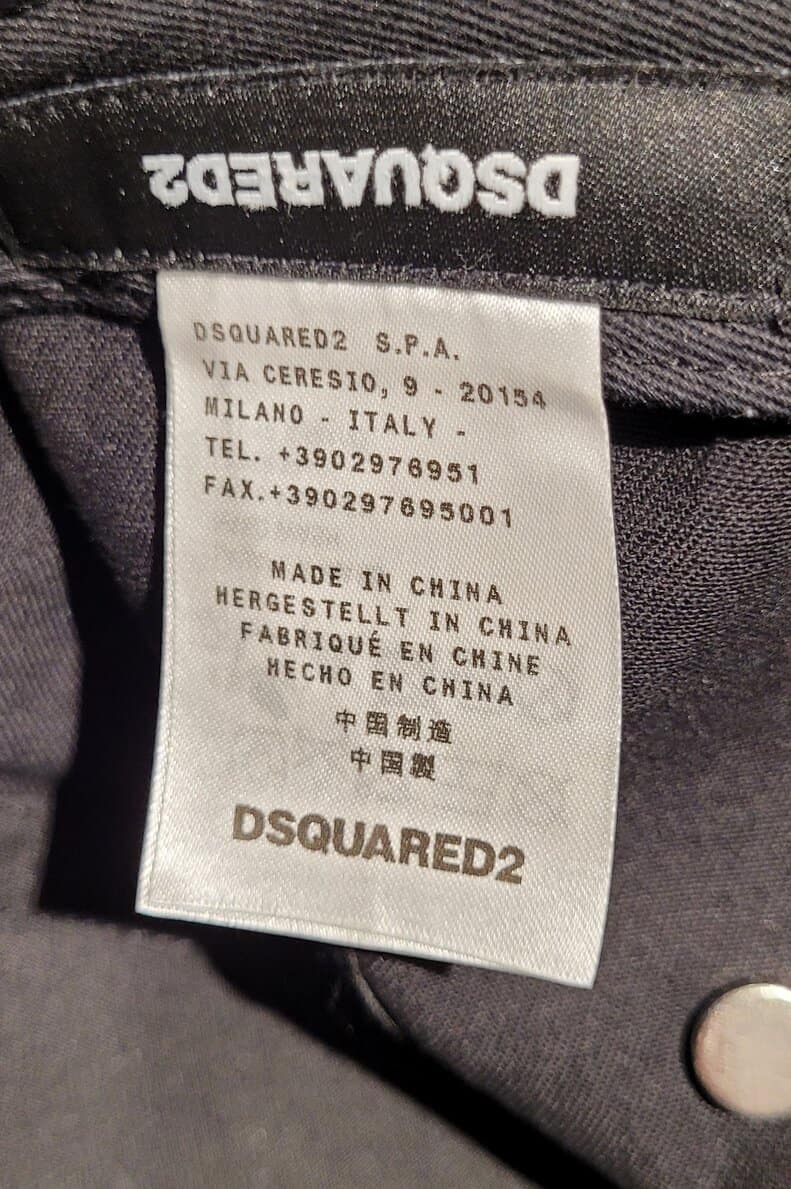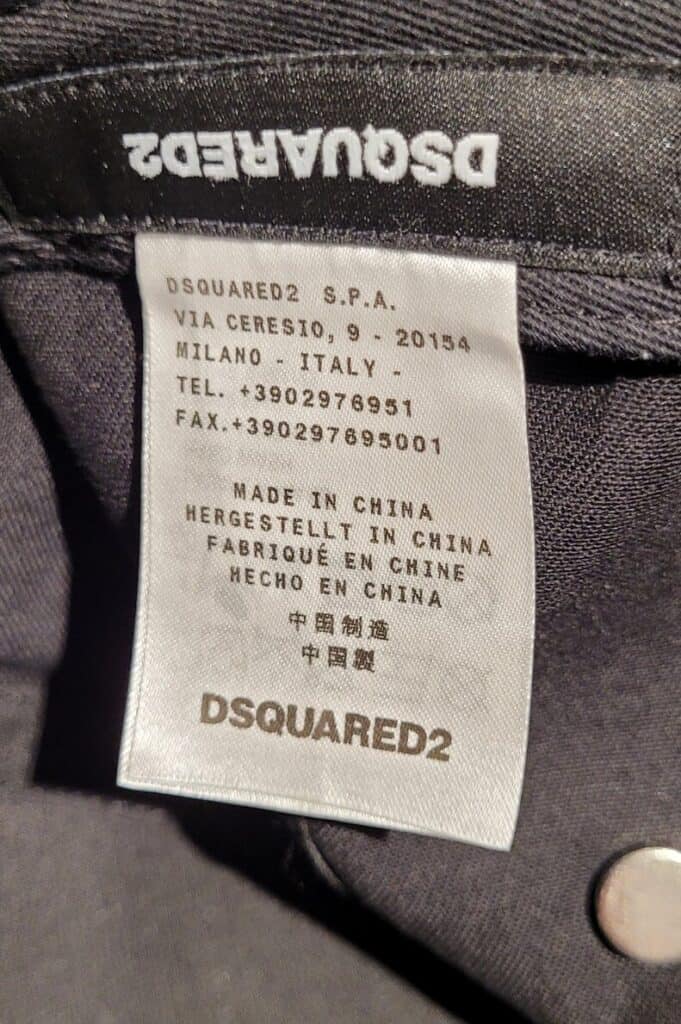 China is the second biggest manufacturer of DSQUARED2, even if the brand doesn't own any factories there and utilizes independent contractors. However, the brand doesn't manufacture so heavily in China as in Italy, but it produces much more than in Portugal and Romania. The DSQUARED2 products usually manufactured in China are sunglasses, phone cases, some scarves, caps, and outdoor bags.
Usually, luxury brands avoid manufacturing in China because consumers see it as cheap craftsmanship and materials. However, some of them, like Balenciaga, Burberry, Jimmy Choo, and Moschino, do manufacture in China, even if it's on a small scale, and the same happens with DSQUARED2.
Keep in mind these luxury fashion labels have a big reputation to defend, and the brands know that quality is crucial for their image, so the products need to be high quality, or customers will stop buying from them.
Common Questions About Where DSQUARED2 Is Made
These are the most common questions about where is DSQUARED2 made.
Where Are DSQUARED2 Caps Made?
All the DSQUARED2 caps I have found in-store were manufactured in China, but I have found a small portion made in Italy on the brand's website.
Where Are DSQUARED2 Hats Made?
I didn't see any DSQUARED2 hats (winter hats) in-store, but on the website, I found hats manufactured in Italy and China.
Where Are DSQUARED2 Jeans Made?
All the DSQUARED2 jeans I have found in-store were manufactured in Italy, but on the brand's website, I have discovered two made in Romania.
Where Are DSQUARED2 T-shirts Made?
All the DSQUARED2 t-shirts I found in-store were made in Italy, Portugal, and Romania, which was exactly the same information I found online on the label's website.
Conclusion
Where is DSQUARED2 made? Mainly in Italy, with some products manufactured in China, and even small-scale in Portugal and Romania. This luxury fashion brand owns no manufacturing site and uses independent contractors.
I believe DSQUARED2 will keep manufacturing most of its products in Italy since that's where all luxury fashion labels like to be.