This post may contain affiliate links. That means if you click and buy from that link, I may receive a small commission (at zero cost to you), which helps me maintain the quality of this blog. Please see my full disclosure policy for details.
Can you believe Palm Angels was only founded in 2015, as it is already a big success? This is quite amazing for such a new brand, but the question you have is: where is Palm Angels made?
What began as a photography project for Francesco Ragazzi became a fashion company that achieved tremendous popularity as a luxury streetwear brand. As you know, most luxury brands like to manufacture in Italy, but that isn't always the case since some also manufacture in Asian countries to improve their profit.
Read: Why Is Palm Angels So Expensive?
To confirm, I have decided to review hundreds of product descriptions on the Palm Angels website to check if the brand lists where the products are made. I also visited several multi-brand stores that sell Palm Angels products, like Selfridges, Flannels, and Harrods, checking multiple items (I couldn't find a Palm Angels store in London). So let's find out where Palm Angels is manufactured.
You can also check out the best French, British and American luxury fashion brands.
Where Is Palm Angels Made?
Palm Angels is manufactured in Italy, Portugal, and China.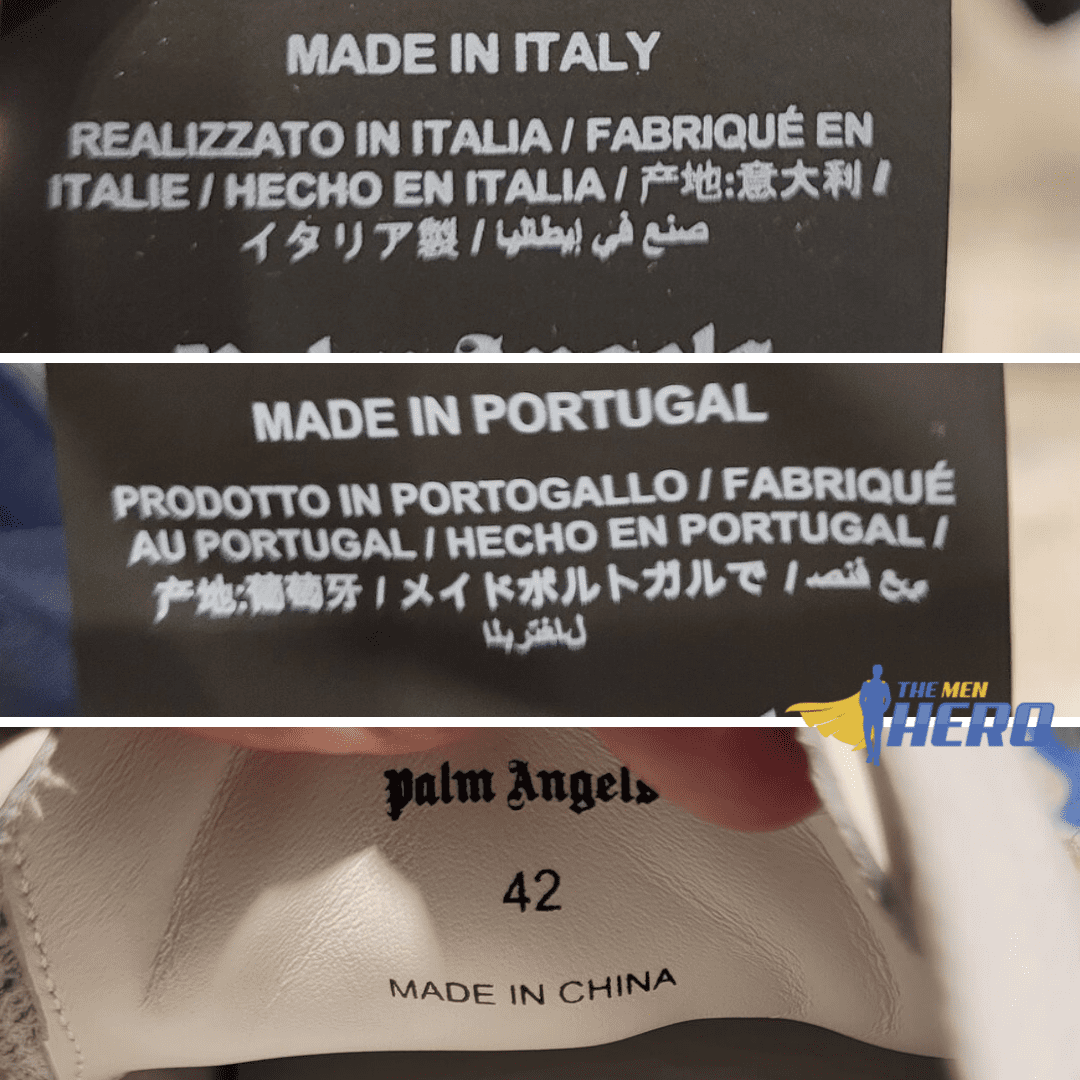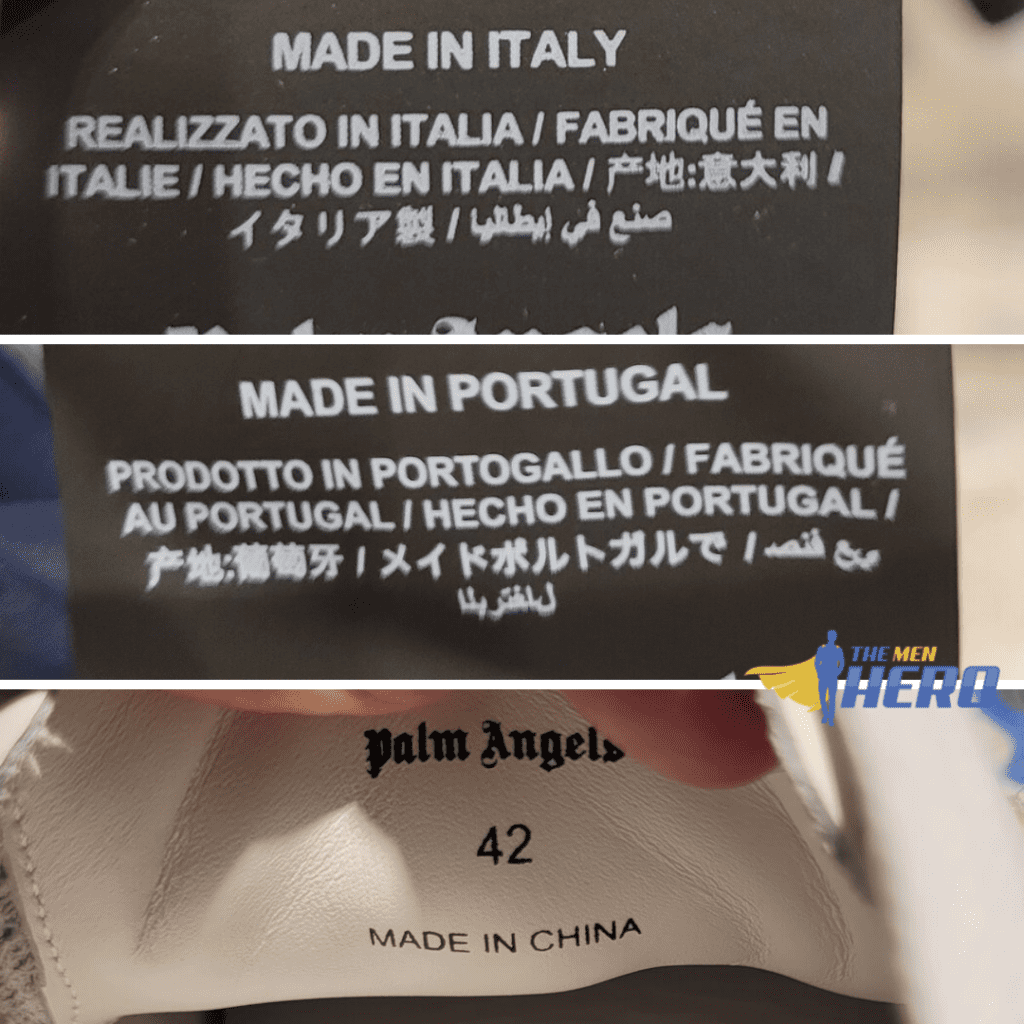 Palm Angels doesn't list where its products are manufactured on the product descriptions on its website. I have checked hundreds of products on the website, and none had any information about the country of origin.
Read: Where Louis Vuitton Is Made?
I have to say I was really surprised since most of Palm Angels clothing is manufactured in Italy and Portugal. All luxury brands like to state that they manufacture in Italy on their website, but that doesn't seem to be the case with Palm Angels. At least the brand is consistent.
I would not be happy if Palm Angels would state the products are manufactured in Italy and Portugal but forget those made in China. Let's see what they decide in the future.
When checking Palm Angels products in-store, most of them were manufactured in Italy, followed by Portugal. I only found footwear and some accessories manufactured in China. However, most Palm Angels footwear and accessories had a made-in-Italy label inside.
If you are ordering a Palm Angels product online, you can always check the physical label later to see where it was manufactured. The US and EU legislation requires brands to indicate the country of origin of any goods. Therefore, the chances of you finding a product manufactured in Italy or Portugal are much higher than in China.
Read: Where Is Stone Island Made?
I didn't check every single product in-store, so I may have missed some countries. However, even my research online on Google images and other websites didn't find any other countries where Palm Angels manufacture.
Is Palm Angels Made In Italy?
Yes, most Palm Angels goods are manufactured in Italy.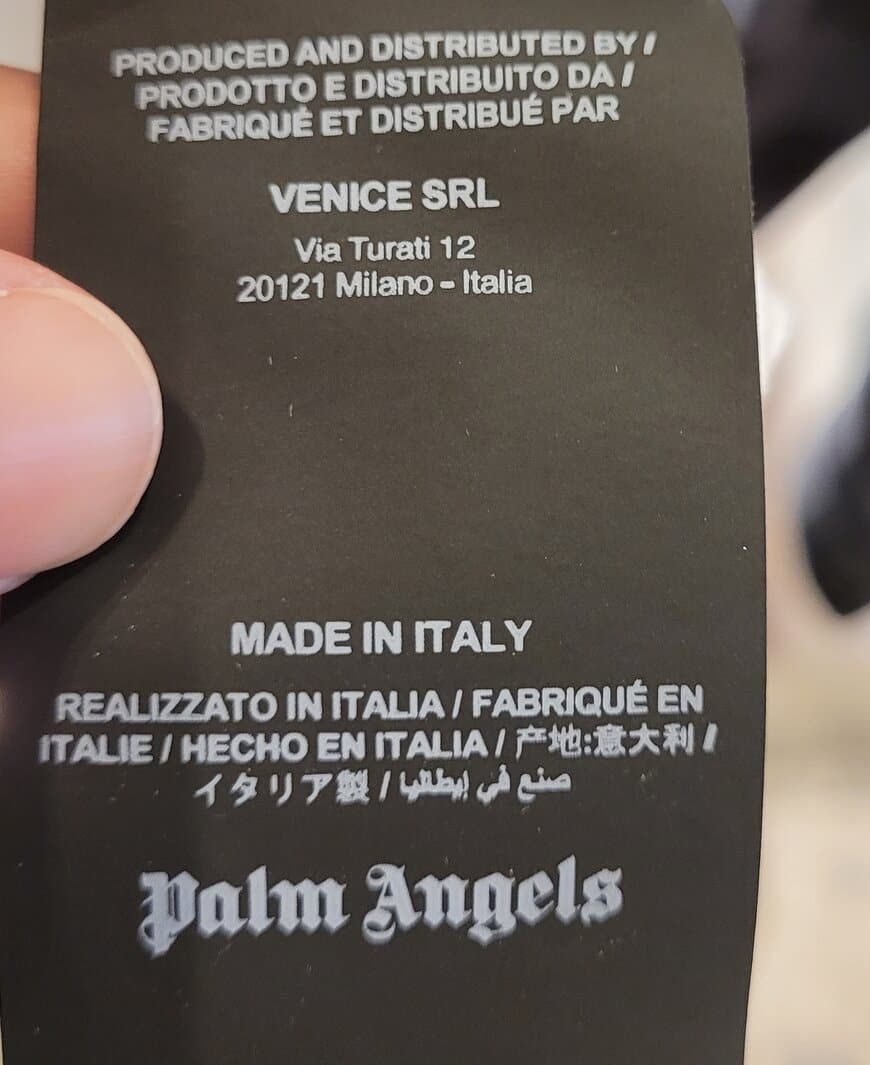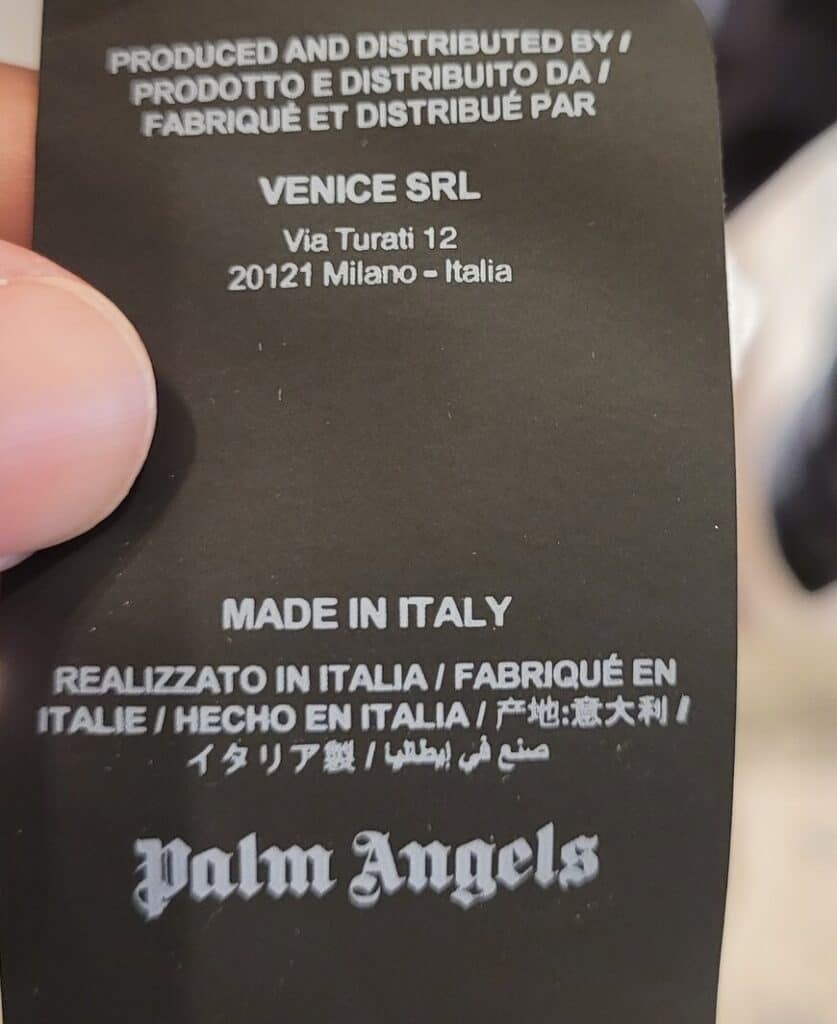 Palm Angels headquarters is in Milan, which can be where the brand makes most of its products. Many luxury brands manufacture in the North of Italy, so it's possible. I have looked into the annual report, but they don't specify where in Italy they manufacture.
Read: Where Is Balenciaga Made?
I am also not surprised that Palm Angels manufactures so much in Italy since they want to be perceived as a luxury brand (and their products are not cheap). Most consumers perceive the made-in-Italy label as excellent quality because the brands use the best materials and craftsmanship.
That's why some Italian brands like Dolce and Gabbana, Versace, Off-White, and Gucci love to manufacture mainly in Italy. Other Italian luxury brands like Moncler and Prada are also manufactured in Italy, but the manufacturing process is split with many other European and Asian countries.
In-store most Palm Angels menswear, womenswear, accessories, and footwear I have checked were manufactured in Italy.
Read: Where Is Valentino Made?
Is Palm Angels Made In Portugal?
Yes, Palm Angels manufactures a lot of its products in Portugal.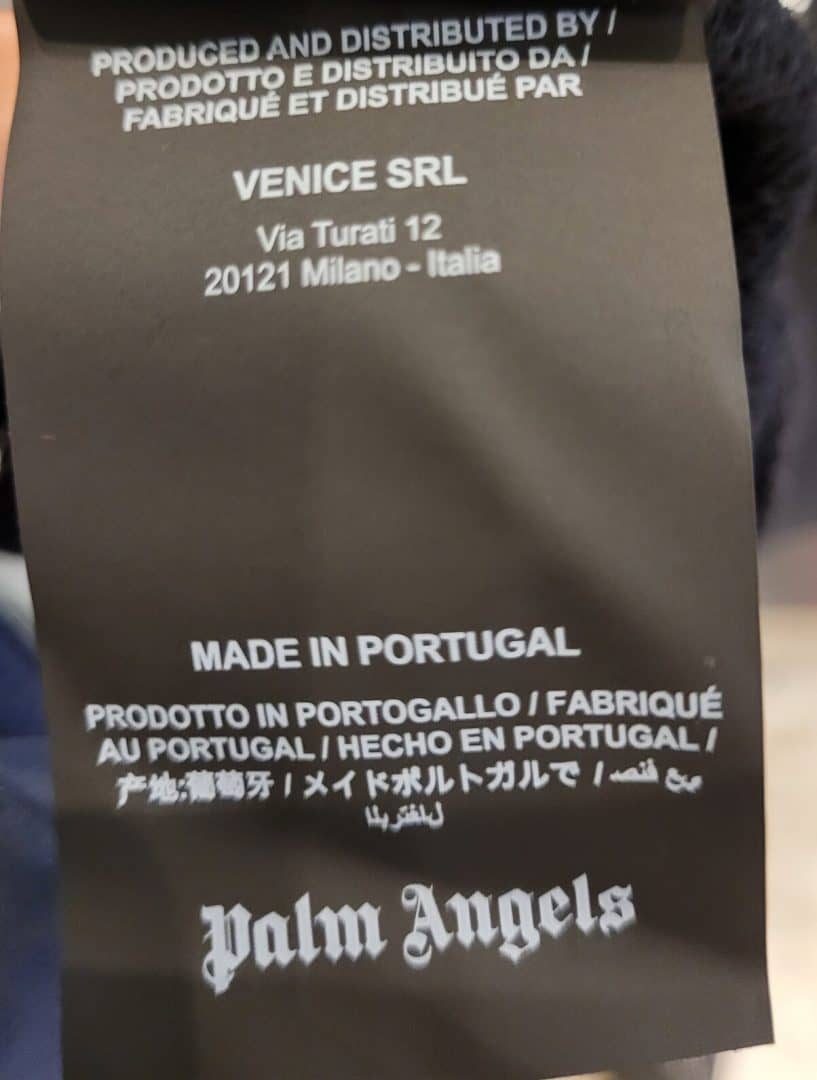 Palm Angels has production centers in Guimarães and Porto. In April 2019, Farfetch Portugal (one of the subsidiaries) acquired 70,000 square meters of land in Matosinhos (Porto) to build a campus for their employees to support the technology, operational functions, and digital production studios.
Read: Where Is Bottega Veneta Made?
So it's safe to say that Palm Angels is investing a lot in Portugal since their two offices in Porto have the largest employee population. I would not be surprised that Palm Angels manufactures more in Portugal than in Italy at some point since the costs are lower and the profit margins higher.
Many luxury brands manufacture in Portugal, like Alexander McQueen, Kenzo, Givenchy, Moncler, Canada Goose, Tom Ford, Balmain, and Dior. Portugal's craftsmanship and materials are excellent, and the country can replicate any production system easily. Many luxury brands keep investing in production centers in Portugal, and that's why I believe the manufacturing of Palm Angels in Portugal will keep increasing.
Read: Where Is Amiri Made?
Is Palm Angels Made In China?
Yes, some Palm Angels products are manufactured in China.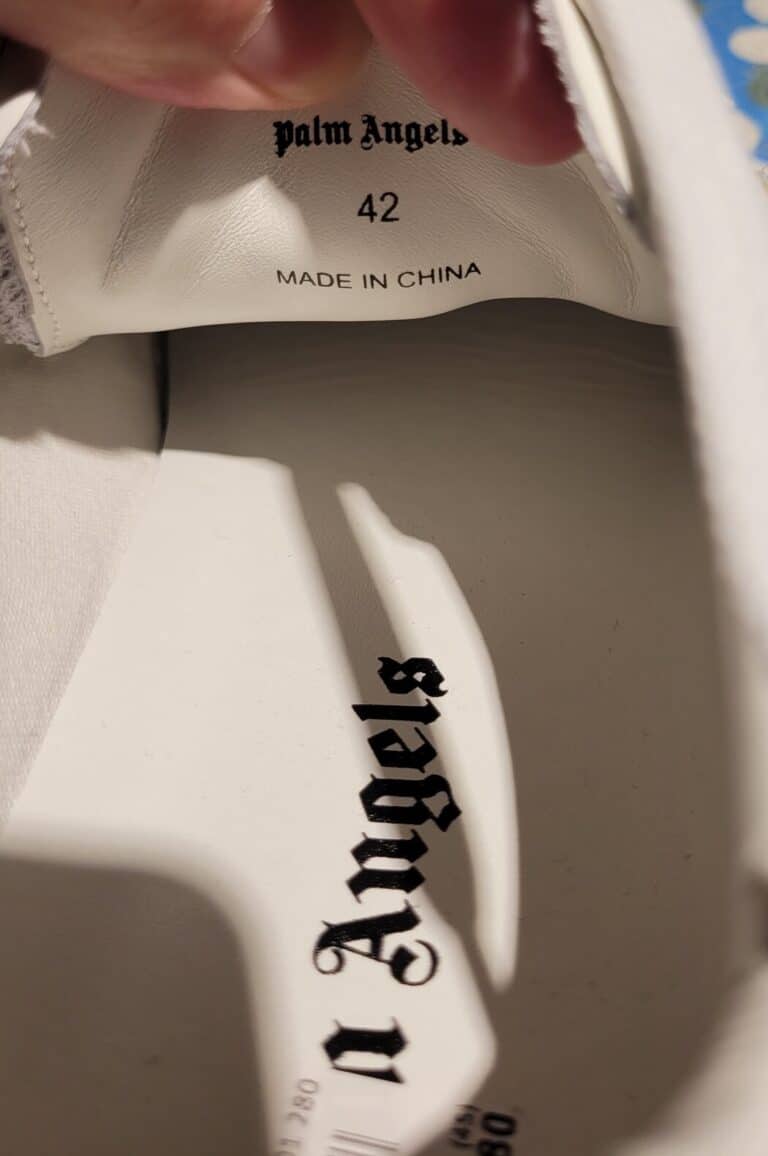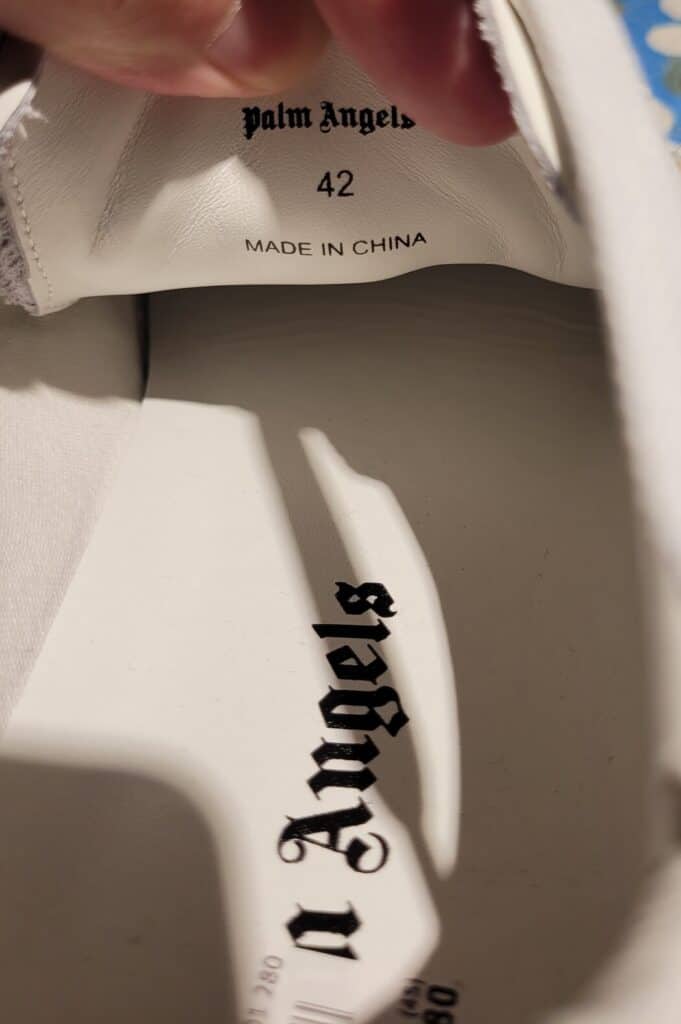 In-store I didn't find many Palm Angels items manufactured in China. I have found one pair of shoes, gloves and one hat. I have found a lot more items manufactured in Italy and Portugal.
Read: Where Is Vivienne Westwood Made?
Some luxury brands don't like to produce in China and some manufacture on a large scale. Compared with European countries, China's labor, materials, and facilities costs are much cheaper, so the brands have a higher profit. Sometimes that reflects the quality of the product, and sometimes it doesn't.
I don't think Palm Angels will be heavily manufactured in China in the future, but you will surely see some random products made there.
Common Questions About Where Is Palm Angels Made
These are the most common questions about where is Palm Angels made.
Is Palm Angels Good Quality?
Yes, Palm Angels products are of good quality. The Italian brand uses the best craftsmanship and materials, mainly from Portugal and Italy. In addition, every piece is planned and designed in detail. Palm Angels doesn't rush when it's time to create new collections.
Read: Where Is DSQUARED2 Made?
Is Palm Angels Made By Moncler?
No, Moncler does not manufacture any Palm Angels products. Both brands collaborated in 2019 on the Moncler Genius project, which was designed by Francesco Ragazzi, founder of Palm Angels and previously artistic director of Moncler.
Where Are Palm Angels Clothes Made?
Most Palm Angels clothes are manufactured in Italy and Portugal, but you can also find a tiny portion made in China.
Is Palm Angels Made In Turkey?
As far as I know, and based on all the products I have checked in different stores, Palm Angels doesn't manufacture in Turkey.
Conclusion
Where is Palm Angels made? Mainly in Italy and Portugal, since this new fashion brand wants to be perceived as a luxury and provide status and exclusivity to those who wear the brand. This means that the manufacturing process is critical to the brand, and every item needs to be perfect before being sold to consumers.
To avoid buying any fake Palm Angels items, always buy from its official website, store, or authorized retail partners.