This post may contain affiliate links. That means if you click and buy from that link, I may receive a small commission (at zero cost to you), which helps me maintain the quality of this blog. Please see my full disclosure policy for details.
Amiri is an American luxury fashion brand founded in 2014 by Mike Amiri that quickly gained some followers. After all, the American brand is well known for its refined sense of craftsmanship. So the question you have is: where is Amiri made?
Mike Amiri is one of the most established designers in the world and, over the years, has gained loyal clientele seeking something different that mixes the LA lifestyle and unique savoir-faire. I never purchased anything from this label, but I was curious to find out where the apparel was manufactured.
Read: Why Is Amiri So Expensive?
To confirm, I have decided to review hundreds of product descriptions on the Amiri website to verify if the brand lists where the products are made. I also visited department stores that sell Amiri products in Selfridges, Harvey Nichols, and Harrods, checking multiple items. So let's find out where Amiri products are made. You can also check out the best French and British luxury fashion brands.
Where Is Amiri Made?
Amiri apparel, footwear and accessories are manufactured in the US, Italy and China.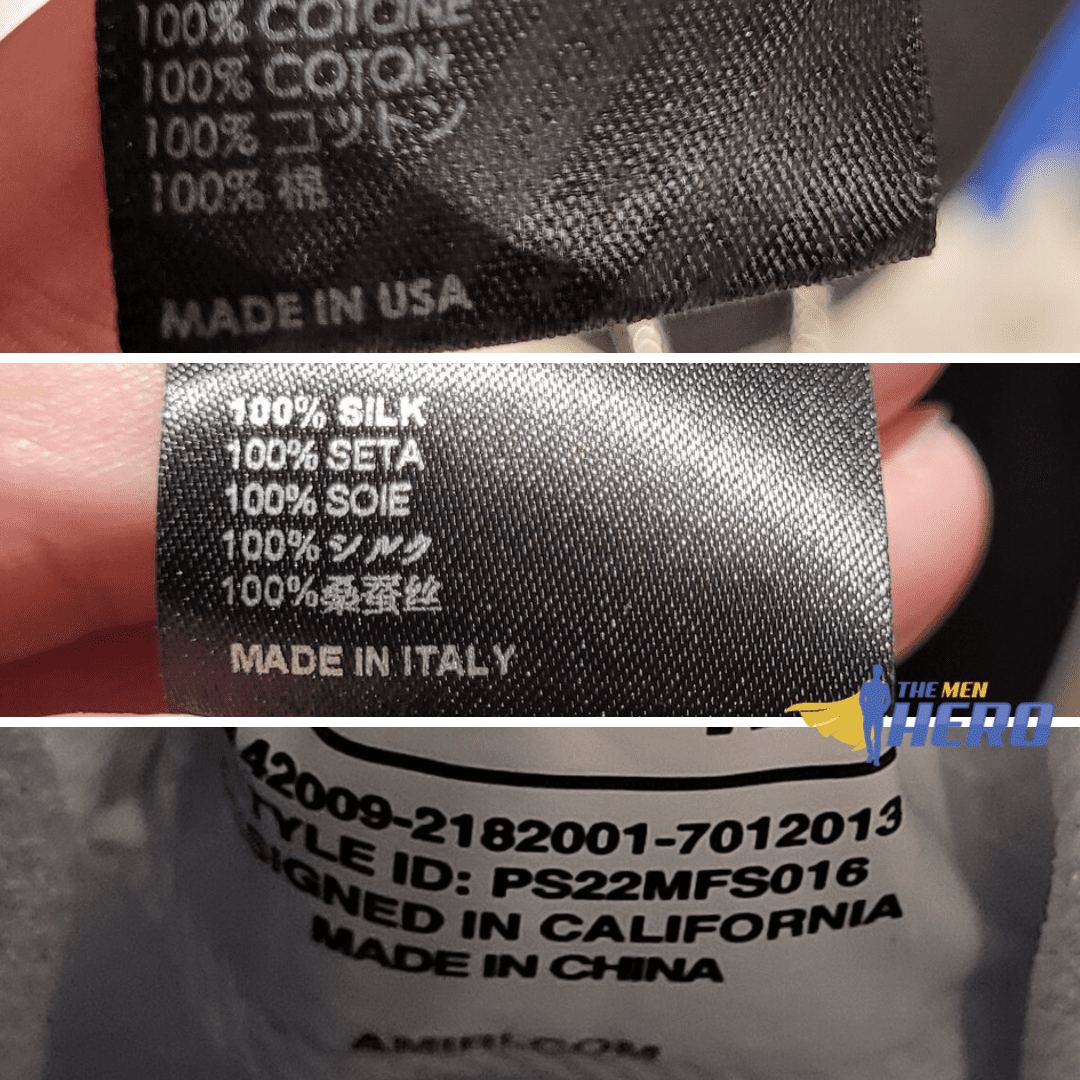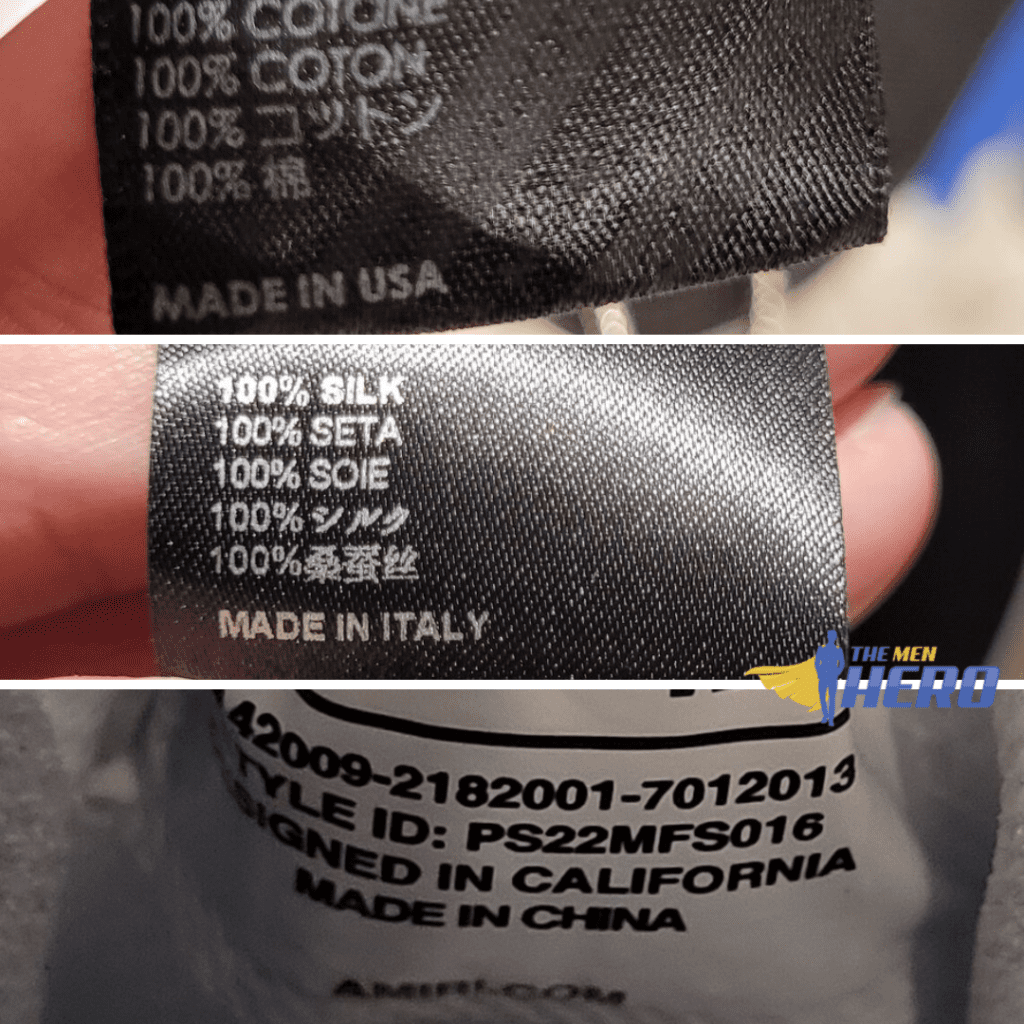 Amiri lists the country of origin for most of its products, but it doesn't provide that information in some of them, especially regarding footwear and accessories. I thought this would be because those goods were manufactured in China, but the label states made in China in some items, so that's not the point.
Read: Where Is DSQUARED2 Made?
Brands like Stone Island, Palm Angels, and Alexander McQueen manufacture heavily in Italy and Portugal but don't provide the country of origin on any product, which is surprising since it's something you want to brag about to consumers. Amiri is doing a better job than these three labels, but I would like to see the brand more consistent with the information provided on the website.
Some examples of luxury brands doing a great job providing the country of origin for every product on their website are Gucci, Louis Vuitton, Bottega Veneta, Valentino, and Saint Laurent.
However, if you order one item that doesn't have the country of origin in the product description, you can always check the physical label later to see where it was manufactured. The US and EU legislation requires brands to indicate the country of origin of any goods.
Read: Where Is Tom Ford Made?
When checking Amiri labels in-store, I have to say that I found the made in Italy tag much more than in any other country. I have encountered some made in the US and only seen made in China in footwear. I thought I may have missed some countries when checking Amiri products in-store, but what I have found matches the information I also encountered on the website.
Is Amiri Made In The US?
Yes, Amiri manufactures some of its apparel and accessories in the US.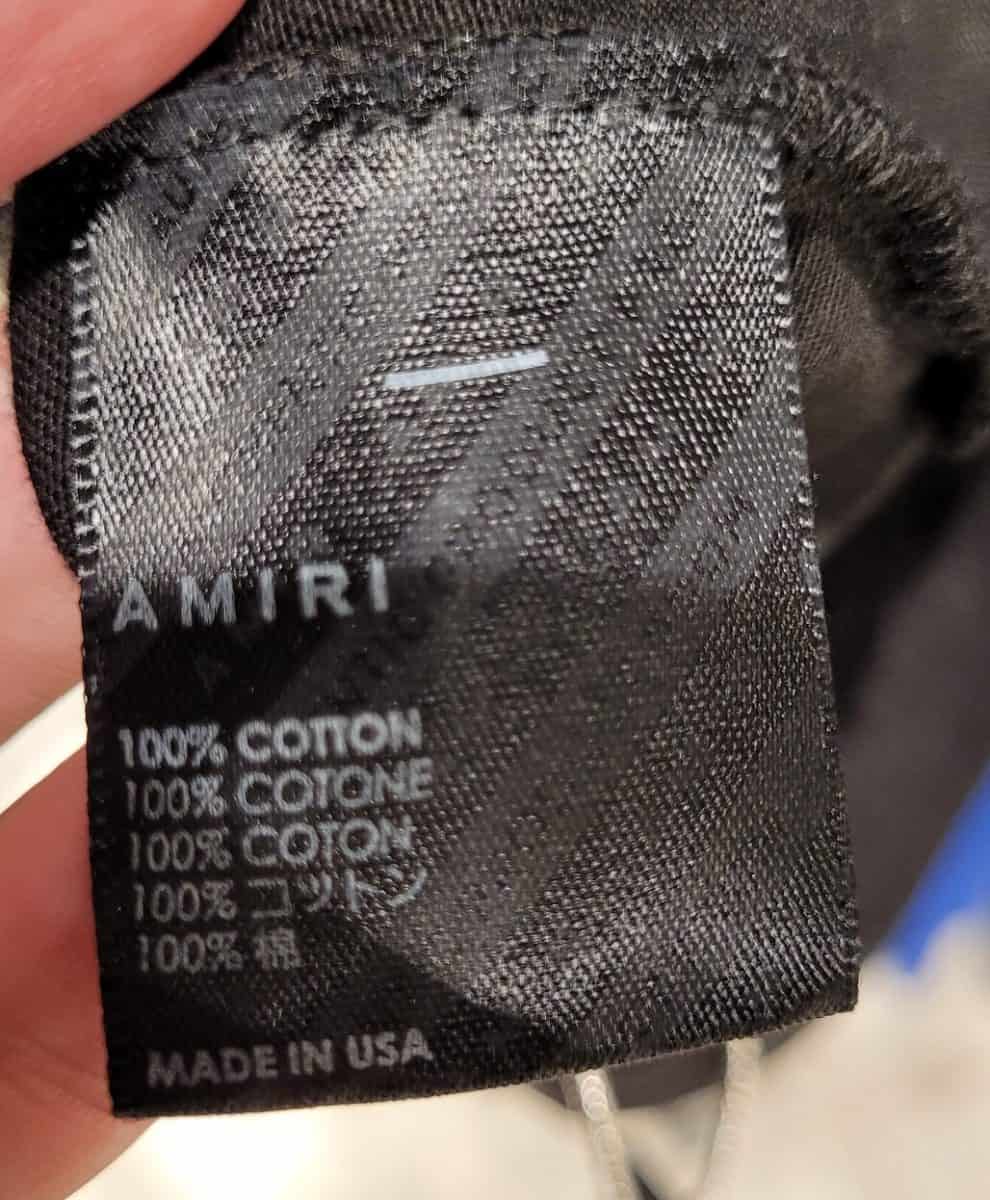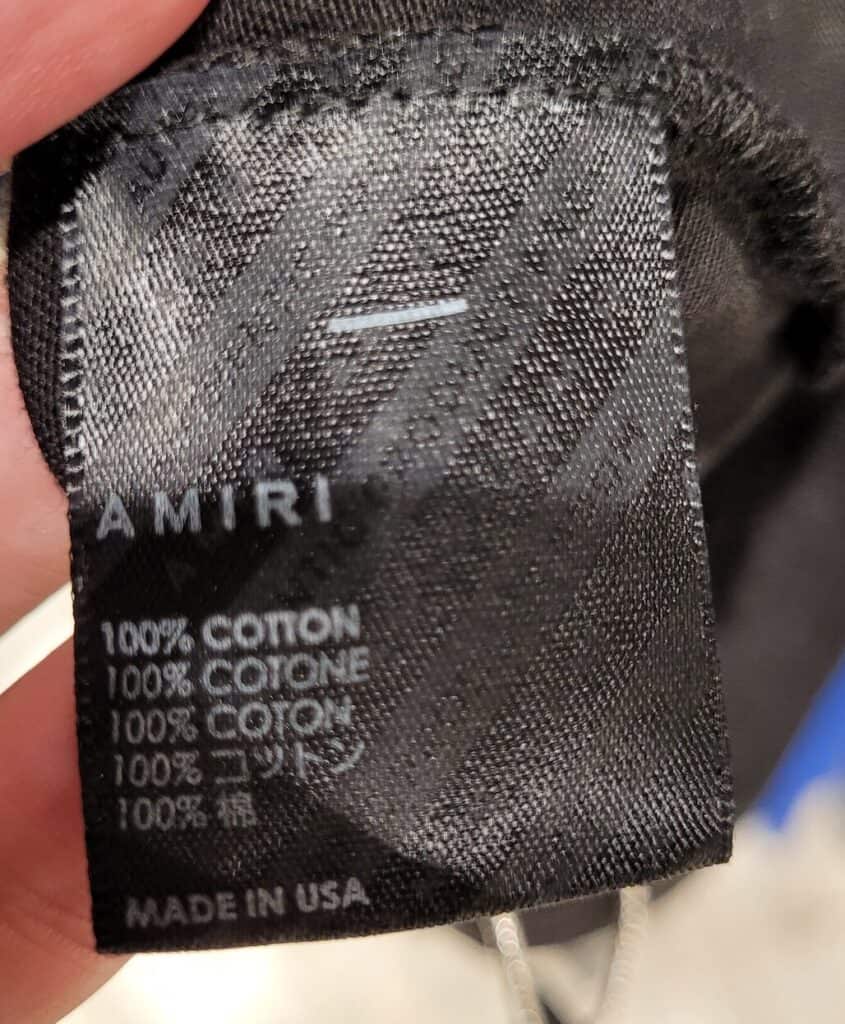 Amiri seems to manufacture most of its products in the US in Los Angeles, California. Amiri's website states that some products are made in Los Angeles, California, and some others have Made in USA in the product description. I am not sure if this means they have more than one location in the US to produce their items.
Read: Difference Between Versace and Versace Jeans Couture
I love a brand that manufactures in its country of origin because there is something patriotic about that, and you are also stimulating that country's economy. Unfortunately, many American fashion brands don't manufacture in the United States since costs are higher and apparel manufacturing expertise has decreased through the decades of outsourcing.
Is Amiri Made In Italy?
Yes, most Amiri apparel, accessories, and footwear are manufactured in Italy.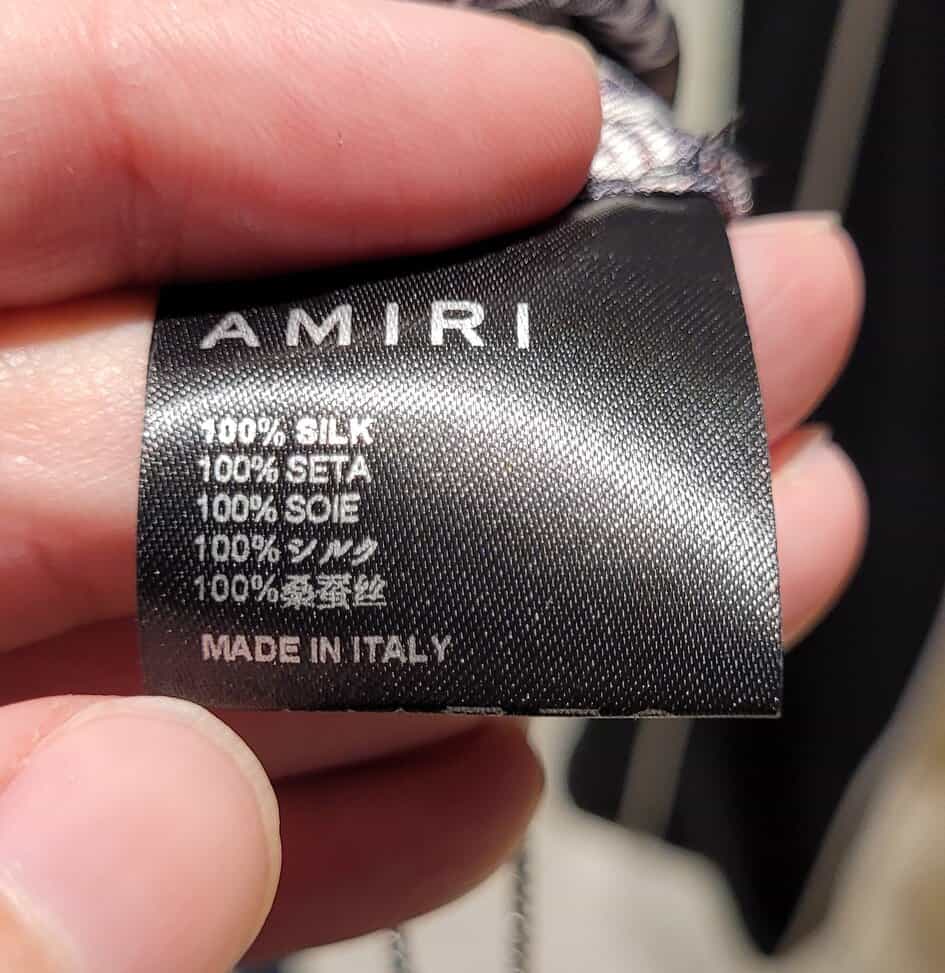 I couldn't find any information on where Amiri manufactures in Italy. I don't think the American brand owns any warehouse, but I believe they work with independent manufacturing sites.
Read: Where Is Hermès Made?
Manufacturing in Italy is the reason why Amiri can charge more for some of the items that are manufactured there, considering how recent the brand is. Most people associate the made-in-Italy tag with the finest materials and best craftsmanship, so they don't mind paying more. Usually, products manufactured in Italy are flawless because every detail matters.
Most of the Amiri items I have checked in-store had a made-in-Italy label, which is not a surprise since most luxury brands love to manufacture in the country.
Is Amiri Made In China?
Yes, some Amiri products are manufactured in China.
Read: Where Is Off-White Made?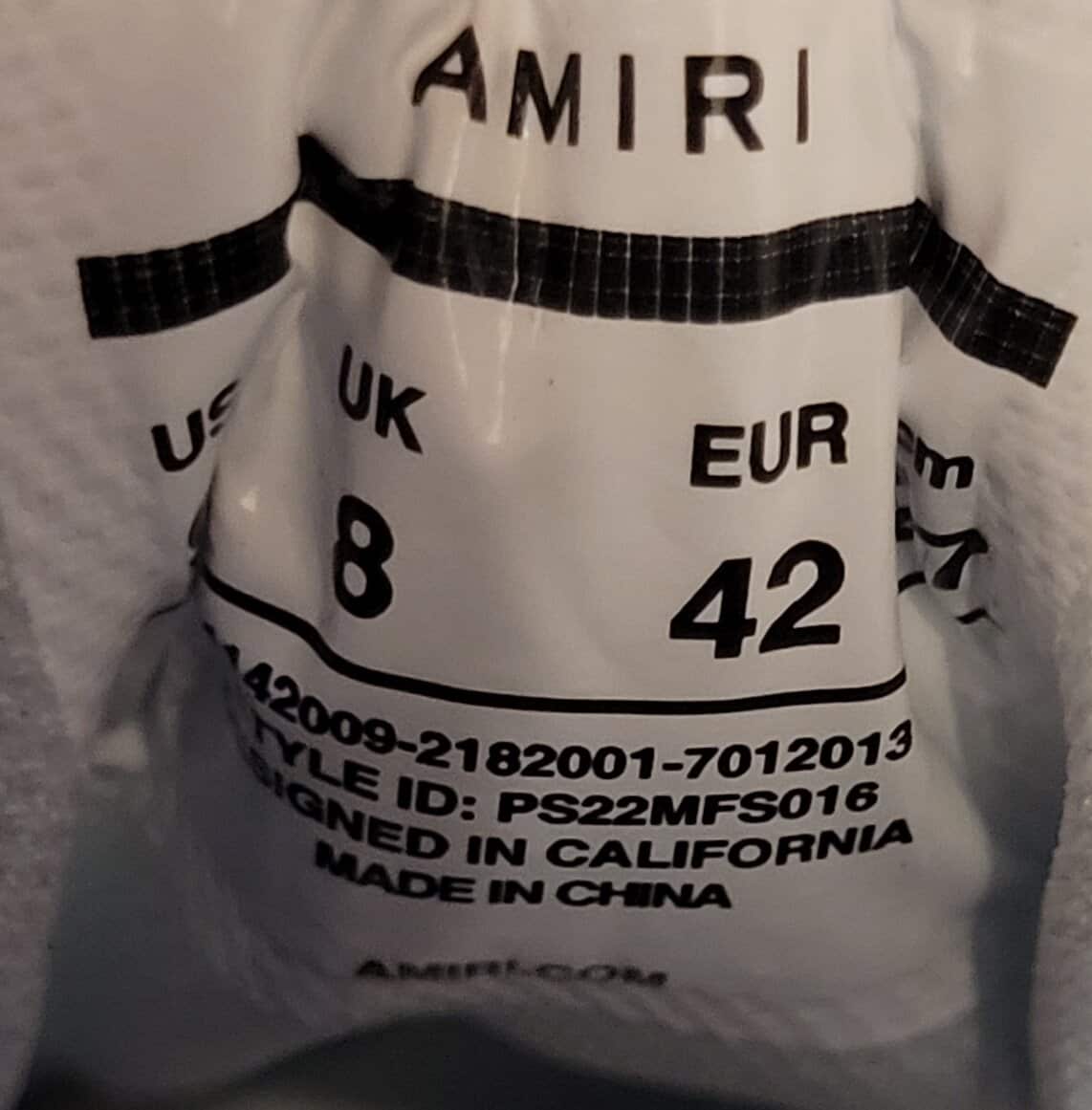 It's rare to find a luxury label that manufactures in China. Still, Burberry and Prada make many of their products there, and even brands like Moschino manufacture small parts in China. So the fact that Amiri also manufactures a small portion of its items in China doesn't surprise me.
Read: Where Are Christian Louboutin Shoes Made?
Most consumers think that products made in China are not as good as those manufactured in Europe since production sites in China use cheap labor and materials. I can only guarantee that expensive labels have rigorous quality controls to ensure the brand's reputation is intact.
The only products I have found manufactured in China when checking in-store were some footwear. The same when checking the products on the website. The brand may manufacture socks and other accessories like phone cases in China (usually brands do).
Read: Where Is Jimmy Choo Made?
Common Questions About Where Is Amiri Made
These are the most common questions about where is Amiri made.
Where Are Amiri Jeans Made?
Amiri jeans are manufactured in Italy and the US. I have found both countries on the label when checking Amiri goods in-store.
Read: Where Is Vivienne Westwood Made?
Where Are Amiri Sneakers Made?
Amiri sneakers are manufactured in Italy and China. I have found both countries when checking Amiri shoes in-store, but on the website, they have a lot of footwear without the information of the country of origin.
Is Amiri Made In Portugal?
As far as I know, Amiri doesn't manufacture in Portugal. However, I wouldn't be surprised if they do since Portugal manufactures many products for different luxury brands worldwide.
Conclusion On Where Is Amiri Made
Where is Amiri made? Most of the products are manufactured in Italy, followed by the US. You can also find some made in China, but not so often compared to the other two.
Read: Where Is Canada Goose Made?
Independently on where Amiri manufactures its products, you should know that the American luxury label has high standards when it comes to quality and design that warehouses need to follow. That way, you know the products will be durable and high rate.