This post may contain affiliate links. That means if you click and buy from that link, I may receive a small commission (at zero cost to you), which helps me maintain the quality of this blog. Please see my full disclosure policy for details.
Versace is an Italian luxury fashion brand and one of the most well-known globally. It was founded by Gianni Versace in 1978 and recently acquired by Michael Kors Holdings for $2.12 billion. So the question you have is: why is Versace so expensive?
Versace is one of those brands that has had a massive influence on fashion and pop culture as a whole. Versace is one of those unapologetic brands that mix street style with high fashion to create designs you can't forget. But, I have to say that Versace as a brand targets a distinct customer type that I don't particularly identify with.
The Italian luxury label makes millions of profit annually, so let's find out why Versace is so expensive. You can also check out the best French, British, and American luxury fashion brands.
Why Is Versace So Expensive?
Versace is considered a valuable brand because it stands out for desirability, power, status, and prestige. The Italian fashion house is expensive because it's a luxury brand, provides exclusivity and status, has a loyal customer base, uses the best materials and craftsmanship, and celebrities love it.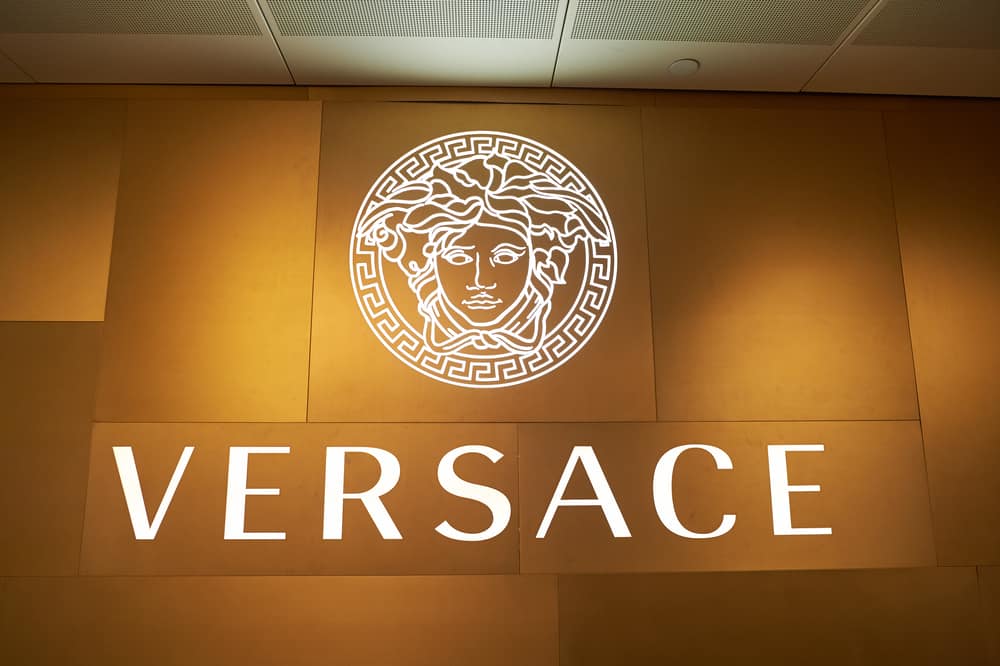 Versace Is A Luxury Brand
Why is Versace so expensive? Because it's a luxury brand, and you are paying for the brand name stamped on the products. Luxury is the equivalent of quality, having the best products, materials, and craftsmanship. Versace can offer its consumers all these qualities, and that's why you pay more for its products.
Read: Why Is Dolce And Gabbana So Expensive?
You purchase more than a simple product when you buy a Versace item. Instead, you are acquiring something that will increase your self-esteem and make you feel special. Owning a Versace bag or coat makes you feel expensive, confident, and desirable. Luxury labels have this power over certain people.
I wouldn't consider Versace as expensive as Louis Vuitton or Gucci, but most people can't still afford a Versace product. For some people, owning a Versace item is a lifetime goal to reward hard work or something they have accomplished in life. You know a brand is expensive when it becomes a life goal for some consumers.
Versace Provides Status and Exclusivity
Most people buy Versace because they like the design and quality of the clothes, but it also provides status and makes them feel part of an exclusive group of people who can purchase the brand since most can't.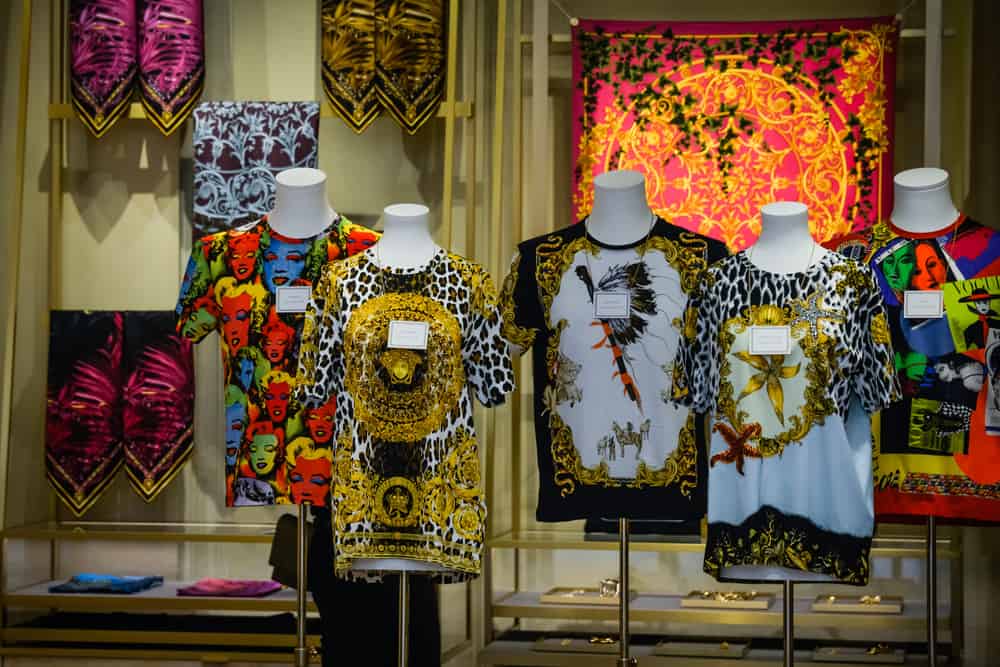 Some consumers will have to save for months to purchase a Versace item, but others can afford multiple items monthly. Knowing that only an exclusive group of people can buy from a specific brand makes the label more desirable, selective, and expensive.
Also, when you see someone with an item from Versace, you know that person has money to afford it, so you perceive that person as someone wealthy. Versace targets affluent customers to keep the brand exclusive, and in return, those consumers have high status in the eyes of others.
Read: Why Is Balenciaga So Expensive?
Versace also doesn't mass-produce its pieces. Mass-market brands will manufacture thousands of the same items to sell to consumers. Luxury brands make hundreds and sometimes only a couple of dozens, making certain items even more exclusive. You can find different levels of exclusivity inside the same brand.
Versace Collections Are Iconic and Desirable
Versace designs are unique and innovative, having flashy symbolic prints stamped in its products, usually with bright colors, that call anyone's attention. It's a brand that quickly stands out from the crowd, often perceived as bold and unconventional.
Read: Why Is Hermès So Expensive?
So it's not a surprise that the head of Medusa, a Greek mythological figure, was chosen to be the logo of the Italian brand. Gianni wanted Medusa as the logo because she made people fall in love with her, and they couldn't stop that feeling. He expected people would feel the same about his brand and designs.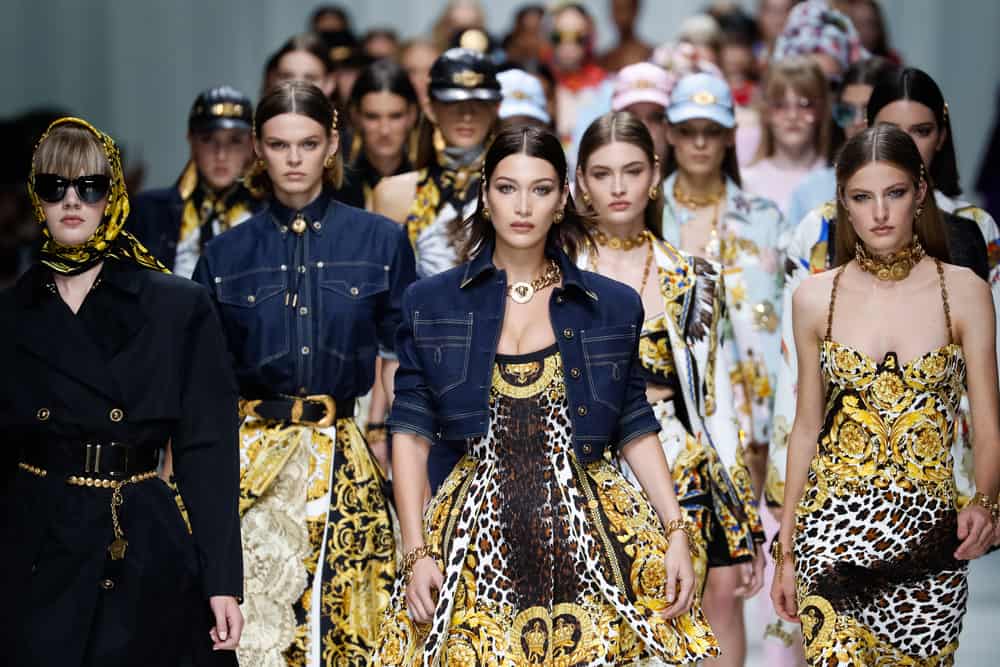 Even inside Versace, you have two different labels with different prices. The Versace label is more expensive than the Versace Jeans Couture label because the first focuses on the latest looks from the runway, and the second is a mix between high fashion and streetwear. Young shoppers prioritize uniqueness when shopping, so I am not surprised that Versace has the Versace Jeans Couture label to focus on that market segment.
Versace collections have always been different, with loads of colors, prints, and glitz, avoiding traditionalism. Also, the catwalks were always very theatrical, almost telling you a story throw the clothes. Versace dresses constructions were always full of new materials, providing a certain elegance that made them incredibly expensive.
Read: Why Is Prada So Expensive?
One of the most successful Versace creations was Elizabeth Hurly's dress for Four Weddings and a Funeral premiere in 1994.
Versace Provides Highest Quality Raw Materials
Versace is mostly manufactured in Italy, like many other luxury brands. Dolce and Gabbana, Gucci, and Tom Ford also prioritize manufacturing in Italy. You know this is a good sign, since you will spend a lot of money on one item, so it needs to be durable.
Read: Why Is Palm Angels So Expensive?
The "Made In Italy" label is mighty because consumers always perceive it as the best materials used, the best craftsmanship, and the best attention to every detail. Luxury brands tend to be more expensive because of all these since the product cost is higher.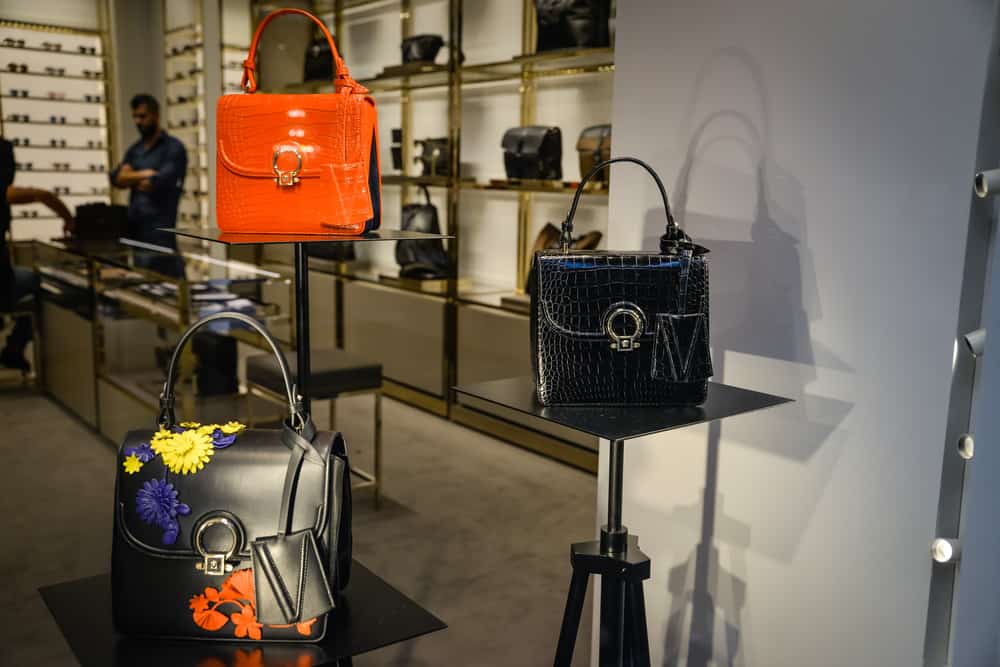 In an interview, Donatella Versace said, "Made in Italy means being a leader in innovation and fashion made with genuine, traditional craftsmanship." Everything that Versace is.
Versace Has A Loyal Customer Base
Sometimes, consumers purchase some brands because of their prestige and unique customer experience, and I think Versace gives both. However, I would say that Versace has a loyal customer base due to its creations. Consumers know that something unique and flashy will come from the Italian label, and they will buy it to make a fashion statement to their peers.
Read: Why Is Burberry So Expensive?
Knowing that the brand has loyal consumers makes Versace charge higher prices for its products since people will not mind paying whatever they have to acquire a Versace item, especially if it's from a limited edition collection.
Celebrities love Versace
Did you know Google Searched Images was created after people searched for Jennifer Lopez wearing a Versace green dress? "It was the most popular search query we had ever seen," said the company's executive chairman, Eric Schmidt. In 2015 Princess Diana's Versace Dress Sold at Auction for $200,000.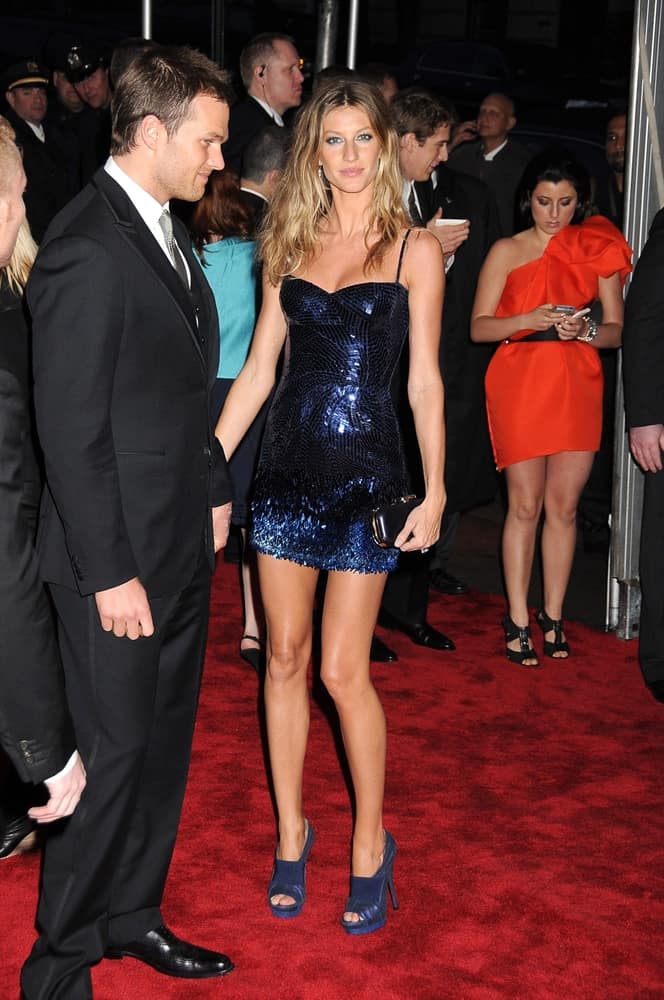 As you can see, celebrities can bring awareness and desirability to a fashion brand, making the label seem more exclusive and expensive.
Read: Why Is Givenchy So Expensive?
Some celebrities that made Versace more glamorous and definitely influenced the brand sales were Liz Hurley, Courtney Love, Beyoncé, Kanye West, Claudia Schiffer, and Gisele Bündchen.
Common Questions About Why Is Versace So Expensive
These are the most common questions about why is Versace so expensive.
Read: Why Is Bottega Veneta So Expensive?
Why Are Versace Clothes So Expensive?
Versace clothes are expensive because they are unique, flashy, and of excellent quality. You are paying for the materials, the designer's time, and the marketing around the brand, among many others.
Why Is Versace Underwear So Expensive?
Versace underwear is expensive simply because you have the name Versace there. However, Versace underwear is of better quality than the mass-market brands.
Why Is Versace Perfume So Expensive?
Versace perfume is expensive because of the brand's name, but I don't think it is that expensive compared with some other luxury brands like Louis Vuitton or Dior.
Read: Why Is Canada Goose So Expensive?
Why Are Versace Sunglasses So Expensive?
Versace sunglasses are expensive because they carry the Versace logo, and most seem to be made in Italy. Also, Versace sunglasses have unique designs that will put attention on you wherever you go.
Is Versace A Good Brand?
Yes, Versace can be considered not a good but an excellent brand. The products are well designed, unique, use the best materials, and are durable.
Conclusion On Why Is Versace So Expensive
Why is Versace so expensive? Because the Italian label is a luxury brand whose logo provides a specific value to the people who wear its products since they provide status and exclusivity.
Read: Why Is Moschino So Expensive?
I would say that whether Versace is overpriced or worth buying for you it's your choice. If you can afford Versace products and feel happy wearing them, no one can tell you the price is not worth it.