This post may contain affiliate links. That means if you click and buy from that link, I may receive a small commission (at zero cost to you), which helps me maintain the quality of this blog. Please see my full disclosure policy for details.
Christian Louboutin is a French luxury fashion label known for its red soles on high heels shoes, becoming one of the most recognizable shoe brands in the world. However, the question you have is, where are Christian Louboutin shoes made?
To confirm, I have decided to review hundreds of product descriptions on the Christian Louboutin website to verify if the brand lists where the products are made. I also visited the Christian Louboutin store on Mount Street in London and their department store in Harrods and Harvey Nichols, checking multiple items. So let's find out where Louboutin shoes are made.
You can also check out the best British and American luxury fashion brands.
Where Are Christian Louboutin Shoes Made?
All Christian Louboutin shoes are manufactured in Italy.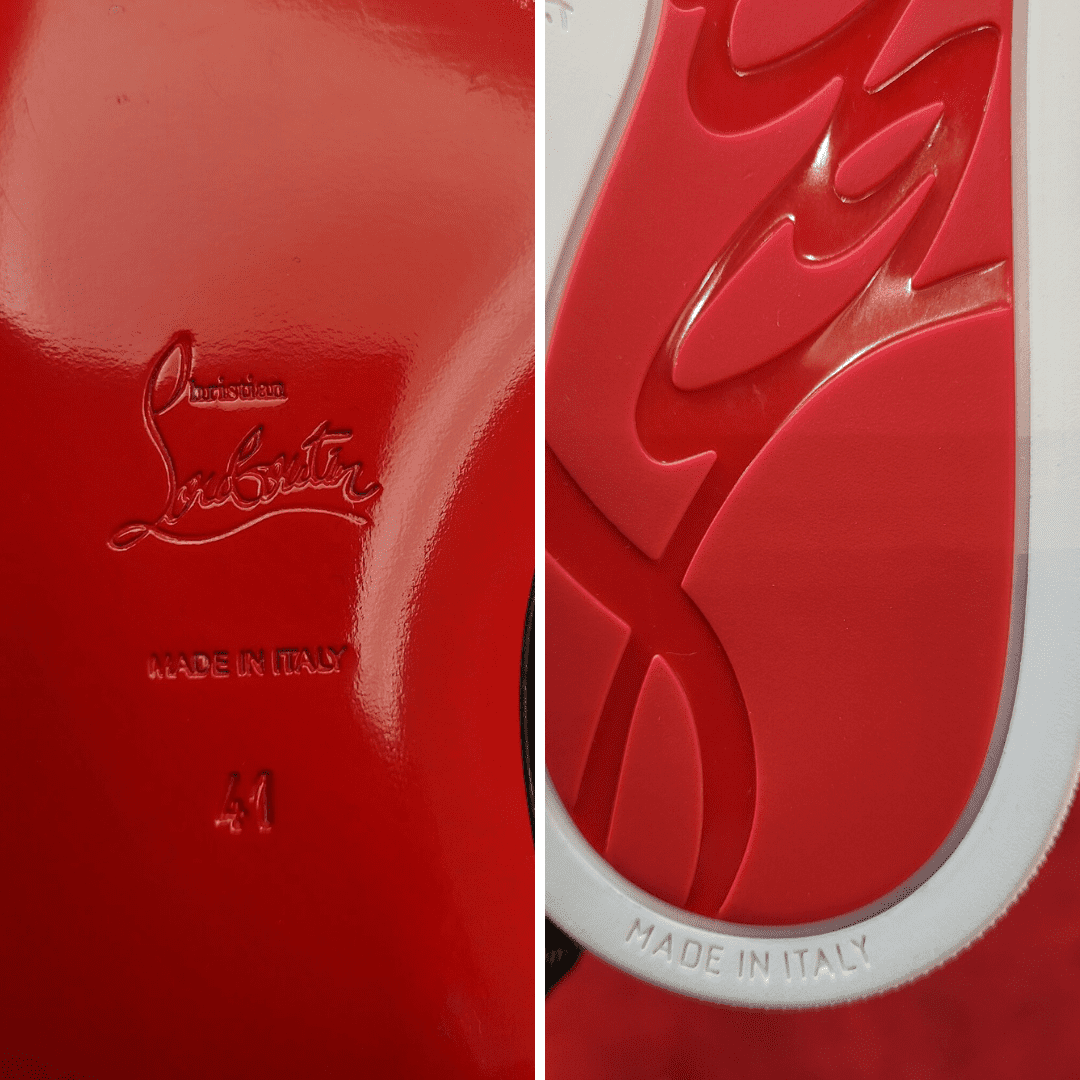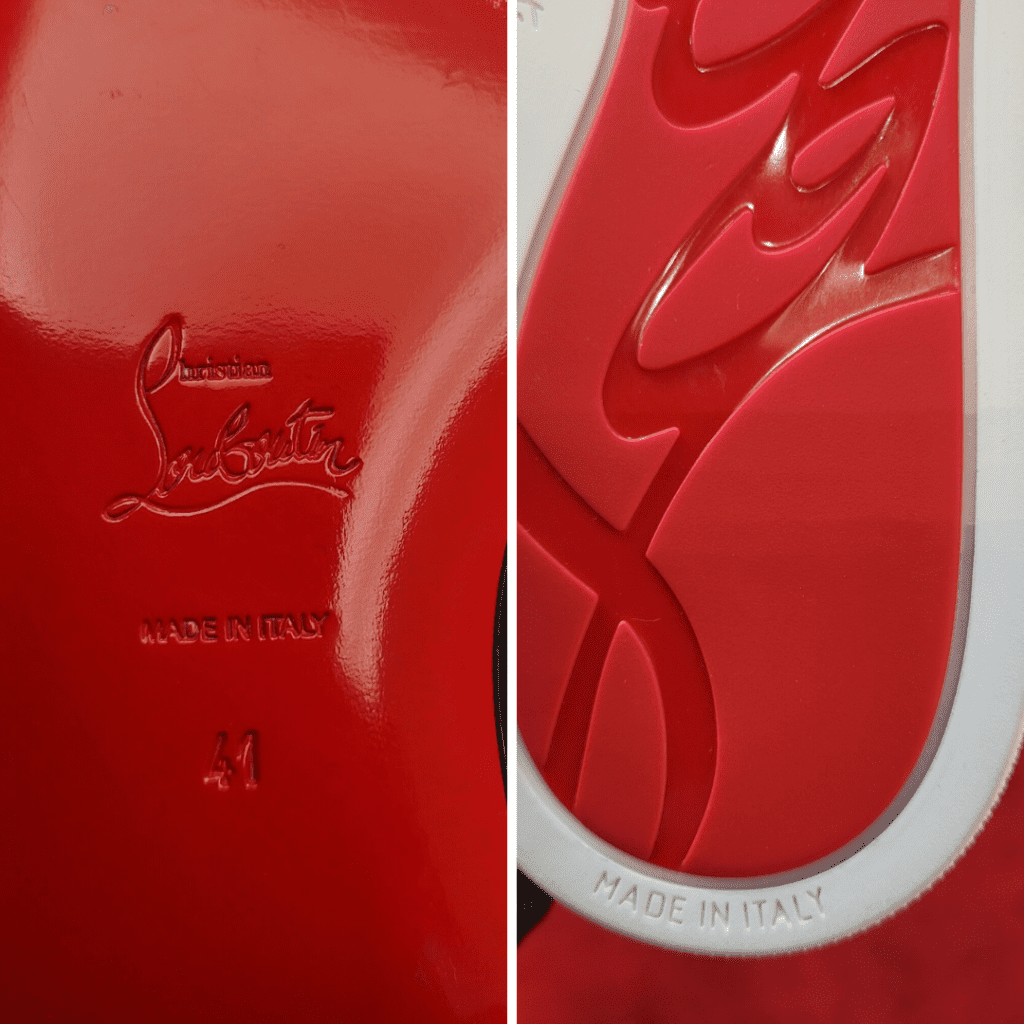 For some reason, Christian Louboutin doesn't list the country of origin for any item in the product description, which is strange since the brand predominantly manufactures in Italy. Some other luxury brands like Alexander McQueen, Stone Island, and Palm Angels also don't state the country of origin in any product description.
Read: Where Is Off-White Made?
Sometimes fashion brands share their factory list in other parts of their website, like on the FAQs or sustainability section, but this doesn't seem to be the case with Christian Louboutin. I can't really understand why you wouldn't share where your products are manufactured if they are all made in Italy, which is considered the best craftsmanship for luxury labels.
All the Louboutin shoes I have checked in-store had the made in Italy tag, which didn't surprise me at all. When I am reviewing a brand product, and I can only find one country, I check every single item in-store to ensure it's only manufactured in that country. So, I checked every Louboutin shoe in-store and other items like bags, wallets, and belts, and all of them were made in Italy.
Read: Where Is Prada Made?
It may be the case that some Louboutin shoes and accessories are manufactured in other countries, or the French label manufactures exclusively in Italy. My experience says that a brand never manufactures solely in one place, but the pieces of evidence I found in-store point to that.
However, do not worry if you order something online on the Christian Louboutin website and don't know where it was manufactured. The shoes were probably made in Italy, and you can check that information on the label since the US and EU legislation requires brands to indicate the country of origin of any goods on the physical product.
Are Louboutin Shoes Made In France?
As far as I know, Louboutin shoes are not manufactured in France.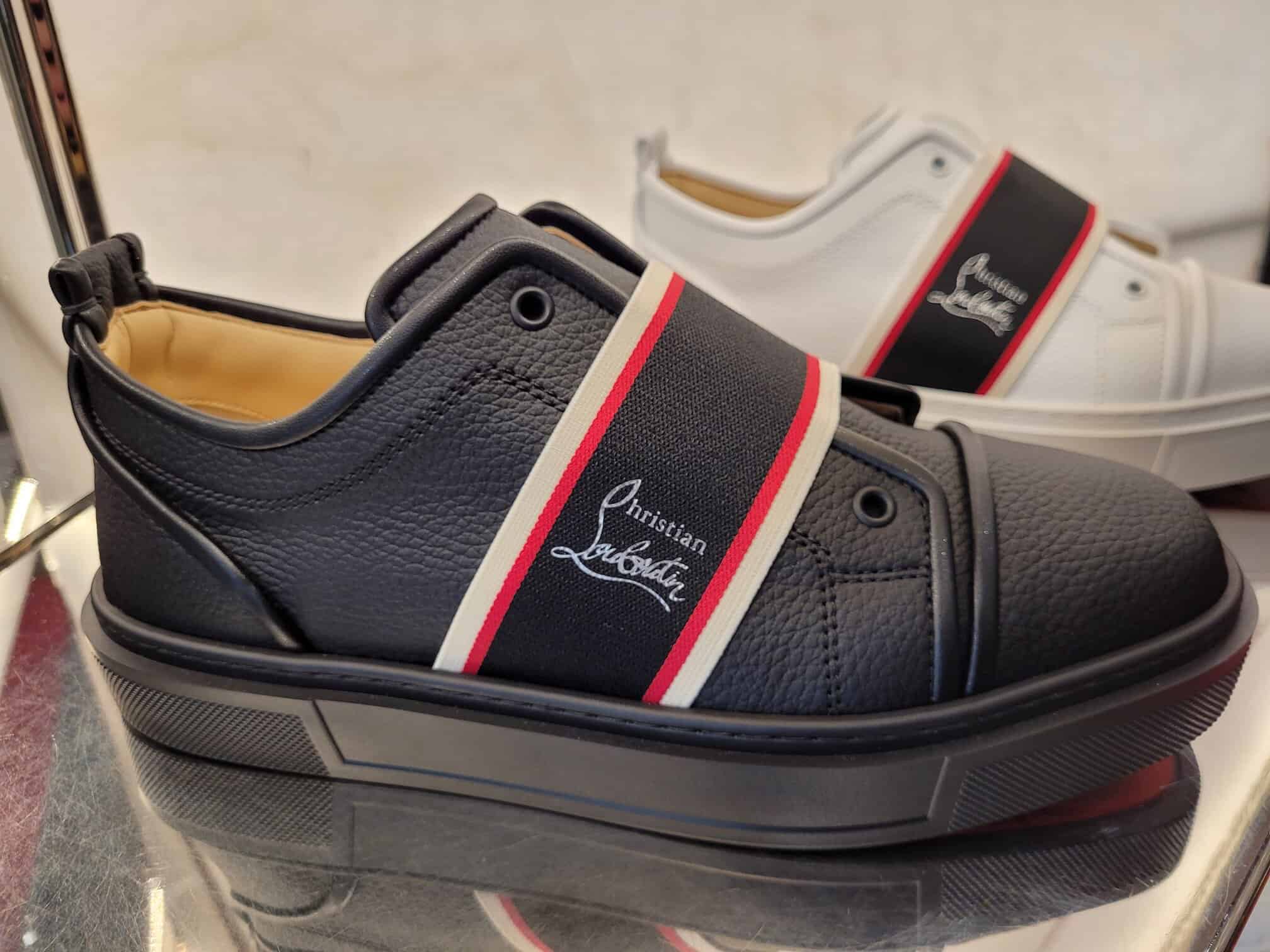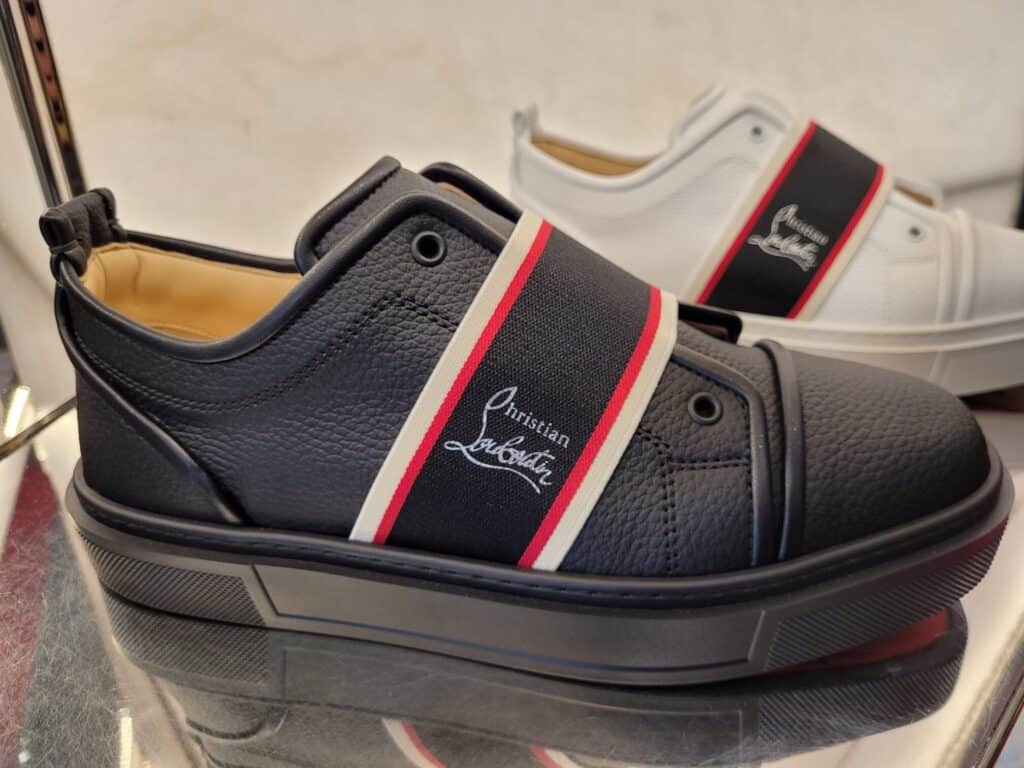 I was a little bit surprised that Louboutin doesn't manufacture in France at all, or if it does, I didn't find that information anywhere. I am sure Louboutin shoes were manufactured in France initially and slowly changed to Italy, but I am only speculating about it.
I wouldn't be surprised if Louboutin shoes were manufactured in France since so many French luxury labels like Louis Vuitton, Hermès, Givenchy, Saint Laurent, Dior, Balmain, and Chloé have some products produced in France independently of how much those brands manufacture in Italy. After all, France is one of the most prestigious manufacturers of luxury fashion brands.
Are Louboutin Shoes Made In Italy?
Yes, Louboutin shoes are manufactured in Italy.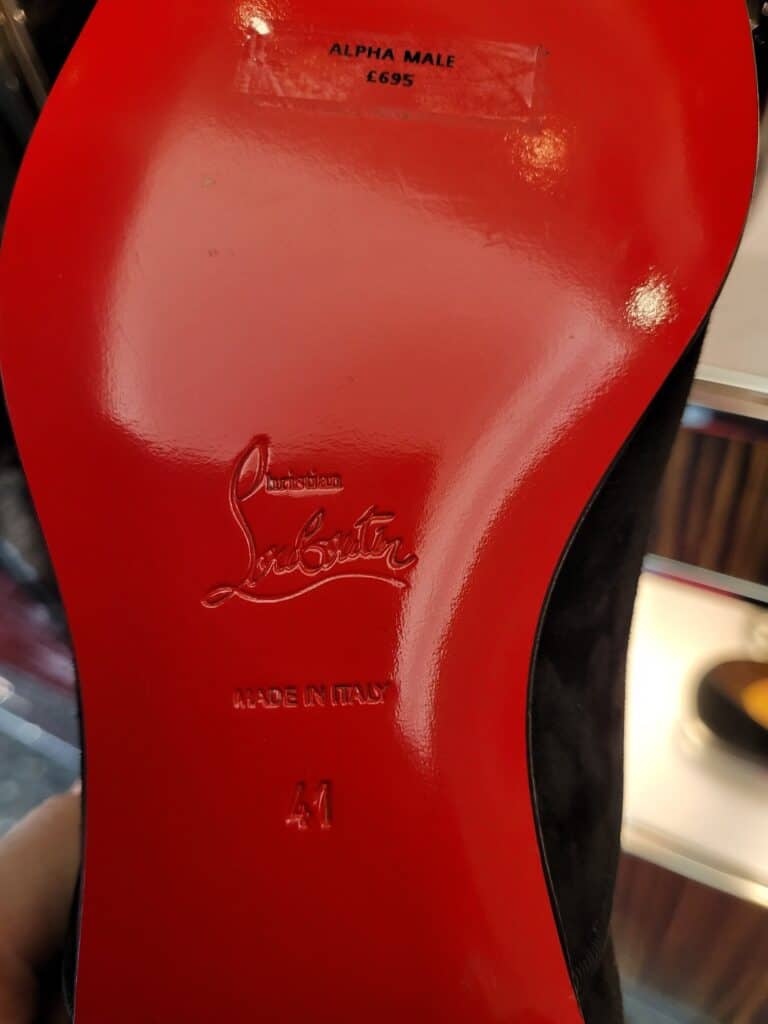 Every single Louboutin shoe I have checked in-store had made in Italy written on the shoe. This doesn't surprise me since most customers associate the made-in-Italy tag with the finest materials and best craftsmanship, so they are okay with spending more on Louboutin shoes which can justify the higher prices of the brand.
Usually, fashion labels that manufacture in Italy can sell their products for hundreds if not thousands of dollars since they know people value them. So paying thousands of dollars for a pair of Louboutin can be acceptable considering where the shoes are manufactured because, in Italy, every detail matters when it comes to craftsmanship. I know Louboutin shoes are manufactured in Napoli and Santa Croce sull'Arno, but I believe the brand has more locations around Italy.
All accessories I checked in the Christian Louboutin store were also made in Italy. As I said, luxury labels love to manufacture in Italy, and some examples are Gucci, Versace, Dolce & Gabbana, and Valentino, which manufacture primarily in Italy over any other country.
Are Louboutin Shoes Made In China?
As far as I know, Christian Louboutin's shoes are not manufactured in China.
Would I be surprised to find out that Louboutin shoes are made in China? No. After all, I found that Jimmy Choo manufactures some footwear in China, even if most of the footwear is still made in Italy. Both brands have similar prices regarding their shoes, and we can't deny that manufacturing in China is a lot cheaper than in Italy, improving a brand's profit.
Common Questions About Where Are Louboutin Shoes Made
These are the most common questions about where are Christian Louboutin shoes made.
Where Are Red Bottoms Made?
Red bottoms, also known as Louboutin shoes, seem to be all manufactured in Italy.
Are Christian Louboutin Shoes Handmade?
Yes, all Christian Louboutin shoes are handmade and consist of a minimum of 30 steps. Some steps consist of cutting, sewn, shaping, and combining the materials with the shoe prototype. In order to maintain the condition of the upper, the shoe must take shape within 72 hours. You can check more about the Louboutin shoe-making process here.
Where Does Louboutin Get Its Leather From?
I presume all Louboutin leather is from Italy since that's where the manufacturing of the brand's products happens. Unfortunately, Louboutin doesn't provide any information about its products' manufacturing process and sustainability, making it difficult to be 100% sure about where the leather comes from. An opportunity for the French brand to improve and become more transparent to consumers.
Conclusion
Where are Christian Louboutin shoes made? As far as I know, all Louboutin footwear is manufactured in Italy. Unless this French label goes into a threatening financial situation and needs to cut some costs to survive, I don't think the brand will ever stop manufacturing in Italy.