This post may contain affiliate links. That means if you click and buy from that link, I may receive a small commission (at zero cost to you), which helps me maintain the quality of this blog. Please see my full disclosure policy for details.
Chloé is a French luxury fashion brand that exclusively manufactures for women. It's a label that makes women feel sexy and elegant with its collections, but where is Chloé made?
Chloé bags are incredibly popular due to their variation and versatility since each style has different sizes and silhouettes. The brand has loyal customers that purchase a new purse from the moment it is out to sell, but where are Chloé bags made?
To confirm, I have decided to review hundreds of product descriptions on the Chloé website to verify if the brand lists where the products are made. I also visited the Chloé store in New Bond Street London and their department stores in Selfridges, Harvey Nicholls, and Harrods, checking multiple items. So let's find out where Chloé products are made.
You can also check out the best British and American luxury fashion brands.
Where Is Chloé Made?
Chloé is manufactured in Italy, France, China, Spain, Portugal, Kenya, Vietnam, and Madagascar.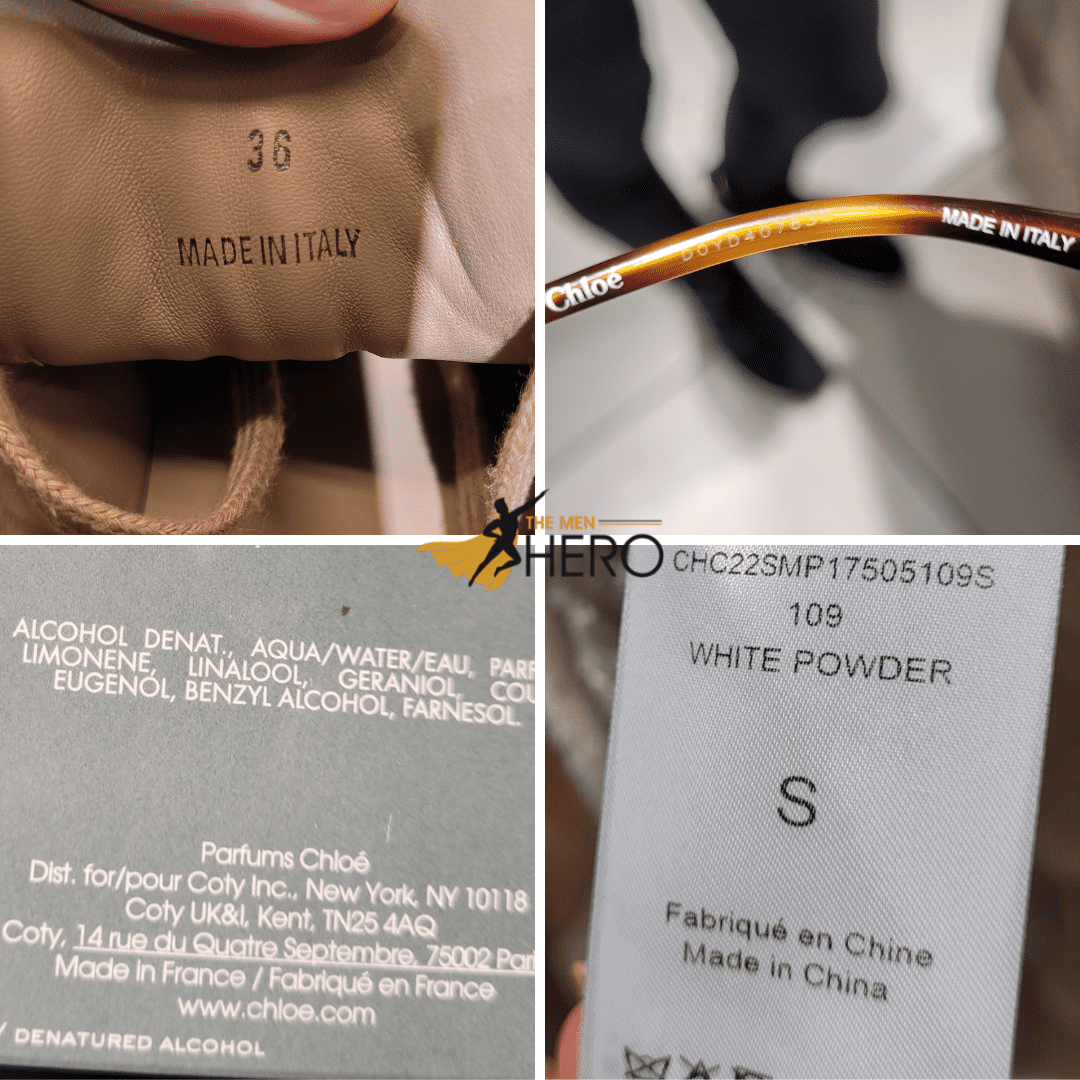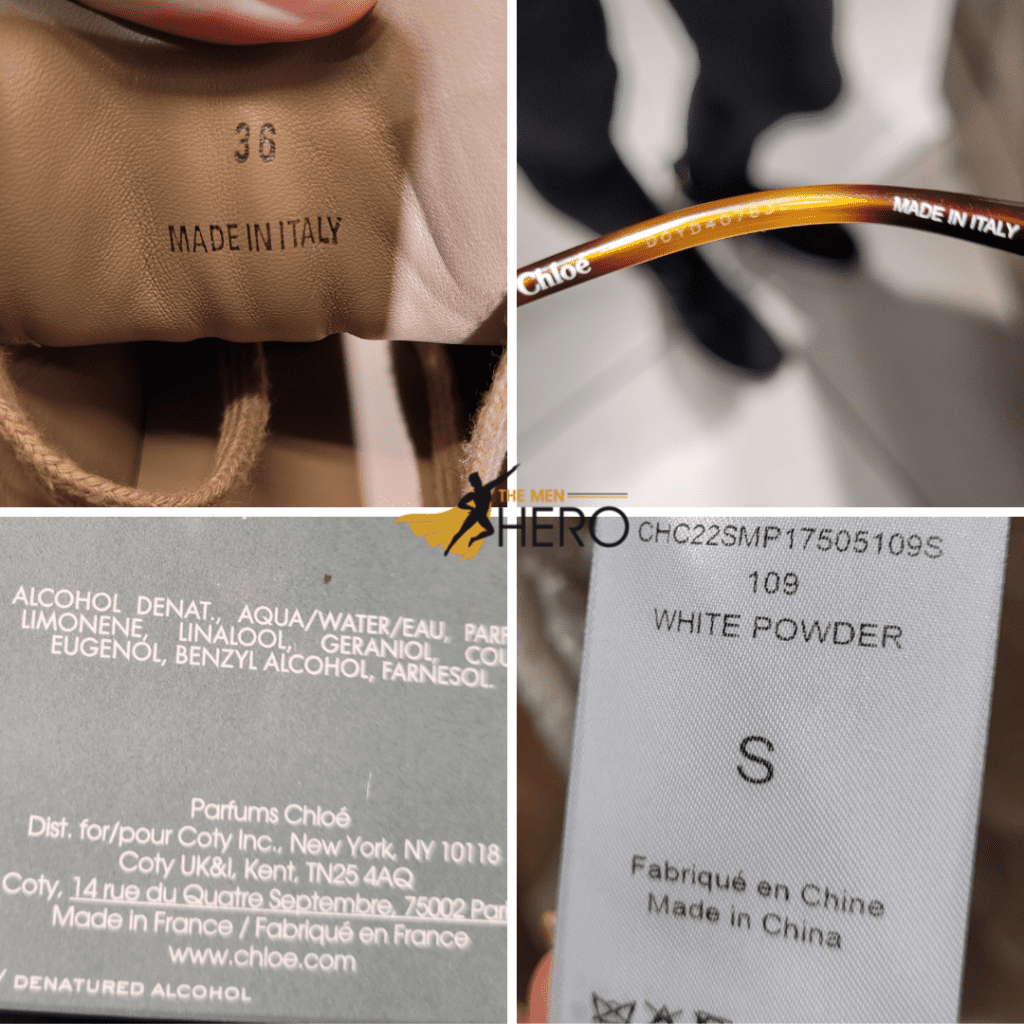 Chloé is one of those luxury labels that doesn't list the country of origin for any item in the product description, which is strange since the brand predominantly manufactures in Italy and France. Some other luxury brands like Alexander McQueen, Stone Island, and Palm Angels also don't state the country of origin in any product description.
As part of Chloé commitment towards more transparency, the brand published a list of countries where they finish goods and get raw materials. Check the list below:
Italy – Apparel, leather goods, accessories, and shoes
France – Apparel and leather goods
Spain – Shoes and leather goods
Portugal – Shoes and leather goods
Madagascar – Apparel
Kenya – Leather goods
Vietnam – Shoes
Italy is by far the country where Chloé manufactures the most, and I can confirm that in-store the made in Italy tag was the most prevalent among products. France was the second country I found the most. I also found some shoes made in Portugal and Spain.
I am not sure I can fully trust the list Chloé provides because I found a few ready-to-wear pieces made in China which is not on the list of Chloé supplies. China was the third country I found the most on the tags of Chloé goods when checking them in-store, and I have inspected many different styles. So who knows if Chloé manufactures in other countries we are unaware of because they are not on that list?
If you purchase a Chloé product online, you can check the physical label later to see where it was manufactured. The US and EU legislation requires brands to indicate the country of origin of any goods.
Is Chloé Made In France?
Yes, some Chloé apparel and leather goods are manufactured in France.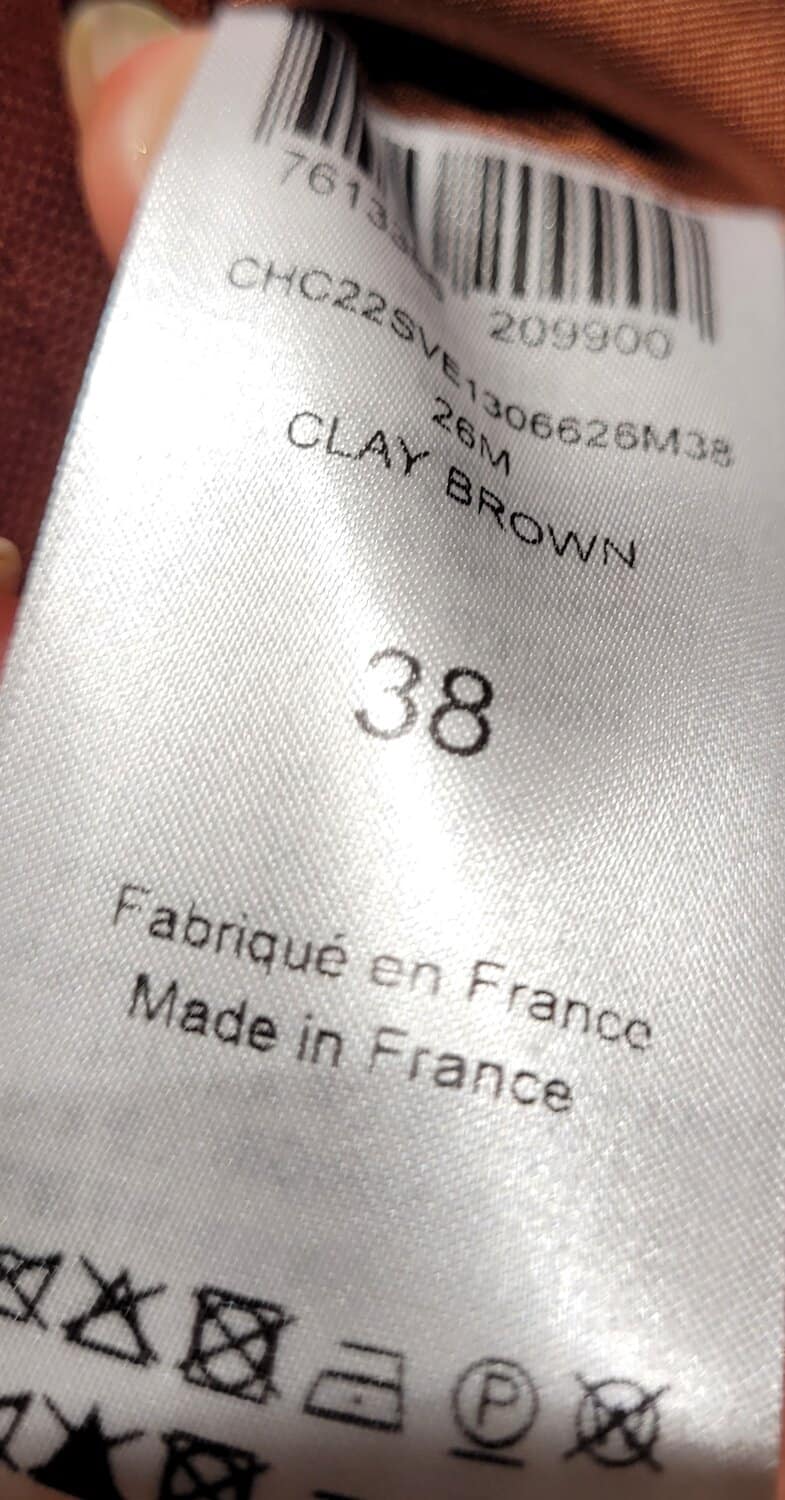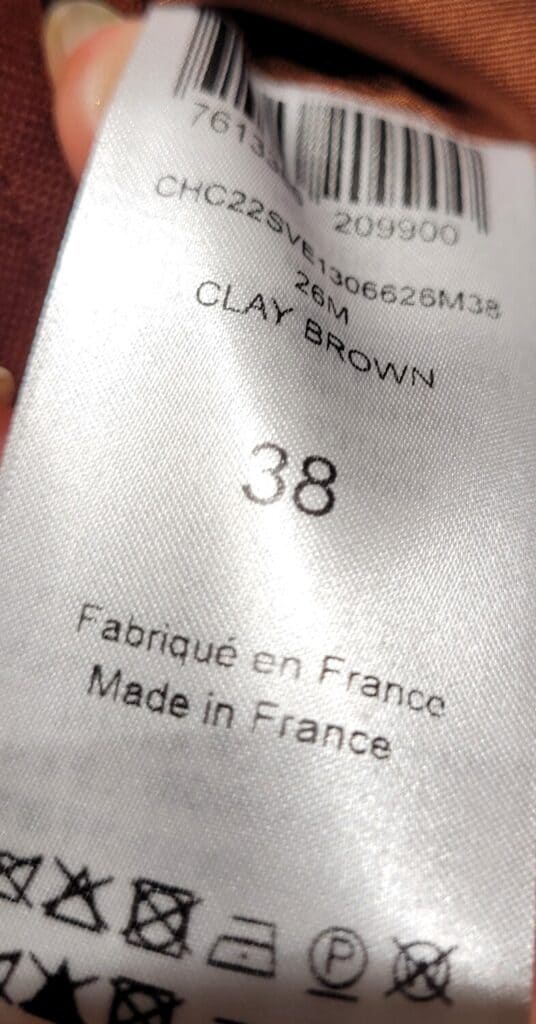 Since Chloé is a French luxury fashion label, it's more than expected that the brand is manufactured in France. Some locations in France where Chloé manufactures are Chizé, Paris, Les Herbiers, Bordeaux, Morlaas, and Sevremoine. Other luxury brands that manufacture in France are Louis Vuitton, Saint Laurent, Balmain, Givenchy, Hermès, and Dior.
In-store France was the second biggest manufactured I have found when checking Chloé tags. I have found some clothes, fragrances, and handbags. The made-in-France reputation in fashion is well-established worldwide, and people perceive products manufactured in France as excellent quality.
Is Chloé Made In Italy?
Yes, most Chloé apparel, leather goods, accessories, and footwear are manufactured in Italy.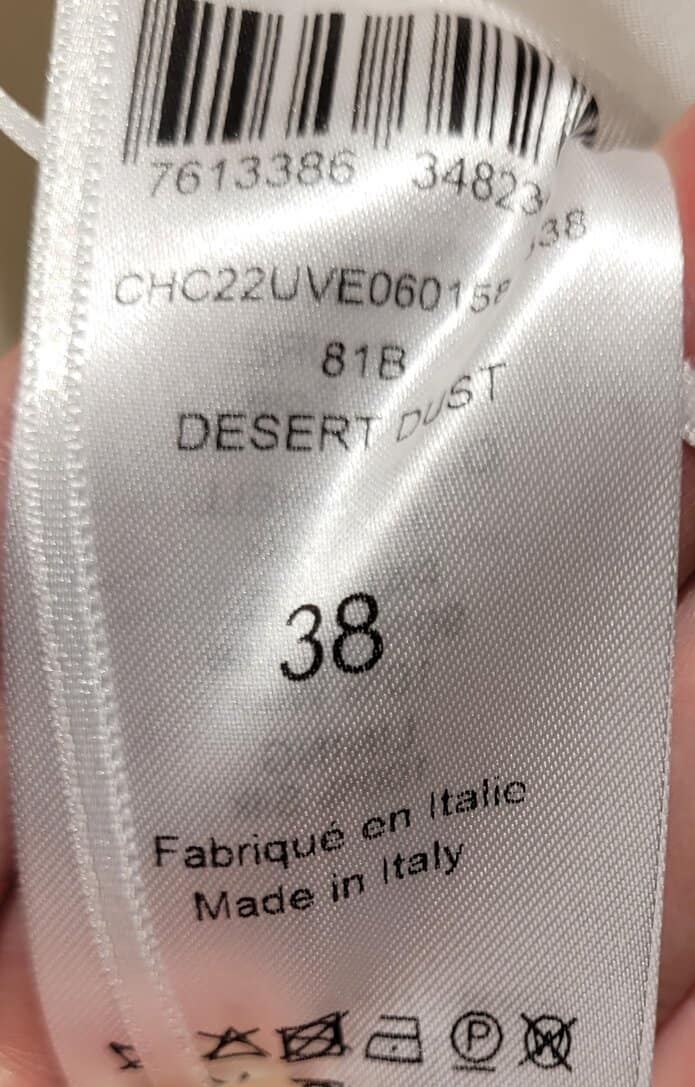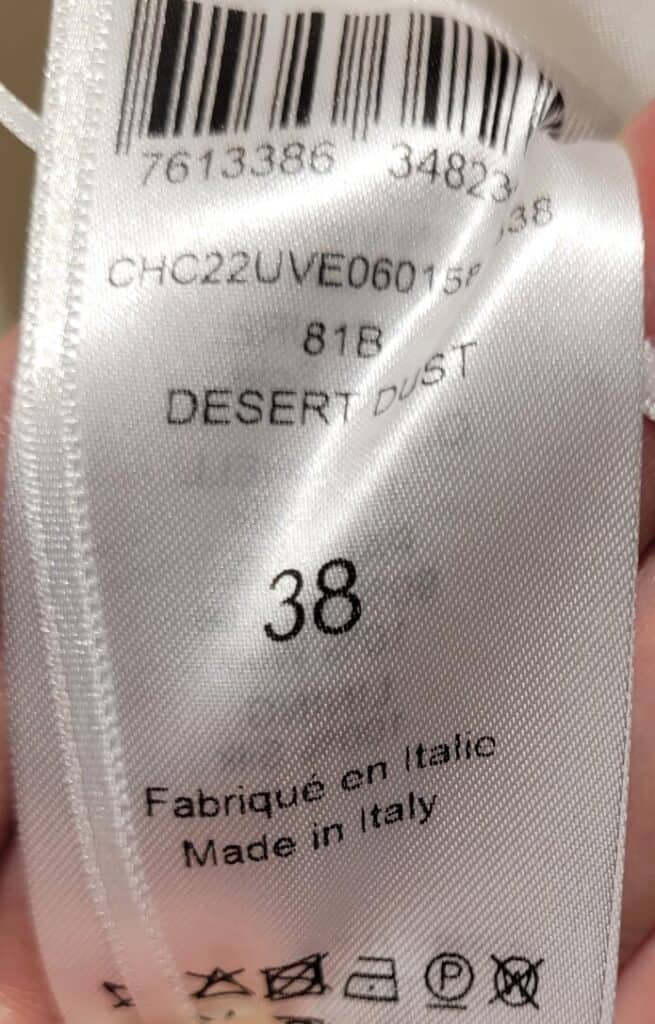 Italy is the favorite manufacturing country for luxury labels and the nation where Chloé manufactures most of its products. Some locations in Italy where Chloé manufactures are Grandate, Calenzano, Scandicci, Capiago Intimiano, Albignasego, Pontedera, Borgosesia, Milano, Tavernerio, Como, Firenze, Lucca, and Gubbio. Other luxury brands that manufacture heavily in Italy are Gucci, Dolce and Gabbana, Versace, Bottega Veneta, Valentino, and Moschino.
When checking Chloé products in-store, the made in Italy tag was the one I found the most, especially regarding accessories like belts, scarves, gloves, and handbags. Since Chloé is an expensive label, it doesn't surprise the brand manufactures so much in Italy.
Read: Where Is Prada Made?
Most luxury brands like to manufacture in Italy because the best materials are used, and skilled artisans are very proud of their work. As a result, workers tend to be positively devoted to each item's manufacturing phases. This is why products made in Italy are usually flawless because every detail matters.
Is Chloé Made In China?
Yes, some Chloé products are manufactured in China.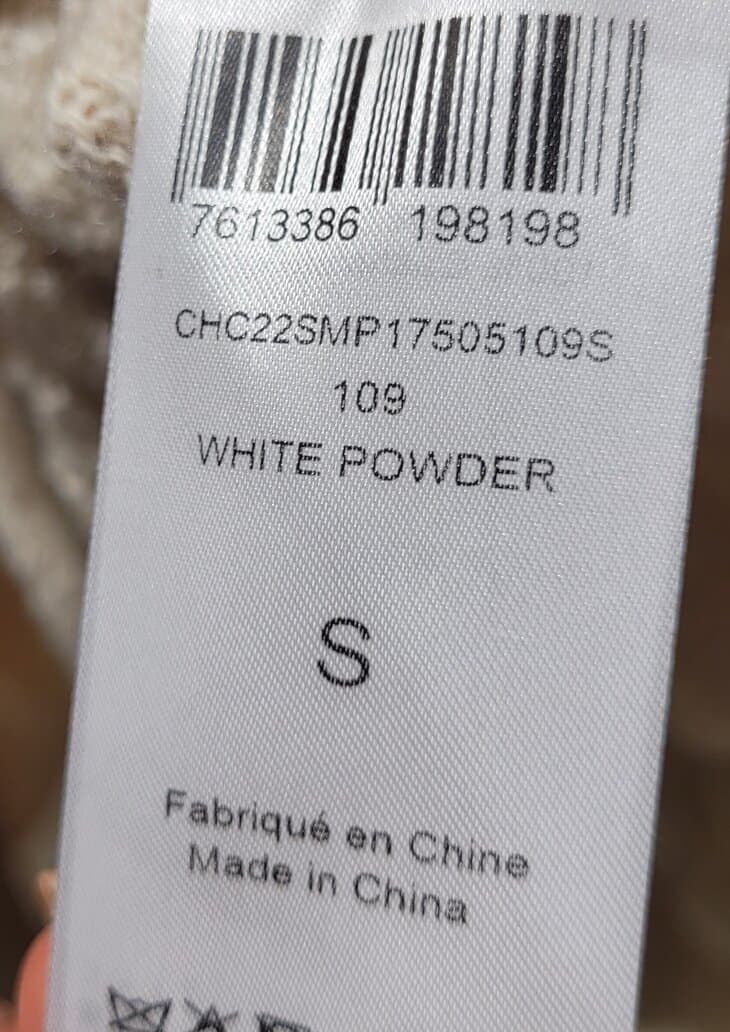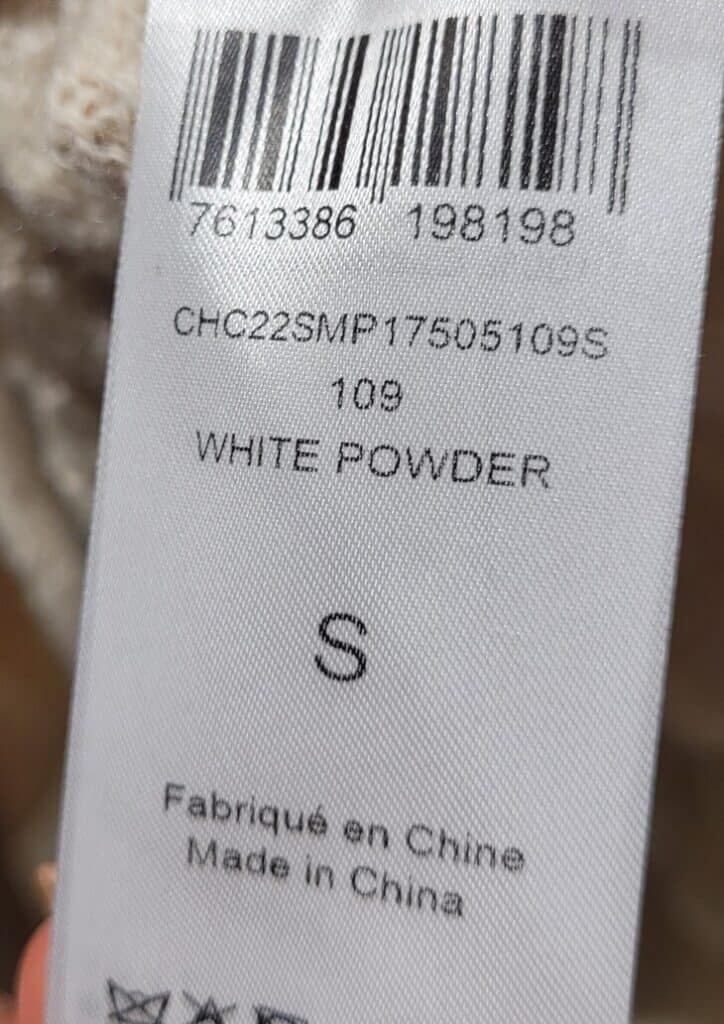 I didn't find as many Chloé manufactured in China as in Italy or France, but I still found quite a few. It's strange that Chloé doesn't mention China on its manufacturing list and mentions other countries like Vietnam, Kenya, and Madagascar. I wouldn't be surprised to know that the brand manufactures in more than one factory in China, but I couldn't find exactly where.
Read: Where Is Loewe Made?
What was surprising was to find a few dresses made in China, which could be from the sub-label See By Chloé, which is a lot cheaper than Chloé. Usually, luxury brands avoid manufacturing in China because consumers see it as inferior in craftsmanship and materials, but sometimes luxury labels have cheaper sub-labels like See By Chloé.
Where Are Chloé Bags Made?
Chloé bags are manufactured in Italy and France.
The Chloé website has no information about where the bags are made. What appears on the product description is this: "To make this product, Chloé worked with Leather Working Group (LWG) certified leather manufacturers. LWG certifies tanneries based on their water and energy usage, management of chemicals, solid waste, and wastewater."
Read: Why Is Hermès So Expensive?
However, when I checked a couple of Chloé bags in-store, I only found made-in-Italy and Frace tags. This doesn't mean the brand doesn't manufacture bags in other countries. I wouldn't be surprised to find some Chloé bags made in Portugal, Spain, or Kenya, since these countries manufacture leather goods.
Some websites stated that Chloé bags are made in Bulgaria and Romania, but that information wasn't provided with pictures. Also, Chloé doesn't include these two countries in the manufacturing list on its website. But since the brand doesn't mention China, who knows if this is true?
Common Questions About Where Is Chloé Made
These are the most common questions about where Chloé is made
Where Is Chloé Perfume Made?
All Chloé perfumes are made in France. I have checked several Chloé fragrance packages in-store, and they all had the made-in-France label.
Where Are Chloé Sunglasses Made?
Since 2021, all Chloé sunglasses have been manufactured in Italy by the Kering Eyewear Group. Before 2021, all Chloé sunglasses were manufactured by Marchon, also in Italy.
Where Are Chloé Shoes Manufactured?
Chloé shoes are manufactured in Spain (Alicante), Italy (Lucca), and Vietnam (Haiphong). However, in-store, I only found shoes manufactured in Spain and Italy.
Conclusion
Where is Chloé made? Mainly in Italy, followed by France, Portugal, Spain, China, Madagascar, Vietnam, and Kenya. So you can expect to find made in Italy or France in most Chloé tags, but if you see another country, don't think it's a fake product since this French luxury label manufactures a small portion in some other nations.